Kayak fishing is an excellent way to experience the beauty of the ocean in solitude and reel in a sumptuous prize at the same time. The best ocean fishing kayaks let you explore the salter waters and search for perfect fishing spots that are difficult to access by other crafts.
Ask any professional kayaker and they'll tell you sea fishing is a different ball game than kayaking down the freshwater. The depth of water and natural forces are just a few of a number of factors that are vastly different – putting kayaking on seas and oceans in a separate league. So naturally, your kayak on the ocean demands special equipment that has improved mobility and safety to make sure your experience goes all smooth and pleasing.
A reliable offshore fishing kayak made specifically for big waters has certain design elements that enable them to handle higher winds and rough conditions in a more controlled way.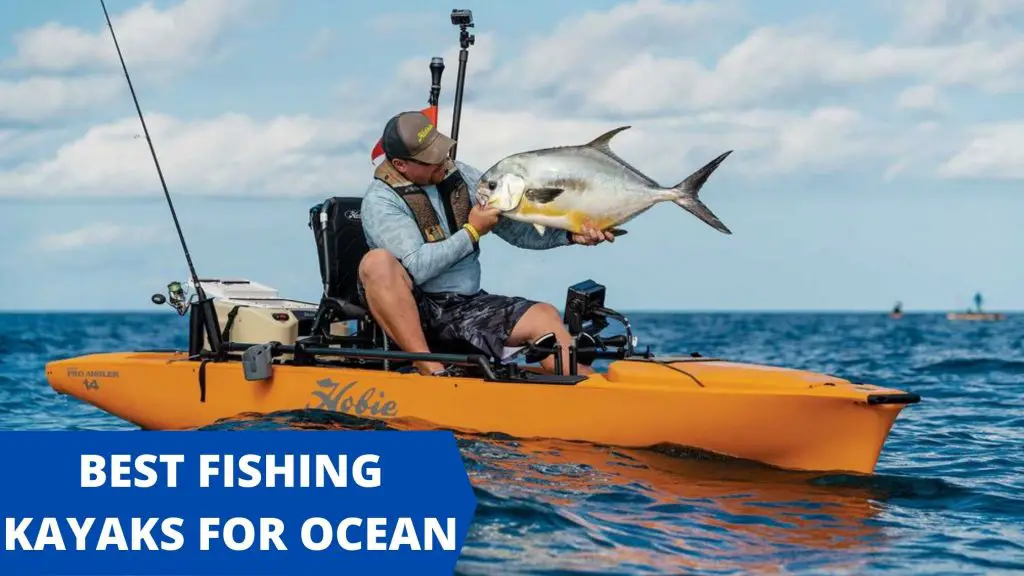 ---
The Best Ocean Fishing Kayaks (Our Top Picks)
---
What is the best ocean fishing kayak? With this question in mind, let's now proceed toward our top ocean fishing kayaks model by model analysis for better understanding.
1. Malibu Kayak Stealth 14 

"Best Saltwater Fishing Kayak"
Anglers will love this open-water fishing kayak. Designed with the handy bait live-well built-in, sample storage, and casting platform, this stable kayak is impressive.
A 14ft kayak isn't going to have much trouble cutting through the water. Even with such slim dimensions, the kayakers found the Malibu Kayaks Stealth 14 fish and dive extremely stable. This makes it a very suitable craft for people who are new to kayaking and may struggle with keeping proper balance.
When you look at the sleek profile of this kayak you might think that you'd have to compromise with the working space. But surprisingly, you get 33 inches in the seating area, which is enough for most people. With a maximum capacity of 550 lbs., this model can manage 2 adults and a child.
There is plenty of storage on this yak and with the maximized weight capacity, you are able to take almost everything you need for a day's fishing trip.
The large tank well at the back can hold up to a 5-gallon bait bucket. With bungee cords to help secure it all, it can be a great option for storing a cooler or any other larger items. 
There is a Gator Hatch at the center, where you can keep dry storage. You can also access the hull by lifting the whole tray for more storage and even keeping a spare paddle. The center hatch can be ideal to secure smaller items and even live bait.
The Stealth 14 offers four flush-mounted rod holders – two at the front and two at the back of the seat. To give you more comfort for fishing and paddling, there are adjustable footrests that can be easily adjusted by sliding them back and forth depending on your seating position. As with many fishing yaks, you can also customize it to your fishing style by adding your own accessories. The casting platform is another nice feature.
The overall stability of this vessel shows up when you're fishing. If you catch a larger fish that resists much, you'll be in a good position to hold your ground. Although Stealth 14 is larger in size, it is really easy to navigate and track it. Moreover, it glides through the water with ease saving you energy on paddling to your desired fishing location.
Worth Reading: Best Fishing Kayaks Under $1000
---
2. Vibe Kayaks Yellowfin 130T

❝ Best Kayak For Surf Fishing❞
Quality product from Vibe, the yellowfin 130T is one of the best ocean fishing kayaks on the market right now for both casual recreation and anglers. This craft is about 13 feet long and is a 2 person sit-on-top kayak and has a weight limit of up to 500 pounds.
The Yellowfin 130T is a rigid kayak that is built from a single piece of rotomolded polyethylene. Rock-solid and sleek, the kayak does not drag a lot in the water.
Many tandem-style kayaks are a little generous with storage space, and the Yellowfin 130T is one of them. There are two storage hatches, one in front of each seat, and a large cargo deck with bungee cords at the deck to secure large items. The kayak comes with two paddle parks, two flush-mounted rod holders, and four mounting points for accessories making it possible to bring enough gear for fishing and other purposes whatever the fishing conditions are.
The Yellowfin 130T offers enough cockpit space for two anglers to ride comfortably. Both of the seats are adjustable and can be placed in three different positions.  If you want to paddle solo, you can place the other seat in the middle position. Unfortunately, you cannot find knee pads and thigh pads but still, the craft offers a good amount of comfort.
Vibe Kayaks Yellowfin 130T is no exception when it comes to stability. The vessel can handle choppy waters and many anglers felt confident enough to stand up for the fishing purpose.
Regarding performance, the kayak is easy enough to maneuver through choppy waters. It takes a bit longer to turn it but it can be expected from a kayak longer than 12 feet.
---
3. Vibe Sea Ghost 130 Angler

❝ Best For Offshore Fishing❞
When it comes to the best kayak for sea fishing category, Vibe Sea Ghost 130 will be definitely on the list. It is a fishing kayak with a great performance for a range of water conditions.
The Sea Ghost is manufactured for fishing. The kayak offers a combination of speed and stability and can be ideal for rivers, lakes, and open water. It also proves to be a good kayak if you are looking to cover long distances. 
The hull has a narrow profile and high waterline for better speed and tracking, and a wide beam for stability. To support better tracking in high winds or rough water, the Sea Ghost comes fitted with a pedal-adjusted rudder.
The storage offered by Sea ghost contains two sealed hatches, with bag inserts, that will keep your valuables dry. Additionally, the rear tank secured with bungee cords provides ample storage to secure your larger items.
A large sealed center console can be used to mount fish finders.
You'll also see two flush-mounted rod holders, gear tracks for mounting additional accessories, and a paddle park to secure paddle while fishing.
The Sea Ghost offers a Hero seat which is designed to offer all-day comfort. The seat can be adjusted in two different positions that can be switched depending on fishing conditions.
Well here is a snap I took through my go pro hero 9 kayaking camera while fighting the ocean waves.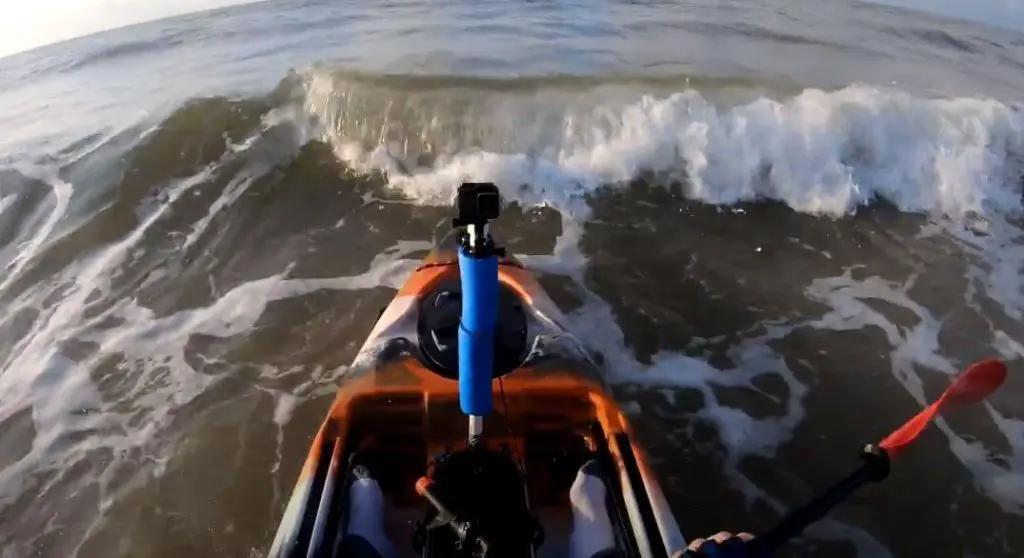 ---
4. Sea Eagle SE 370 – 3 Person Inflatable Kayak
Inflatable Kayaks for ocean fishing? I asked myself. At first, I was quite reluctant to get out on seawater for fishing with an inflatable, but guess what? The experience was no different than a hard-shell one.
Sea Eagle 370 Pro is specifically designed for 3 person usage. Therefore, the boat has a bit higher weight carrying capacity. This inflatable has an outstanding design and elegant outlook enhances its value and making it suitable for saltwater usage.
Besides, the kayak has two flexible seats that do not cause any sort of discomfort throughout your fishing journey. Similarly, the vessel comes with a complete package that includes 2 paddles, a carrying bag, and a foot pump.
The whole equipment is lightweight and does not burden the consumers. Thus, it is portable and can be placed inside a bag after deflation.
Two Skegs located at the bottom assist in better trekking and amplifying the raft's speed. Other notable features include drain valves, one-way inflation valves, and a budget-friendly price tag. Therefore making it the best inflatable kayak for ocean fishing.
Usually, inflatable kayaks don't come with a rod holder except for the few ones like Sevylor Coleman colorado and some others.
Yes, inflatables can be equipped with rod holders, but you need to have the right items. For example, Scotty makes a glue-on pad that will adhere to an inflatable kayak. You just need to buy the right kind of glue for inflatable kayak material.
The Scotty pad gets adhered with all kinds of glue, but the pad itself doesn't come with glue. Once the pad is installed, you can use a Scotty mount and rod holder.
---
5. Ocean Kayak Caper Angler
The next kayak on our list of best kayaks for ocean fishing is Ocean kayak caper angler.
The Caper kayak is a sit-on-top craft that's made for anyone who wants to have fun on the water in a stable, compact vessel. If you like the idea of owning a kayak that you can carry easily and put in the back of your truck, then this could be ideal.
If you want to fish in different locations, specifically the ocean, the Caper might be a good choice because of its unique hull design.
The kayak offers a Comfort Plus seat that can be easily removed. It also has adjustable straps to get a position best suited to your requirements. 
For storage purposes, there is a rear tank well that can be ideal for a crate or cooler with bungee cords to keep it all secure. The kayak has a 20 inch Click Seal storage hatch at the bow, where users can keep smaller items safe and waterproof. For convenience, there's a cup holder in the front of the seat. Furthermore, two flush-mounted rod holders can be seen at the back of the seat. 
The versatile tri-hull offers both primary and secondary stability which means it can handle both flat and choppy waters. The hull design also tends to enhance the tracking abilities. The craft is also maneuverable on the water because of its 11 feet length and could be a good pick for the ocean.
---
6. Ocean Kayak Malibu Two XL Angler

❝ Best Tandem Ocean Fishing Kayak❞
Next on the list is this excellent tandem fishing kayak, the Ocean Malibu. With a 425-pound capacity, it can easily accommodate a fishing partner and plenty of equipment or fishing gear.  The smaller center seat is capable of seating a child, hence allowing the whole family to enjoy a great day on the water.
There is no special material used to make Ocean Kayak Malibu Two, but simple plastic is used to fabricate it. However, no compromise was made on the quality of the product. High-quality heavy-duty plastic can also bear a lot of stress and shock.
The comfortable and padded seat pair has four-way adjustability which will give you more ability to fish the way you want to. You can find overlapping footwells to give support to a kayaker of any size when paddling hard to catch up with the prey.
Although it's a 12-feet long craft, it offers great stability with an improved center of gravity and minimizes any chances of going overboard Whether you're alone or with a partner, the kayak remains very maneuverable and safe to use. The skid plate is an important kayak accessory that helps increase the lifespan of your kayak. With a skid plate, damage to the kayak's keel gets reduced. The skid plate can be replaced.
Gear straps allow for plenty of storage. The deck and hull are designed for maximum storage capacity. Two molded-in carry handles to ease the transportation of the kayak. There is also an option to insert up to 3 dry storage hatches.
Anglers aiming for the best ocean fishing kayaks that can accommodate at least two persons should check out this impressive vessel.
---
7. Hobie Mirage Outback Pedal Fishing Kayak

❝ Best Hobie Kayak For Ocean Fishing❞
Hobie Mirage Outback is an award-winning kayak from Hobie having some peculiar features and is an absolutely outstanding choice for anyone looking for a complete fishing kayak.
Mirage Outback is a pedal drive fishing kayak that's best for both ocean and freshwater adventures. It offers a MirageDrive 180 pedal drive system with Turbo Kick-Up fins.
The kayak is made from rotomolded polyethylene which offers both performance and durability. Although the Mirage Outback is strong and sturdy enough to handle the bumps or scratches against the rock, it does not come with an attached skid plate, so you'll need to be careful while launching or landing the vessel.
The Mirage Outback provides a ton of storage to secure your fishing gear. Two 8-inch seal hatches are present. One is located between the legs in the cockpit, while the other is located at the stern for carrying tackle and small tools. A large storage compartment to hold larger items is located at the bow. A cargo deck with bungee meshes is located right behind the seat to store live wells, coolers, and other similar items. 
Two mesh pockets are positioned on the sides of the seat. Two paddle keepers and four flush-mount rod holders with two molded drink holders are also included.
The Mirage Outback provides a spacious cockpit, which is roomy enough to accommodate most anglers comfortably. The wider Vantage CTW Seat is padded and can be adjusted in four different ways, so you can easily find a comfortable fishing position. You can easily add your own pads as thigh pads are not present. 
The Mirage Outback provides a very stable ride, and most anglers found that it was stable enough to permit standing. You can also sit sideways and fish for a while if you like. Anglers find the kayak stable enough for taking on moderately rough or choppy waters. 
At 12-feet long, most anglers found that it handled very well during turning in the tightest areas. The included rudder system improves tracking ability and makes steering easy – whether you are paddling or using the MirageDrive 180 pedal system, the speed of the craft turns out to be reasonably fast.
The kayak comes with handles at the bow and stern to make it easy for two people to carry to and from the launching site and is one of the best fishing kayaks for inshore fishing.
Also read: Best Pedal Fishing Kayaks
---
8. Perception Pescador Pro 12

❝Best In Shore Fishing Kayak❞
Another prominent kayak on our list of the best saltwater fishing kayak is the Perception Pescador Pro 12.
The first thing we noticed when we looked at this kayak was how stable it appeared. This fact is not based upon just visual appraisal or conversations with hobby kayakers – the vessel is actually shorter with a better center of gravity in water for a sit-on-top kayak and quite wide to give excellent casting and fish-finding experience.
The hull and shape of the kayak make its tracking excellent in any condition with great stability. The stability doesn't sacrifice any speed as this vessel will cut through water waves effortlessly, allowing you to reach your favorite fishing hole quickly and efficiently. 
Storage is not a problem as the Pescador Pro is equipped with 4 storage tanks giving you all the space you need to carry your valuables. Two flush-mounted rod holders and a caster rod holder will let you have several lines in the water at once.
You get a great mesh-style seat that can be adjusted in two different positions. With perforations, the seat breathes very nicely to keep you dry on a hot day. You can lower the seat when you start paddling and adjust it back if you want to cast from a seated position which can make for a great fishing experience.
Compared to the other sit-on-top kayaks on our list, the Pescador pro 12 is relatively slower but you can easily take it to the shallower waters with some off-course more push and force.
 If you're looking for quality, speed, and stability and want a user-friendly vessel when fishing on the ocean, Pescador 12 pro is a perfect buy.
---
9. Ocean Kayak Prowler 13

❝ Best Cheap and Budget Option For Ocean Fishing❞
The Prowler 13 is a thirteen feet sit-on-top fishing kayak made up of high-quality polyethylene, considering stability in mind. Its well-designed hull provides maximum stability in any type of water you may want to paddle through.  Unlike many other kayaks in its class, its safety and stability don't compromise its mobility.
The kayak is 28 inches wide. These skinnier dimensions allow it to glide through the water quickly and reach your favorite fishing hole.
You do not need to worry about the lack of storage as this vessel offers multiple storage options. A large watertight oval hatch with a lock can be utilized to store your small valuables and electronics without the worry of being damaged. A 6 inch round hatch at the front of the seat with bucket storage can also be found.
Larger items can be stored in the large rear tank secured with bungee cords. Hence you can easily carry all the gear you want for fishing for a whole day trip.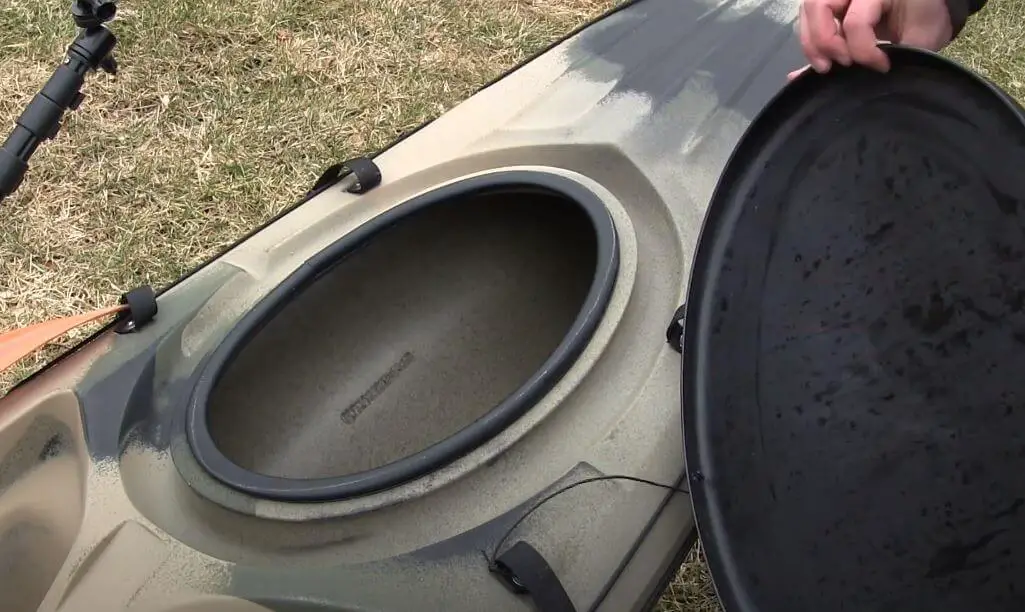 Padded seat back and molded-in seat well will provide you with all the comfort you need for your trip. There are two flush-mounted rod holders on either side of the kayak for fishing purposes.
This is an excellent buy for both recreational use and those looking to do some serious fishing. For the anglers looking for the best kayak for sea fishing, stop the hunt and have a look at this vessel.
Some readers asked me why I haven't preferred tarpon 120 over prowler 13? The answer is really simple, if you are going to paddle more than a couple of miles longer is better, go with the Prowler. Moreover, The 120 is a good all-around yak as stated by many experienced kayakers but falls short of the Prowlers in a chop and stiff, which is really normal in ocean fishing.
Recommended Reading: Best Affordable Fishing Kayaks
---
10. Wilderness Systems Pungo 120
If you're the kind of person who yearns to head out to open waters all year round or go on multiple fishing trips every month, you need to consider a sit-inside kayak. Wilderness Systems Pungo 120 angler has proved to be the best sit inside all-rounder kayak in the category of best ocean fishing kayaks.
The Pungo Angler kayak is a 12 feet sit-inside vessel that has been upgraded from the Pungo 120 to give it extra fishing features for anglers. The sit-inside design makes it a better choice if you plan on fishing in cold conditions, as it will keep you safe from getting wet inside the cockpit.
The V-shaped hull has a multi-chined design and performs well in the ocean, as it is crafted to have strong secondary stability. The ergonomically designed seat provides comfort for day-long fishing. The seat has a Phase 3 AirPro back with SlideLock technology and a foot brace system to adjust it easily.
The kayak offers good accessories-mounting facilities. That means you can mount your fish finder and other relevant accessories easily. A fishing rod holder mount is also there. There is a dry storage hatch at the stern and bungee rigging on the deck to store larger items – making this kayak score very decently in terms of storage capacity for long fishing trips.
Another prominent feature of the Pungo 120 Angler is the console, which can be used to store tackle and smaller gear.
If you plan to stay on the water for a longer period of time, there is padding for the knees and thighs to provide maximum comfort.
At 51 lbs., you may find this craft a little lighter which makes it a bit easy to transport with carrying handles at the bow and stern.

The Wilderness Systems Pungo 120 angler is 12 feet in length, which is not too small to reduce speed significantly, but small enough to enhance stability and maneuverability out there on open waters.
---
11. Brooklyn Company BKC UH Tk 181
The excellent Brooklyn Kayak Company BKC UH-TK181 is a UV-protected kayak designed for versatility, without compromising on any feature of fishing in the ocean. It has great agility and is long enough to get some speed up on the open water; moreover, you will enjoy a decent amount of stability.
In fact, the BKC UH TK 181 is great for anyone who wants to go fishing with friends and family.
The kayak features an amazing number of rod holders: seven. So this kayak will be a dream for those people that insist on taking every rod they own and casting multiple lines out on the water simultaneously.
Measuring 12.5 feet in length and just under 3 feet in width, the kayak's longer and skinnier dimensions differentiate it a bit from the pack of traditional fishing kayaks. The longer length gives it better momentum on the water as well as efficient tracking and maneuverability than other starchy tandem fishing kayaks. The kayak can be paddled solo too – in fact, it is a great ride for rivers, surf, and flatwater for single-person adventures.
Two secure paddle rests enable you to free up your hands for fishing and other purposes.
Now coming to the storage, a watertight storage compartment for usually dry storage is located between each paddler's legs. A rear cargo area with bungee rigging to store larger items is present. With four easy-grip carry handles and two built cup holders, this fishing kayak is a complete package for adventure with a friend or companion.
---
12. Perception Pescador Pro 10
The color and the design of the Perception Pescador Pro 10 is the first thing that caught my eye. What compelled me to purchase and try out this sit-on-top fishing kayak were its amazing features. This model does come at a very reasonable price tag considering the kayak fishing features it offers on the ocean water.
First of all, the feature that I really love is that this sit-on-top kayak has been manufactured with polyethylene. The usage of polyethylene in the making makes this kayak highly durable, rigid, and very light in weight. Thanks to the high-quality construction, the weight lifting capacity of this kayak is 325 lbs which makes it ideal for heavier adults.
Furthermore, instead of inflatable chairs, the manufacturers have added a sturdy mesh seat in the center of the kayak. Moreover, the seat also offers adjustability, so you can adjust it according to your comfort. There is an open space at the front and rear end of the kayak, where you can store different items. It is secured by bungee ropes, so you do not even have to worry about your belongings falling out. The manufacturers have also added accessory rails in the design of the kayak so that you can add different accessories.
The Perception Pescador Pro 10 is a sit-on-top kayak that will make your offshore fishing experience better tenfold. This kayak comes with high-quality construction, a comfortable and adjustable seat, and is loaded with many extra perks that make it worth the money.
---
Best Ocean Fishing Kayaks Buying Guide
Water Intensity
Flat Water
We can find different patches of flat water that include estuaries and small coastal inlets. Usually, these waters are a bit calm but can have tides. The kayaks suited for flatwater usually have a rounded hull and wider cockpit to make them more maneuverable.
Turbulent Water
The coastal lines and open areas of the sea have rough waters. The winds and tides cause regular waves. Therefore kayaks designed for such types of waters have a V-shaped hull for passing through the waves easily and a relatively smaller cockpit to lessen the chances of water coming inside.
 Inshore or Offshore Fishing
One should know the kind of water he will be fishing in before triggering any purchase. Whether it's inshore coastal waters having a maximum depth of 70 feet or offshore waters with a minimum depth of 71 feet.
As we know that there are some significant variations in design between usual fishing kayaks and saltwater or sea fishing kayaks. The open water kayaks are usually hard-chined with skinnier dimensions and offer tremendous tracking, speed, and secondary stability.
Type : Sit in Or Sit on Top
The sit-in kayak is recommended for ocean fishing where water is rough as these are more secure and tight.
On contrary, if you don't have to face challenging water and want plenty of space to move around, you should definitely go for a sit-on-top fishing kayak.
A survey conducted by www.americancanoe.org in 2015 shows the following stats.

Stability
Stability is important for kayaking whether you have recreational kayaks or fishing kayaks. When you think about choosing the best ocean fishing kayak for yourself, stability is the foremost factor that will strike your mind as oceans have the most irregular waters. A stable kayak allows the angler to move freely, access their fishing gear, and even stand up to reel without the fear of being tilted over. Ocean kayaks designed for flat water are more stable and with the option of stand-up casting. Creating such stability in ocean waves is difficult. Kayaks designed for such types of water have skinnier dimensions with a V-shaped hull to cut through the water and an enclosed deck making them less stable for stand-up casting. To pick the fishing kayak that is right for you, you first need to consider the type of water for the fishing adventure.
You need to have proper footwear for standup fishing.
Check: Best Shoes For Kayaking
Storage
Storage is one of the most important factors when choosing a fishing kayak of any category and type. But the ocean fishing kayak has usually more storage space than river fishing models because they are relatively longer. The person fond of fishing in the ocean should look for kayaks with waterproof hatches to keep their valuables safe. For larger items tankwell storage is suitable. For items that are not waterproof, you can use dry bags to store them other than the sealed hatches. Choose a kayak that has paddle holders on the sides to secure the paddles as they can be a hindrance to the fishing gear.
Hull Design
If you are primarily considering buying a kayak for ocean fishing, the hull design could be an important factor for you depending on the type of water. Other decisive
factors related to the type of water include the length of the craft and the size of the cockpit.
Frequently Asked Questions
Hard-shell kayaks are bulky: Make your day with these best inflatable kayaks which offer better portability.