I've personally researched, compared, and hand-picked these budget fishing kayaks and have only listed the best that will save you hundreds of dollars.
Kayak fishing is becoming more popular as the technology that goes into its design & manufacturing improves. Accordingly, manufacturers, today are offering kayaks with a flurry of attractive features – but with all these bells and whistles comes a big price tag as well.
Nevertheless, with your comfort and budget in mind, I've put together a list of the best cheap fishing kayaks featuring better weight capacity, ample storage, and impressive performance on the water.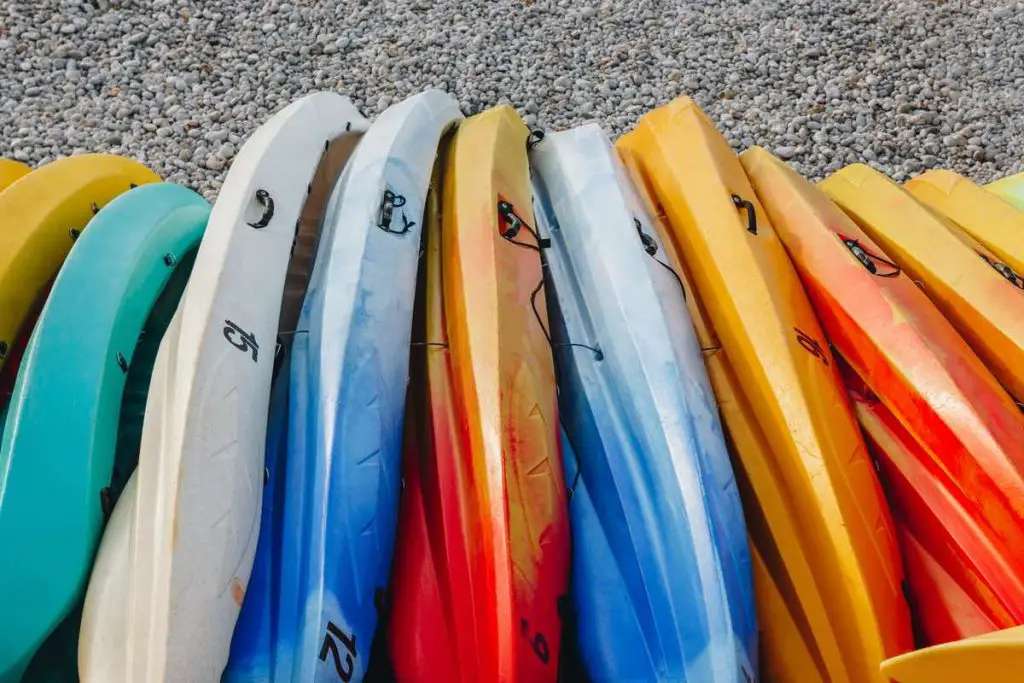 Our Top Picks
Top 15 Best Cheap & Affordable Fishing Kayaks Reviewed
Let's look at a model-by-model analysis of the best budget fishing kayaks in 2022.
1. Perception Pescador 10.0

"Best Cheap Fishing Kayak"
Perception's Pescador 10 is categorized as a fishing kayak, but it performs well all around. You can take it out for touring and recreational paddling – with and without the fishing rods. It won't disappoint you.
So, when taking versatility into the consideration, this 10.5-foot kayak is a safe investment.
It's not much heavier than our other picks, weighing 57 pounds. It covers a higher load capacity – 325 pounds, to be exact – and a wide deck with reasonable storage options.
I really liked the storage this vessel offers. You will see a good capacity rear tank as well, a large dry storage hatch in the front, gear tracks for fishing accessories, and two molded-in rod holders.
Another plus is Perception's Comfort Seating System. The adjustable backrest has heavy-yet-breathable padding, coupled with the adjustable foot braces. So finding your perfect seating position is an easy task.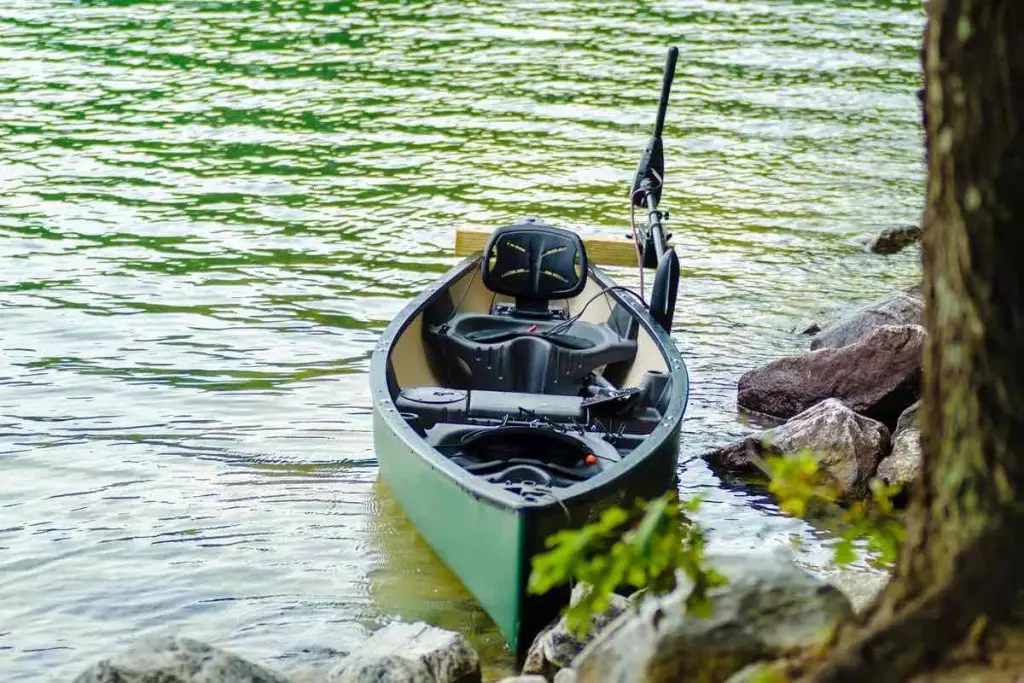 No matter how limited your budget is, Perception's Pescador 10 will remain my personal favorite . It's the best cheap fishing kayak on the market as it offers, ample storage, comfort – and is an all-rounder.
---
2. Old Town Vapor 10 Angler
Next on the list of good cheap fishing kayaks is a 10-foot sit-inside fishing kayak that is both comfortable and stable. Old town vapor 10 offers you enough storage for everything you might need for a day's fishing.
Vapor 10 features give you an open cockpit feel. You will feel less confined while you are fishing for a long period of time. Besides being roomy, the Vapor 10 is really an ideal kayak for battling bigger fish.
Considering the compact design, the kayak offers a gentle amount of storage. There is a bungee rigging at the bow as well as a storage tank in the stern to store additional items. For dry storage and smaller valuables, there is a lockable hatch. Besides, you have plenty of space to store gear between your feet. Additionally, the kayak features two flush-mounted rod holders, a cup holder, and a paddle keeper.
For convenience, there's a skid plate and an anchor trolley system – though you'll need to purchase the anchor.
The Vapor 10 Angler comes with a comfortable flex-adjustable seat that will make your journey enjoyable. Hence, you will find long-distance paddling easy.

Moreover, this kayak has an adjustable foot brace system with Glide Track technology and thigh padding to provide the comfort you need for all-day paddling and fishing.
As it is a sit-in kayak with a lower center of gravity, we can expect a stable ride from it. Overall, the kayak offers quite a stable platform for making day trips. The hull design of the kayak handles choppy waters efficiently. However, tracking is average but if you can paddle fast enough and generate a bit of speed, the Vapor 10 will move at an amazing speed.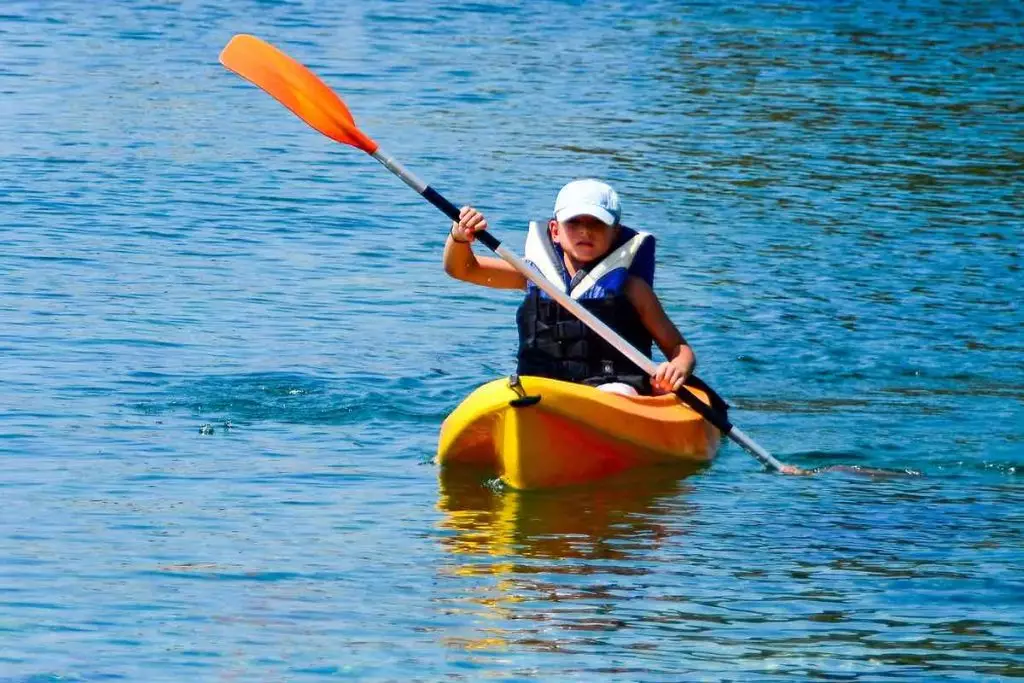 The craft is easy to maneuver. It is best on calm waters, lakes, and ponds. Moreover, the kayak is easy to paddle and control. In a nutshell, this is a good affordable choice to purchase for fishing.
---
3. Intex Excursion Pro – Best Fishing Kayak Under $500
If you're on a budget and looking for the best economy fishing kayaks, you might want to take a look at an inflatable kayak. The Intex excursion fishing kayak is fabricated with sturdy laminate material (3-ply super-tough construction consisting of high molecular PVC) with a polyester core that provides durability and hence gives great resistance against high impact, scratching against rocks, or even severe sunlight. It is lightweight and portable, so it can be transported easily to wherever you intend to go fishing.
Three air chamber design supports the weight of the passengers. If there is a puncture in one chamber, there are still two air chambers that will safely bring you to the shore.
High-pressure spring-loaded valves allow for quick and easy inflation and deflation while the integrated drain Plug helps in draining the water out of the kayak easily.
The Intex Excursion inflatable kayak provides incredible comfort. It will support your body without making you experience any stiffness. As it is an inflatable kayak, you won't feel any hard surface.
Secondly, it comes with two adjustable seats that have an ergonomic design. The seats are also inflatable so that you can imagine the cushioning provided to your back by them. The seats are fitted with buckles to lock them in a place. Moreover, the footrests will add to your comfort level by adjusting them according to your legs' size.
The vessel offers more than enough storage on the stern and bow sides. Besides, these areas come with stainless steel D-rings for tying down bags and gear. The kayak also comes with two integrated fishing rod holders.
The performance of the Intex Excursion Pro kayak is phenomenal because it has been built to provide a high level of stability. The kayak comes with 2 skegs that enhance its maneuverability and tracking. The shorter skeg makes it ideal for shallow waters.
The package includes:
2 oars -Repairing kit
Carry bag -mounting bracket
Pump
Owners manual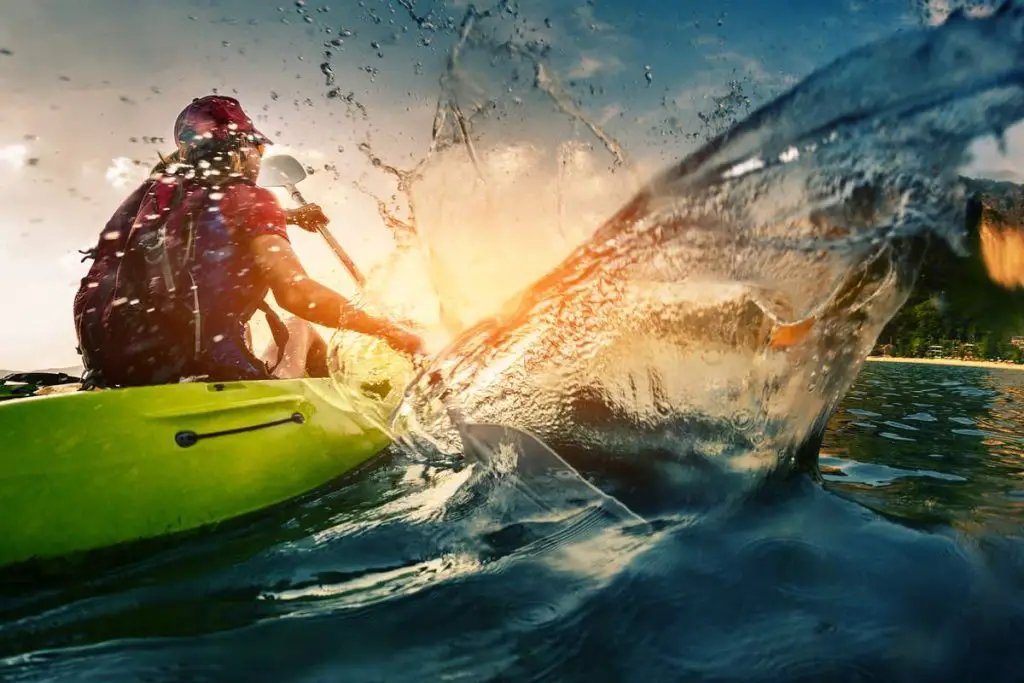 Also Check: Best Inflatable Fishing Kayaks
---
4. Sun Dolphin Journey 10 SS Sit-On Top Fishing Kayak
The Sun Dolphin Journey 10 SS is a 10-foot long sit-on-top fishing kayak made up of high-density UV-protected Fortiflex polyethylene. It is one of the best possible materials used for solid construction in this economical price range. The kayak has phenomenal impact resistance and is light enough to be transported by a single person.
Being 10 feet long and 30 inches wide means it's a lot more stable than a longer, narrower yak. The vessel is designed for lakes and slow-moving rivers and can handle the moderate current without tipping over.
For such a compact kayak, there are still a lot of storage options. There is a large dry storage hatch behind the seat for keeping your gear safe, as well as a storage compartment at the bow. Both the bow and stern storage areas come with bungee mesh rigging.
The kayak has three-rod holders out of which 2 are flush mounted and one that can swivel. On top of that, there is a paddle keeper, on either side of the kayak, for when you are tied up dealing with your rods during fishing.
In addition to this, there is a small dry storage hatch to secure smaller items like cell phones and keys. A cup holder is also seen in front of the seat.
The Journey 10 SS is designed with fishing features and portability in mind. The kayak may not feel most comfortable for longer trips because of its hard and non-padded seat – however, the seatback is padded.
If you're on a budget and heading towards buying the best inexpensive fishing kayaks, this craft is a worthy candidate.
---
5. Sevylor Coleman Colorado 2 Person Fishing Kayak
Go home with your bites after an adventurous day of fishing in the Sevylor Coleman Colorado. The kayak is durable enough to make it to the out-of-the-way fishing spot by dint of its 18 gauge PVC structure, which has a thick tarpaulin bottom and a tough nylon cover. The kayak can be handled if one chamber gets punctured accidentally and floats back to the shore as it consists of several inflatable chambers.
One of the finest things you will notice about it is its adjustable ergonomically designed two softback seats. The seats are arranged in such a manner that each person has enough room for legs and easy access to anything they need. It has rod and paddle holders that make it an adequate fishing kayak.
The Coleman Colorado has some mesh storage pockets that can be used for keeping important gear nearby. Moreover, if you are bringing some extra items, you can attach the equipment to the kayak by taking advantage of D rings.
Fittings are there in the design if you want to add a trolling motor for a better fishing experience.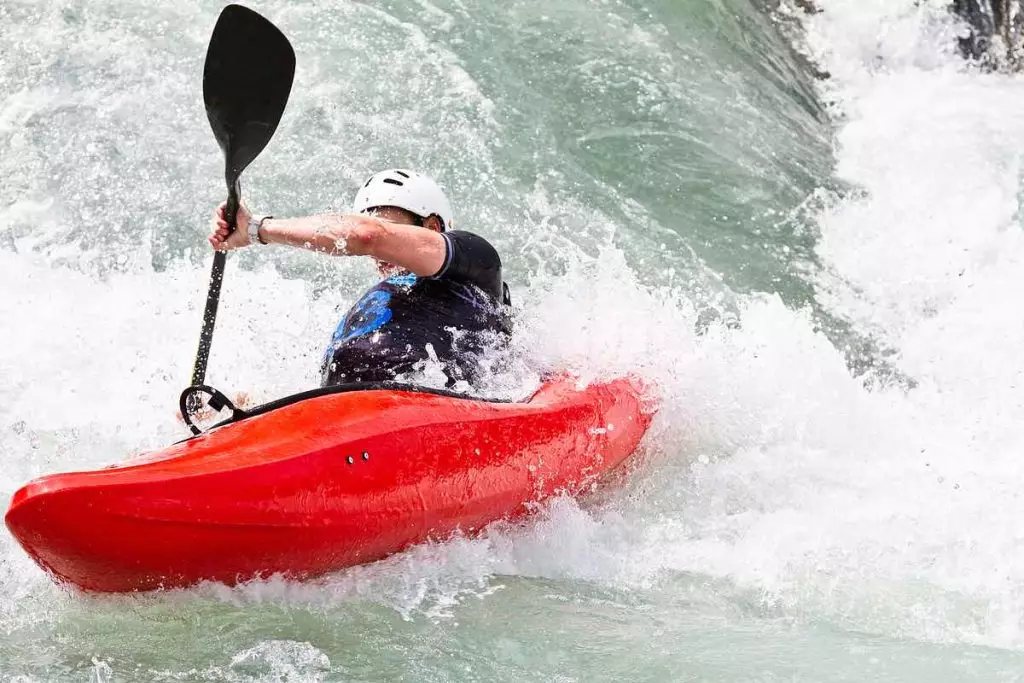 ---
6. Lifetime Tamarack Angler 100

❝ Best Budget Fishing Kayak ❞
Not every person can spend thousands of dollars on a new kayak. But within our budget, we all want to have all the latest features. 
The lifetime Tamarack Angler 100 is the best option for anglers as it offers a variety of features at an affordable price. It is one of the top sellers and the most famous kayaks in the market.
The build quality and design are quite impressive. The kayak has a UV-protected polyethylene build which makes it light, yet sturdy and durable. 
At the front of the seat and stern are two round compartments for storage, each to store small tools and tackle. Three-rod holders including two flush mount holders at the back of the seat and a single articulating holder on the right side are present. A seat with an adjustable back can be folded in some positions over the support strap.
Moving towards the stability debate, the kayak is much more stable than expectations owing to chine rails. Anglers have even found themselves standing comfortably while fishing.
With a length of 10 feet, Tamarack Angler 100 is quite maneuverable and easy to control for such a lightweight kayak.
The purpose of most of the anglers hitting on the best budget kayaks for fishing could be well served by this kayak and they should seriously check out this impressive vessel.
---
7. Perception Sound 9.5

"Best Ducky Kayak"
Perception's Sound 9.5 has been designed to offer a variety of features that include maneuverability, stability, and portability.
The sit-inside kayak is 9.5 feet long and is only 28 inches wide, which makes it a relatively lightweight kayak of only 38 pounds. Additionally, the tri-keel hull enhances its stability – Yet we still don't recommend it not for stand-up fishing.
It still offers a 300-pound capacity. However, besides the roomy rear cargo space and the small-but-handy dashboard area with bungee cords, Sound 9.5 doesn't have any water-tight storage options.
Coming towards the fishing-specific features, you get two molded-in rod holders which could be more than enough for an entry-level kayak angler.
Although Perception 9.5 isn't rigged for fishing to a great extent, if you're getting into kayak fishing with a limited budget, this is a safe buy.
---
8. Pelican Basscreek 100xp Angler Kayak
The next one on our list is Basscreek 100xp Angler – Pelican's affordably-priced sit-on-top kayak crafted for calm and slow-moving waters.
The polyethylene hull weighs 50 pounds and is 10 feet long. Overall it's a lightweight vessel, which could be transported without much hassle.
The 30.5 inches wide and multi-chine flat-bottom hull offers the kayak much-needed stability.
Now coming towards the storage, it enjoys a quick lock larger hatch in the front and a 4-inch day-trip hatch with bungee rigging rear tank well. In addition, you can also find six accessory eyelets, one swivel, and two flush-mount rod holders.
I have rated the ERGOFIT G2 seat as average, though; it provides little back support.
---
9. Ocean kayak prowler 13
The Ocean Kayak Prowler 13 Angler is considered to be one of the most famous fishing kayaks. It introduces itself with the combination of speed, stability, and enormous fishing ease. This kayak performs exceptionally well in different water conditions. Whether you chose oceans, calm lakes, or fast-running rivers for fishing – this kayak will not let you down at all. 
It is a relatively compact but swift kayak with enough room for fishing purposes. You can maneuver this kayak really well.
Considering the size and weight, the kayak is quite spacious – with enclosed storage for fish finders. In addition, it protects the unit when in operation and helps you read the screen. As a bonus, this kayak offers you a transducer-compatible scupper and a battery bag.
There is a large front hatch for dry storage. Access to bow and stern internal storage is quite easy. The seat is comfortable but unfoldable.
Other features include two-rod holders, a 6-inch hatch with a storage bucket, 2 cup holders, 2 paddle keeps, and a skid plate.
---
10. Vibe Kayaks Skipjack 90 – Best Value Fishing Kayak
The Vibe Kayaks Skipjack 90 is widely considered as one of the best cheap fishing kayaks in this price range when compared to others in the market. Being firm, compact, and only 9 feet long, the kayak can be easily fitted into the back of most SUVs.
Skipjack 90 comes equipped with all necessary user functionality to make a great catch during your fishing trip.
To make sure that your paddles never make you feel uneasy during fishing, there are paddle parks on either side of the boat to stop them from falling into the water.
We can see two sealed hatches at the front of the seat for storage of gear and other useful accessories. In addition to that, there is a large tank at the rear side for dry storage. 6 scupper holes with plugs come in handy to drain the water off the deck and not let it pool underneath the paddler.
You can find four flush-mounted rod holders with capes and an extra mounting point for accessories. To move the kayak easily with hands, four handles with grips are present at the bow and stern sides.
Its value for money, portability and outstanding performance makes it an ideal vessel to make it your best companion on your fishing trip.
---
11. Sun Dolphin Boss 12 SS Fishing Kayak
The Sun Dolphin Boss SS is a sit-on-top kayak that is specifically aimed at anglers.  As for the kayak, it has been designed to provide great tracking and maneuverability on the water.
Of course, as it falls in the category of best cheap fishing kayaks, it also has a lot of features geared towards angling in comfort.
The Boss 12 SS is about 12.3 feet long and has a width of 33″. It weighs 78 lbs, which in turn supports about 500 lbs of load. The selling point of Boss 12 ss is that it is not just feature-rich, but also affordable, which is something we all find desirable.
Sun Dolphin has managed to keep this kayak reasonably priced while still including extras that are more commonly found on kayaks that may prove to be a big load on your pocket.

One of the main features of the Boss 12 SS is its stable ride. It has a hull designed to offer maximum stability in a range of conditions. This type of tri-hull design could also be more efficient when paddling in a straight line and also assist you to stand and fish.
The 33 inches width helps to maximize stability, whether you're sitting or standing. For standing, there is a non-slip platform in front of the seat right on deck to give you a better grip underfoot
The elevated seat can be positioned either high or low, depending on your personal preference. The higher seat position could give you a wider angle and aids lumbar support, which makes it more comfortable for longer periods on the water. The mesh fabric seat drains and dries quickly.
There are two storage wells, one at the bow and one at the stern with bungee cords. Both storage areas are large enough for a crate or cooler.
Into the bargain, there are two hatches that allow access to the hull for extra storage below the deck. These also have bag inserts for holding smaller valuables like keys and cell phones.
There are four flush-mounted rod holders plus a swivel rod holder for handling fishing poles. The built-in gear tracks on either side make it suitable for attaching your accessories, such as a fish finder, camera, or cup holder.
The paddle holders are placed on both sides which gives you more freedom when it comes to keeping your paddle out of the way while you're fishing.
---
Anglers looking for pedal kayaks can read: Best Pedal Fishing Kayaks
---
 12. Intex Explorer K2 Kayak – Best Fishing Kayak Under $300
The Intex Explorer K2 is quite durable considering its price and has a 30 gauge vinyl construction to ensure maximum durability.
The directional stability is improved by a removable skeg while the inflatable I-beam adds to the rigidity of the kayak. Additionally, both ends of the kayak are fitted with grab handles to easily lift around.
The kayak has high visibility in water due to its bright yellow color and cool graphics.
There are two adjustable seats secured to the kayak with the help of Velcro strips. The cushioned backrests ensure that paddling is convenient and the kayakers are comfortable throughout the journey.
The Intex Explorer K2 is a highly rated low priced kayak for a reason. Its price, combined with the included accessories, makes it a good find.
The experts recommend that you should not sail from land too far unless you are a competent swimmer. The kayak has two inflatable air chambers. So, if you get a puncture while out paddling, a half floating kayak can cause problems.
Certainly, it doesn't track as well as more expensive kayaks on the market. Nor will it surprise you with its speed. But if you want a basic kayak for a little bit of family fun, and you have a low budget, the K2 Explorer is worth a look.
---
 13. Lifetime Tahoma 100 Sit on Top Fishing Kayak
If you are here it's most probably because you want to know about the best cheap fishing kayaks available in the market these days. The Lifetime Tahoma 100 definitely falls in this category by dint of its features and strong build.
The kayak comes with high-density polyethylene construction which offers UV stabilization. We all are aware that it is one of the finest choices for durable kayak manufacturing.

It can go through several rough usages and still stay the same. It is truly resistant against minor bumps and cracks.
The seat provides enough flexibility and comfort to keep you well for hours of fishing and riding. So, for a day out on a fishing trip, this water vessel can save you a lot of stress. It's going to save you from any neck pain or discomfort as you enjoy the activity. There are cords along with the seat to keep you safe.
One more notable thing about Lifetime Tahoma 100 is its lightweight, making it easy to carry and take to shore or water.

Talking about the weight of the kayak, the weight capacity is incredible (275 lbs). Tahoma 100 has a six-inch storage hatch system present in the cockpit to store the stuff you don't wish to get wet. Also, you can easily put stuff on the back. There are shock cords available at the bow and stern.
Tahoma 100 is a very nice choice for those who like to go fishing in different rivers and lakes. This kayak can easily settle down in various water conditions. Even if someone wishes to stand up for catches, the kayak can easily balance itself and keep the rider from getting wet.
---
14. Perception Pescador Pro 12.0
Perception Pescador Pro 12 is a real fishing kayak for fishing enthusiasts. Chock full of fishy features with the tracking and stability discerning anglers has come to expect from today's fishing kayaks. Featuring a new removable stadium-style seat with two seating positions upright and recline that can move on the fly with a molded in-accessories track recess.

Storage and rigging opportunities are abundant with a stylish mesh cover bow and stern tank. Designed with a center console for your fishfinder electronics, the fishing kayak offers a 1 piece hull that is abrasion, UV, and impact resistant for durability. The kayak comes equipped with molded-in rod holders, a paddle park, a keepers foot brace system, and a molded-in cup holder.
With a stable drive, enough storage options, and room for attaching extra accessories, the Perception Pescador Pro 12 can be a really good option for people looking for their first fishing kayak.
Although it is more expensive than all the kayaks discussed above, it is easily available for under 1000$ which is a quite reasonable amount for a kayak of this performance.
Considering the overall features it could easily be announced as one of the best cheap fishing kayaks.
---
15. Lifetime Hydros Angler Kayak – Best Under $500
The Lifetime Hydros Angler Kayak comes with a price tag of $475, but do not underestimate the performance of this kayak due to its simple design. Despite being simple, this model has many features and benefits that make it one of the best fishing kayaks under $500.
It has been built with the needs of a kayaker in mind; therefore, this kayak comes with a comfortable seat. The backrest of the seat is contoured and can be adjusted, so comfort is at the top of the list of perks. Moreover, this model comes with storage space at the front and rear ends. There is a T-shaped handle present at the front of the kayak, which will ease your tedious job of portability.
In addition to that, it has been manufactured with high-quality HDPE, which makes it durable and strong enough to tolerate multiple uses. The cherry on top is that the material has UV-resistant qualities, so this kayak will be around for a long time. There are two flush rod holders and an adjustable one to facilitate fishing journeys.
From the construction of this model to its nifty feature, everything makes it worth each penny spent on it. HDPE construction, UV-resistant material, comfortable seat, and the presence of rod holders make it one of the best budget kayak for a fisherman.
---
Advantages Of Best Cheap Fishing Kayaks
Let's go over some of the most prominent reasons why anyone might want to take the economic route when it comes to picking a fishing kayak.
Versatility

Fishing is all about pliancy. When it comes to getting afloat on a fishing kayak, there is an increased likelihood of finding the best spots by exploring far off shores and coves of lakes.
Affordability

When it comes to a fishing boat, you have to consider many expenditures which include fuel for the engine, marine storage, varnishes, and covers.
Once you've made your purchase of a fishing kayak, there are no major costs to think about. Budget fishing kayaks are robust, so need very little attention when they're not in use.
Portability

Cheap fishing kayaks are usually lightweight, therefore easy to transport. Simply strap it to the roof of your car and away you go. No need to invest in different transportation methods. A kayak is a child's play to launch when you arrive at your chosen spot.
Useful Features of Best Cheap Fishing Kayaks
Comfortable Seating — Fishing is not an easy adventure. It requires a lot of patience and time. For a day out on the water, you need a comfortable ride. Look for a seat with back supports and foam padding. Some seats are adjustable too.
Check: Best Kayaks Seats
Adjustable Footrests — Footrests allow a comfortable place to put your feet and give you a firm posture inside the kayak. More importantly, when it comes to the size of anglers, footrests are ideal to keep them from sliding inside the kayak.
Rod Holders —A kayak isn't really a fishing kayak without rod holders; it's just a standard kayak. Most of the models offer two, three, or even four holders while some even have swivel holders that help in tracking the direction of your catch.
Storage — One Should never settle for little storage as storage is crucial for fishing. The buyer must look for storage compartments under seats, at the bow and stern sides, or even elastic cords specifically for storing larger items. If you can find a fishing kayak equipped with watertight hatches in this budget, it would be even better. 
Summing Up – Best Cheap Fishing Kayaks
Make no mistake; an entry-level kayak angler has quite limited options to choose from these days.
Within this price range, you might not get some high-end yaks for fishing like Hobie Mirage Pro Angler or Old-Town Predator PDL.
Well, that doesn't mean you would get short of the essential fishing features.
Our main goal here is to focus on kayaks that offer a better price to features ratio.
Frequently Asked Questions FAQs