The anger and frustration of someone stealing your kayak is something you never want to experience. If that does happen, though, there's a way out – lock up the boat securely so it won't be stolen again.
Having the best kayak locks is a must for anyone who uses their boat on a regular basis. Being able to lock up your boat is important, and it's also an added safety precaution as well. This blog post will go over some of the best kayak locks people have found success with and a handy buying guide to choose the best one for your needs.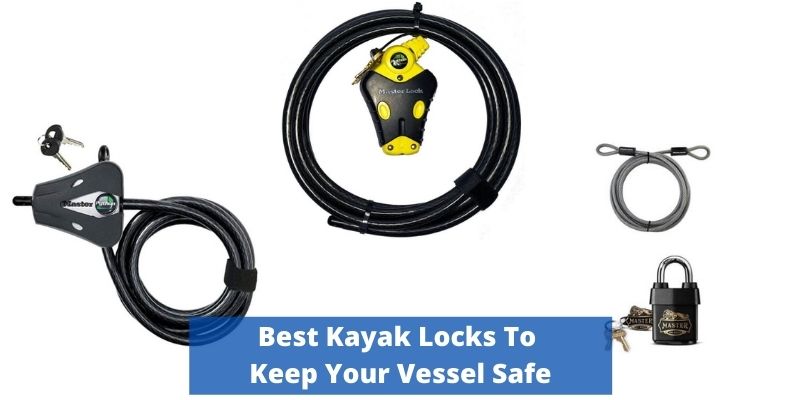 What Are The Types Of Kayak Locking Systems
Key Locks
Key locks are easier to open than combination or card-based locks. You don't have to memorize any code with them, and they're a lot faster too. However, make sure you keep those keys safe at all times.
Combination Locks
Combination locks are not easily picked and can be hard for a kayak thief to break. The best chance they have is guessing your four-digit code, but if you use random numbers it's very difficult for them. However, make sure the digits in your password are easy enough that you'll remember so long as they're both memorable or time-sensitive.
Kayak Lock Buying Guide
When buying a kayak lock there are many things to consider, from the weight of your boat and how often you use it, to portability. In this next section, we'll cover several criteria that will help you find the perfect one for your needs.
1) Locking Location
It's important to consider where you lock your kayak up. It's equally as important to think about what kind of locks will work best for that location. For example, a beam under the deck might be perfect if it has some sort of support structure below it – but this may require more cable and different locking mechanisms (depending on how big the space is). Locking onto something like a car roof rack can sometimes only need short cables with simpler locks because there are other things around.
2) Lock Material
Kayak locks are a great way to protect your vessel, but it is important that you choose the right lock. Be sure they go through the scupper holes, and do not pick one with a cable too thin; thieves will be able to easily cut through them.
Galvanized aircraft steel is the most common material for kayak locks. It's lightweight and durable so it won't add to your burden when you take your boat out on a day-long excursion, but also provides enough security that only someone with bolt cutters will be able to get through.
You should also consider choosing cables with rubber, plastic, or vinyl coatings so they don't scratch up your car when you move them around.
3) Cable Length
Most kayak locks don't come in shorter than five feet, but they can be as long as you want. If you have multiple sit-on-top kayaks that need to stay secure, the length of your cable will make a difference.
A ten-foot cable will satisfy most kayak locking needs. It can be used to lock up one boat in a variety of locations, and it also allows for expansion if you decide to purchase another kayak down the road. I would recommend purchasing a fifteen or sixteen-foot cable instead if you plan on expanding your kayak collection.
Also Read: How To Lock A Kayak
Best Kayak Locks Reviews
1. Trimax MAG10SC 10ft Combination Cable Lock – Best Sit On Top Kayak Lock
The Trimax Combination Cable Lock is a 10-foot cable with a loop on one end. The other end has an easy-to-set four-digit combination lock. On the 8 millimeters braided steel and vinyl covered, it's durable enough for whatever you could throw at it. And if you're forgetful of old combinations? No worries. There's also a protective cover that will help keep potential thieves confused when they can't figure out how to open this thing up.
---
2. Lasso Tandem Kayak Security Cable
This lasso lock is easily one of the best on this list because it can be used in a variety of kayaks with its 55-inch loop size and a combination lock that comes equipped to keep any craft safe.
The 16-foot cables are long enough for even touring kayaks (the widest type) so everyone stays secure while out exploring new waters or just making their way through town
With this tamper-resistant barrel lock, you can make sure that your kayak is as safe as possible. Even the most experienced thieves will find it difficult to steal.
---
3. Master Lock 8418D Python Keyed Cable Lock
Master Lock 8418D Python Keyed Cable Lock is an excellent way to keep your kayak safe from being scratched or stolen. It's 6 feet long and made of a tough 8mm braided steel wire that can't be cut with bolt-cutters, making it nearly impossible for thieves to steal your boat without the key. Plus, its vinyl coating will prevent any damage.
---
4. DocksLocks Coiled Combination Cable
The DocksLocks Coiled Combination Cable is the perfect lock to keep your kayak safe. Simply store this ten-foot cable on a compact surface and wind up for easy storage without the risk of tangles or knots. The steel coil coated with plastic offers a great grip even for wet hands. For added convenience, if you fail to recall your 4 digits code, just reset in seconds.
---
5. Master Lock 72DPF Steel Cable with Looped Ends
Master Lock Cable is 15 feet long and comes with looped ends so that it can be attached to a carabiner or other attachment point. The cable has 3/8-inch diameter braided steel, which protects your kayak from scratches while also being coated in vinyl for protection against rusting.
Additionally, this product includes an innovative self-coiling design – the Master Lock Cable coils on its own when not in use but expands to full length as needed. Master Lock Cable should be used with a mini U lock to make the most of it.
---
6. Seattle Sports Cradle Cable Lock for Kayaks
The Seattle Sports Cradle Lock is an innovative new design that was created specifically for large kayaks up to 18 feet in length. It's compatible with many storage systems, including cradle mounts and car roof racks. The cable on this locking system has a total of 20 feet which consists of six-millimeter galvanized steel wrapped in vinyl sheathing so it stays durable while you have your hands free at all times. And best yet? There are two keys included as well, meaning you'll always be prepared if one winds up lost or stolen.
---
7. Thule 538XT 6-Feet One-Key System Cable Lock
The Thule Cable Lock is a great option for locking up smaller sit-on-top kayaks. Its six-foot braided steel cable with exterior rubber coating makes it easy to store when not in use and fits through the scupper holes at the bottom of your boat, so you're better off holding onto that one key or making a duplicate quickly.
The kayak lock is designed to keep the sand out of it. The protective cover helps prevent anything from getting inside and offers a quick access point for you on the go.
---
8. Master Lock Python Adjustable Cable Lock
The Master Lock Python Adjustable Cable Lock is an excellent choice for those who are looking to secure their belongings in a variety of spaces. Moreover, you shouldn't get worried about the cable length The twelve-foot cable can be adjusted depending on your needs, which has the ability to lock tighter or looser than other locks.
It also comes with two keys and vinyl coating that will protect it from excessive wear and tear–a major issue when dealing with cables.
The velcro straps can handle the excess cable to keep it more compact.
---
9. Suspenz Universal Kayak Locking System
The purpose of this lock system is to secure your kayak in various situations, providing a universal solution. The small version locks up smaller boats 14 feet and under while the large one will work for those longer than that. You'll get two separate cables with loops at either end which wrap around both ends of the boat before being locked together securely by a central locking point or padlock (not included).
It's easy enough to use no matter what size you're dealing with: just follow these three steps – loop, attach cable lengths together & then pass them through-hull on bow/stern – repeat as needed.
---
Wrapping Up
Investing in a quality kayak lock is the best way to prevent your vessel from being stolen. These locks on our list are easy to use and offer superb, reliable performance that will protect you against theft of all kinds.