So you've heard how relaxing kayak fishing is? Or maybe you're just looking to get closer to the water? Whatever the reason, you're looking to buy the best fishing kayaks on the market. 
And since you've landed here, I'm going to assume you're eager to explore what different models on the market have to offer. Luckily, we've compiled in-depth reviews for the top angler kayaks of 2022, to give you the ultimate buying guide.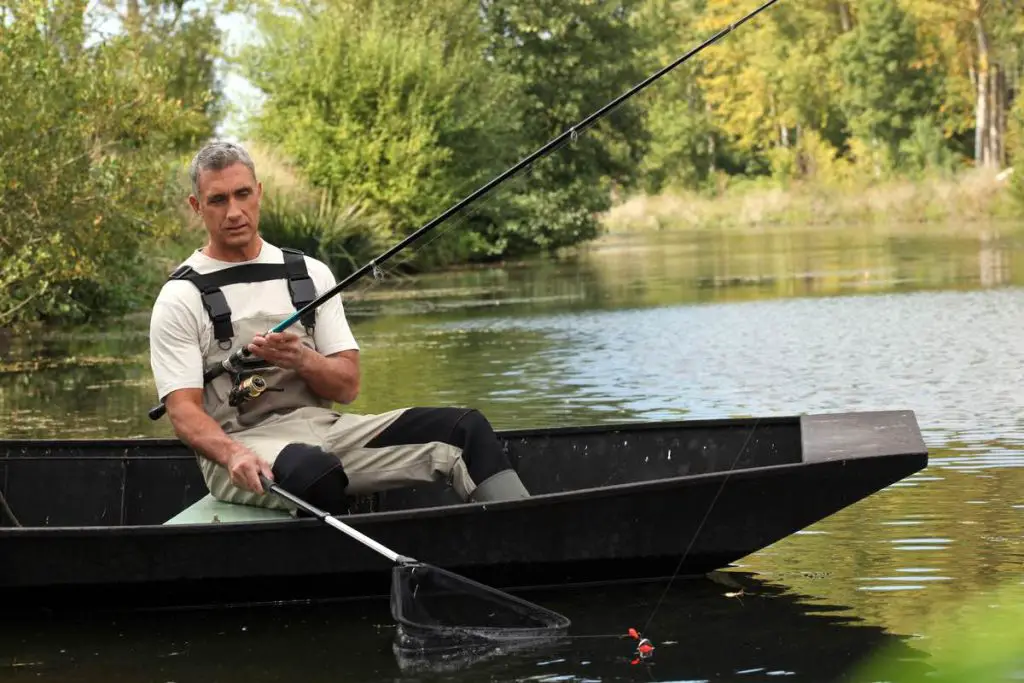 ---
Top 16 Best Fishing Kayaks Reviews
What is the best fishing kayak to buy? Yes, the same question popped up in my head several times and made me write about all the aspects and fishing kayaks reviews in detail.
A kayak best suited for an individual might not be perfect for the group and vice versa. To add to that, there are plenty of kayaks made solely for the purpose of fishing – with each one offering a unique combination of speed, size, stability, roominess, design, and fishing utilities.
To compile this list of the best kayaks for fishing, we went through tons of technical specs and user accounts to understand each kayak's pros and cons.
1. Hobie Mirage Pro Angler 12 – Pedal Fishing Kayak

❝Best Hobie Fishing Kayak❞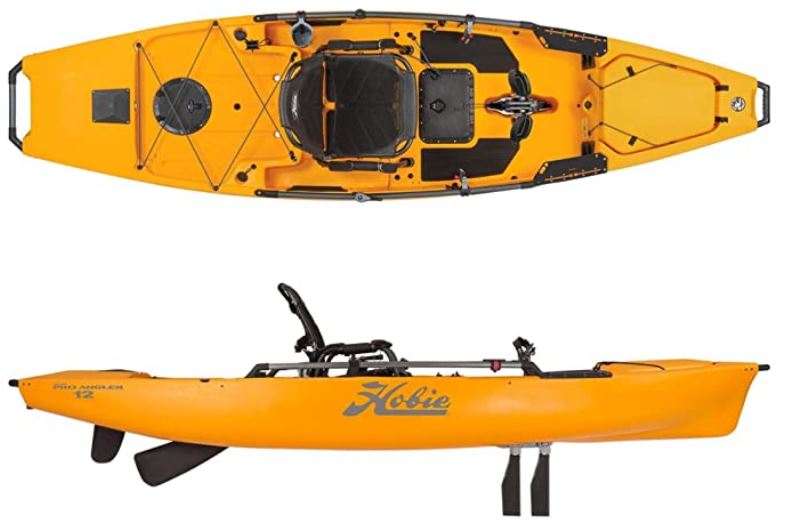 Hobie is a well-known name in the world of kayaking, and Mirage Pro Angler 12 is their flagship model. As expected, this model offers everything a buyer expects. Instead of conventional paddles, Mirage Pro Angler 12 introduced itself in the kayak world with two-foot pedals (forward and reverse drive) present in front of the seat.
At the bottom are ST Turbo fins, which are considered the most powerful and longest fins in the market. A minimal effort lets you cover plenty of distance in the water. Another prominent feature is its comfortable seat with efficient lumbar support, which can be adjusted easily in line as required. In fact, the seat can easily be removed and used as a beach chair. 
We have also got a nice storage hatch in the front, which can be turned into a cooler by putting in some ice cubes during summer. Four horizontal rod holders with separate caped tubes inside the hull can be seen. To top it off, this kayak has plenty of space for gear and extras.
Likewise, Pro angler 12 is the best for stability as real work has been done on its flawless design and finishing, which provides great comfort while fishing.
Also Read: Best Pedal Fishing Kayaks
---
2. Ocean Kayak Prowler 13 One-Person Sit-On-Top Fishing Kayak

❝Best All-Around Fishing Kayak❞

The Ocean Kayak Prowler 13 Angler is considered to be one of the best fishing kayaks under 1000$. It turns up with the combination of speed and stability together with enormous fishing ease.
This kayak has been designed to perform exceptionally well in different water conditions. Whether you chose oceans, calm lakes, or fast-running rivers, this kayak will not disappoint you. 
It is a relatively smaller but swift kayak with enough space for fishing. You can maneuver this kayak really well. Considering its size and weight, the kayak is quite spacious – with the convenience of having enclosed storage for fish finders. In addition, it protects the unit when in operation and helps you read the screen. As a bonus, this kayak offers you a transducer-compatible scupper and a battery bag. The large front hatch can be seen with easy access to the bow and stern internal storage.
---
3. Pelican The Catch 120 Fishing Kayak
Pelican Catch 120 Kayak comes pre-rigged with some features that are really going to help you right off the bat. So first things first, the seat is really comfortable for a long day of fishing, and Pelicans have put a really durable lawn-chair style in the Catch 120. The seat has also got a high and low position setting secured by a strap, so seating is a breeze.
If you want to make quick maneuvers in the water, the boat has the stability to handle it. That's going to be a huge advantage while sight fishing for bass.
Then there's the Tunnel Hull construction, which really lends itself to even more stability. The kayak comes with two flush mount rod holders. 
The next notable feature is the pair of pre-molded notches on either side, which lets you set your paddle down and not have it slide down as you go about fishing, stand up, or float down.
The front hatch of the kayak is really solid with a quick-lock feature. It comes pre-rigged with two simple bungee keeps and a couple of pad eyes right by your seat for lashing down gear. This kayak's cockpit is clean, simple, and has tons of room, making it a perfect platform for even a taller angler.
With its sleek design, the kayak will surprise you with speed and agility, whereas the other, wider varieties are rather sluggish. Pelican Catch 120 doesn't come pre-rigged to accept a rudder, which can be a limitation on a really windy drive.
So if someone asks me for a budget-friendly kayak to get into fishing and this sport, I will recommend this kayak because of the performance, features, and affordable price tag without a shred of a doubt.
---
If your budget is confined to $1500, Check out the Best Fishing Kayak Under $1500
---
4. Perception Pescador Pro 12

❝Best Sit On Top Fishing Kayak❞
Perception Pescador Pro 12 is a real fishing kayak for fishing enthusiasts. Chock full of fishy features with the tracking and stability discerning anglers has come to expect from today's fishing kayaks. Featuring a new removable stadium-style seat with two seating positions upright and recline that can move on the fly with a molded in-accessories track recess.
Storage and rigging opportunities are abundant with a stylish mesh cover bow and stern tank. Designed with a center console for your fishfinder electronics, the fishing kayak offers a 1 piece hull that is abrasion, UV, and impact resistant for durability. The kayak comes equipped with molded-in rod holders, a paddle park, a keepers foot brace system, and a molded-in cup holder.
With a stable drive, enough storage options, and room for attaching extra accessories, the Perception Pescador Pro 12 can be a perfect option for people looking for their first fishing kayak.
Recommended Reading: Best Fishing Kayaks For Ocean
---
5. Lifetime Tamarack Angler 100-10 ft Fishing Kayak

❝Best Rated And Selling Fishing Kayak❞
Next on our list of best fishing kayaks is the lifetime Tamarack Angler 100. It is a good option for anglers as it offers a variety of features at an affordable price. It is one of the top sellers and perhaps the most famous kayaks in the market.
The design and build quality are quite impressive. The kayak is made up of ultraviolet-protected polyethylene, which makes it light yet sturdy and durable.
Two round compartments for storage are present at the front of the seat and stern to store small tools and tackle. Three-rod holders, including two flush mount holders at the back of the seat and a single articulating holder on the right side, are present. A seat with an adjustable back, which some of the anglers found less comfortable, can be folded in some positions over the support strap.
Talking about stability, the kayak is much more stable than expectations owing to chine rails. Anglers have even found themselves standing comfortably while fishing.
With a length of 10 feet,  Tamarack Angler 100 is quite maneuverable and easy to control for such a lightweight kayak.
Tamarack angler 100 is one of the best affordable fishing kayaks. This kayak could well serve the purpose of most of the anglers on a budget, and they should seriously check out this impressive vessel.
---
6. Vibe Kayaks Skipjack 90 – 9 Ft Lightweight Fishing Kayak
The Vibe Skipjack 90 is light and weighs only 46 lbs. It is just 9 feet long; therefore can easily fit in the back of most SUVs and on the roof of small trucks. Its small size and light weight make it easy for its user to transport and store it. You don't need a cart to pull it to the launch site. Additionally, its portability is enhanced by the four carrying handles available in different positions. The prominent features are listed as follows :
Two sealed hatches for extra gear and tackle storage
Four flush-mounted fishing rod holders with caps
Four carrying handles
Rear cargo storage area with bungee tie-down system; fits coolers and crates
2 bungee paddle park for paddle storage
Mounting point for accessories
6 scupper holes with plugs
---
7. Old Town Predator MX Angler Fishing Kayak


❝ Best Fishing Kayak For The Money❞
The Old Town Predator MX (Mixed Water) is an ideal kayak for sports persons providing a perfect platform for on-water sports and fishing. The kayak was engineered with a slightly more rounded hull, making it very stable for fast-moving waters. Besides, the kayak has a roomy Exo-ridge deck allowing an ideal standing platform with non-slip pads integrated into the hull's floor and space for accessories.
Plus, it has a rectangular click seal hatch under the seat and gear-stockpiling pockets intended for quick access to tackle or gear – besides featuring six removable plates for accessories that are not drilled in the hull for mounting. 
Crafted specifically for fisherman's comfort, the fully adjustable seat adjusts between three positions based on your needs. When traveling, the seat lowers its center of gravity for increased stability. The attack position raises the seat as you fish, while its stand-up position moves the seat out of the way for casting and poling.
The foot-controlled rudder system is simple and intuitive, which takes only a few passes to get comfortable with. Anglers are really surprised by how nimble this beast is on the water and worth the price.
---
8. Wilderness Systems Tarpon 120 Fishing Kayak
Tarpon 120 is included in the list of most famous kayaks from the wilderness systems, one of the most renowned brands for kayak fishing. This is a high-performance boat with features and a comfortable fit. The Tarpon 120 is a versatile sit-on top that offers stunning performance for surf play, ponds, lakes, and bay.
They started with the seat and built the boat around it. If nothing else, the seat is made beautifully, looks really nice, and the styling is professional. The phase 3 Airpro seating system adds comfort and easy adjustability. There is performance foam, which is perforated and quick-dry, giving a lot of cushions. It is airy and breathable from not just the padding but the deck pan.
The back has plenty of storage space, which would come in handy if you decide to make some overnight trips, besides the two additional hatches that provide dry storage below the deck
The kayak tracks great and provides a seamless experience while maneuvering around rocks and shoals.
---
9. Wilderness Systems PUNGO 120 Sit Inside Fishing Kayak

Pungo 120 is a Sit-in type of kayak for fishing that tracks perfectly well. The polyethylene material makes it weigh only 49 lbs. and it is super easy to transport. The handle is made of soft rubber for comfort and a good hand grip. Moreover, the light weight does not compromise with its sturdy build.
The model is designed to ensure that you are comfortable no matter how much time you spend on the water. Thanks to the thigh knee padding and adjustable footrests to accommodate the anglers of different sizes.
The dashboard offers a removable dry box, Sidetrack to hold the phone, fishing rods, and other accessories with two mounting platforms. In addition to keeping your electronics charged a recess is also designed for Wilderness Systems Lithium battery.
Multi Chined hull design provides extra stability. Phase 3 Airpro seating system provides back stability without limiting stroke, whereas bungee deck rigging makes it easy to keep smaller gear within the reach.
---
10.  Old town loon 126 Angler
The Old Town Loon series trademark features are its rockered keel design, spacious cockpit, wider hull for stability, and quick response handling. It is probably the most advanced sit-inside fishing watercraft of its kind in the market. 
This 126 angler is designed for recreational and fishing purposes, with two flush mount rod holders behind the seat and an anchor trolley system. 
Perhaps the old town loon angler series' most exciting new feature is its innovative smart work deck. Crafted ideally within arm's reach, it features accessory trays, a cup holder, a water bottle cage mount, and a large dry storage compartment with a latched lid for secure gear management.
Other features include a click seal hatch with bulkhead, handles on bow and stern sides, a paddle clip, a drain plug, a bow and stern bungee, and more.
To ensure that no memory goes to waste, there is a USB charging port so that mobile phones, recording cameras, and other chargeable equipment remain powered on.
The advanced and innovative Active Comfort System 2.0 (ACS2) seating system features easy and intuitive adjustments, under-leg support, premium padding, and flow-through ventilation – combining aesthetics, comfort, and performance.
A completely redesigned hull provides effortless glide and straight tracking. The rider can enjoy a stable and efficient ride with the support track foot brace system's added leverage and control.
---
11. SUN DOLPHIN Excursion 10 Sit-in Fishing Kayak

❝ Best Sit Inside ❞

The Sun Dolphin Excursion 10 is great for a day out fishing on the lakes and rivers. Excursion means a short journey or trip, which gives us an idea of why this craft is named so. It is a lightweight and easy-to-manage kayak.
The body of the kayak is made up of high-strength PVC with UV protection. The UV protection helps in keeping the paint intact, so the color doesn't fade away. Moreover, it protects the hull from cracking and peeling due to the sunlight.
The durable body resists water splashes and keeps you away from getting soaked by frequent water coming inside the cockpit, hence keeping you safe around bumpy waters as well. The storage hatch comes with shock cord deck rigging and has enough room for a short fishing trip.
The cockpit is spacious and supportive when casting and reeling. Besides, it offers adjustable foot braces and a padded seat for comfort.
Two flush mount rod holders at the back of the seat and a swivel rod holder at the front are present with a bottle holder. As it is a sit-in kayak, the center of gravity gets lowered as the rider sits inside, making it a stable kayak.
The anglers who paddled Sun dolphin excursion 10 recommend it overall as they found its maneuverability quite exceptional, pointing it wherever you want.
---
12. ADVANCED ELEMENTS Strait Edge Angler Inflatable Fishing Kayak
If you are looking for the best inflatable fishing kayaks, you have found one probably. Advanced Elements has done it – a durable and rugged kayak is here. The straight edge angler kayak is designed with serious anglers in mind.
The kayak comes with a patented aluminum rib frame at the bow and stern to improve the tracking in open water conditions. The hull design is similar to a traditional, hard shell, sit-on-top kayak. The self-bailing port is a prominent feature that can be closed in calm conditions and closed in rough waters for enhanced tracking.
The kayak is puncture-resistant as it gets manufactured with a heavy-duty tarpaulin PVC material. Scraping and smashing against the rocks will not scratch the hull as there are abrasion-resistant pads at the bow and stern; therefore, it is quite durable. The seat has adjustable lumbar support for comfort.
The kayak has plenty of storage for fishing gear and other accessories at the bow and stern bungee deck rigging. To secure extra gear and bags, there is plenty of room behind the seat with two-rod holders.
In fact, there is a removable accessory mounting rail present at the bow. Paddle holders on the sides are handy when you are totally focusing on your catch while fishing.  The inflation and setup process is not a big deal as it is quite simple and takes a few minutes.
Advanced elements Strait edge is perfect if you are looking for a compact and stable craft for fishing.
---
13. Hobie Mirage I9s Inflatable Fishing Kayak
Hobie Mirage I9s is a sit-on-top inflatable kayak. The kayak is best suited for fishing as it comes with a pedal drive that favors reverse direction. The boat inflates and deflates quickly and comes with a high-speed hand pump for inflation. The i9s can be paddled, pedaled, and sailed with the sail kit (optional).
The hull is made up of 1000 Denier PVC with a drop-stitch floor having a good pressure to give a sturdy feel and an exceptional on-water performance. There are three inflation chambers with one-way valves.
Abrasion guard pads protect the bow, stern, and hull centerline. The kayak features a stow rudder that can be lifted and turned to lay on deck when not in use. There is plenty of on-deck storage for fishing accessories and other gear, including a rear bungee deck.
The defining feature of this inflatable is the Mirage Drive 180 with kick-up fins. The pedals are connected to underwater fins, locked and unlocked with a click-and-go system in the hull. 
Hobie Mirage I9S is one of the best fishing kayaks that are inflatable. For those looking for a compact and efficient craft that is agile on water, this kayak is the way to go.
---
14. BKC Brooklyn Kayak Company UH-TK181 (Best Tandem Fishing Kayak)
Let's get something clear; tandem kayaks are certainly not the most efficient to paddle as they require teamwork, coordination, and patience. That being said, they are still a lot of fun and are a great way to bond. In fact, the BKC UH TK 181 is great for anyone who wants to go fishing with friends and family.
Measuring 12.5 feet in length and just under 3 feet in width, this kayak's longer and skinnier dimensions distinguish it a bit from the pack of traditional fishing kayaks. The longer length gives it better speed on the water and efficient tracking and maneuverability than other stodgy tandem fishing kayaks. The kayak can be paddled solo, too – in fact; it is a great ride for rivers, surf, and flatwater for single-person adventures.
The kayak is equipped with 7-rod holders for fishing. Out of these 3 are adjustable, and 4 are flush-mounted, allowing multiple water lines to catch more fish.
Two secure paddle rests enable you to free up your hands for fishing and other purposes. Two watertight storage compartments conveniently located between each paddler's legs and a rear cargo area to store larger items are present.
With four easy-grip carry handles and two built cup holders, this fishing kayak is a complete package for adventure with a friend or companion.
---
15. Ocean Kayak Malibu Two XL Tandem Fishing Kayak
You and your pal are planning to go fishing together, so you might as well load up in the same Malibu Two XL tandem kayak capable of holding two adults and a youngster.
The comfort zone seats are movable, so you can set one up in the center if you are paddling alone. There are overlapping footwells, so you always have got something to push against no matter where you are sitting. Two articulating rod holders can be mounted at any of four locations. So you can bring a fishing pole and stash your paddle in the side paddle keepers.
Bait, tackles, valuables, or other gear can be stored in the unit located at the boat's center. With maximum capacity, it is an ideal fishing kayak for two people.
As it is usually a longer kayak, it propels very fast and tracks better. The unique hull design further enhances the stability as the boat eases through the water, making it almost impossible to tip over harsh conditions.
At 68 lbs., the Malibu isn't as light as a feather, but it makes up for it by being exceptionally durable, so it will be around for a long time.
---
16. Sevylor Coleman Colorado 2 Person Fishing Kayak

Go home with your bites after an adventurous day at fishing in the Sevylor Coleman Colorado. Made with an 18 gauge PVC, having a thick tarpaulin bottom, and a tough nylon cover, this kayak is durable enough to make it to the destined out-of-the-way fishing spot.
Consisting of several inflatable chambers, the kayak can easily be handled if one chamber gets punctured accidentally until you get back to the shore and repair it. 
One of the finest things you will notice about it is adjustable ergonomically designed two softback seats. The seats are spaced so that each person has enough room for legs and easy access to anything they need. It has rod and paddle holders that make it an adequate fishing kayak.
The Coleman Colorado has some mesh storage pockets that can be used for keeping important gear nearby. Moreover, if you are bringing some extra items, you can attach the equipment to the kayak by taking advantage of D rings.
Not to mention, fittings are there in the design if you want to add a trolling motor for a better fishing experience.
---
Ultimate Guide To The Best Fishing Kayaks For Sale
The crux in selecting the best fishing kayak for your needs is to reassess where and how you plan to do most of your paddling and fishing.
You need to Identify your needs. Will you be fishing in freshwater ponds for largemouth bass or navigating streams and rivers to fish trout and smallmouth bass? Do you imagine yourself hunting around saltwater harbors, firths, and flat waters? Or do you plan to rove into the open water and launch through surf? Will this kayak you intend to buy is purely a fishing kayak, or do you have some plans to use it for relaxation and recreation with your family?
As a good practice, here are some of the design and operational aspects to consider before zeroing in on any kayak for purchase whether you want to go camping or fishing.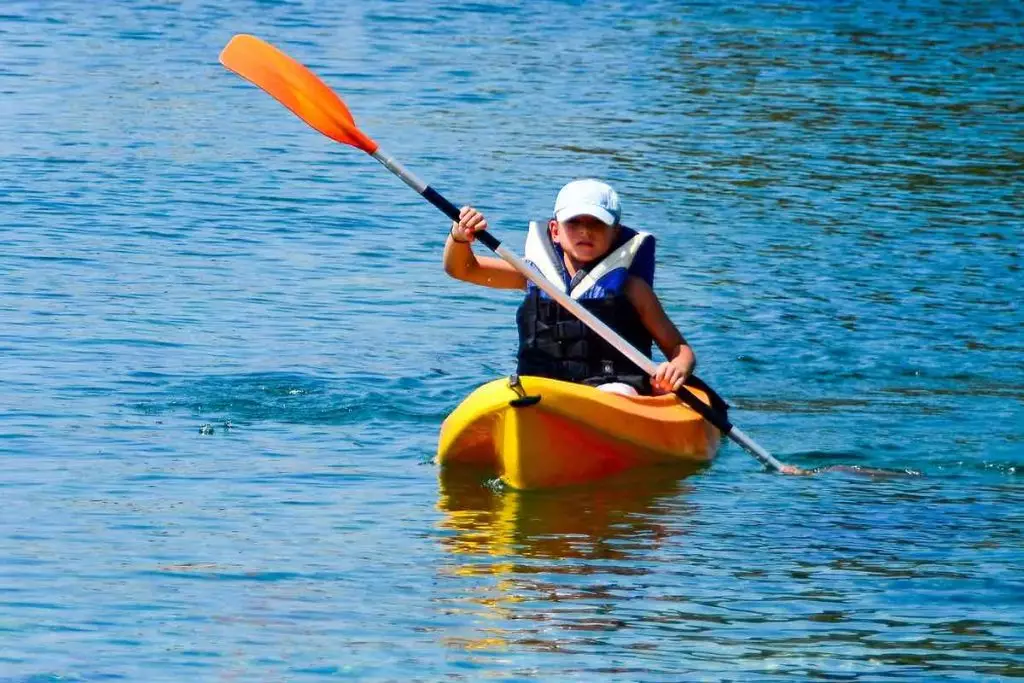 Stability
Stability is one of the most important factors to consider while fishing. You don't want to fear of tipping over while reeling in or catching the net. But really, the general principles to remember here are: the wider the vessel, the higher the stability, and the longer the kayak, the faster it is. Longer kayaks can easily cover distances quickly, but it will come as a trade-off with mobility.
Comfort
Kayaking isn't an easy adventure. You go through a lot of ups and downs (both figuratively and literally). This is why the one factor that should lie at the heart of any kayaking experience is physical comfort. The good news is that most of the best kayaks for fishing come with an ergonomic design and convenient seating system that can be adjusted for paddling – offering comfort for a long time.
Storage
More storage is always better. If you are new to fishing, you may be unsure about how much equipment you will carry with you. Thus, it's important to choose a kayak that has enough front and rear storage. Several kayaks come with hatches and removable trays to store the things that need protection from water.
Weight
When you lift your kayak to take it to the water and back to your truck or SUV, you are going to want a manageable weight. This is when the need for friendly lifting handles that allow you to lift, carry, and place the kayak comfortably will become most apparent. A heavy kayak often requires a wheeled cart to take it to the launch site and bring it back. Therefore, it is wise to check not just the weight of the kayak but also its handle designs and grips before buying.
Mobility
When buying, you need to consider the length-to-weight ratio of the kayak. Longer kayaks are usually heavier. Sometimes to reach a specific destination for fishing, one has to exit the kayak and carry it over ground or shallow waters.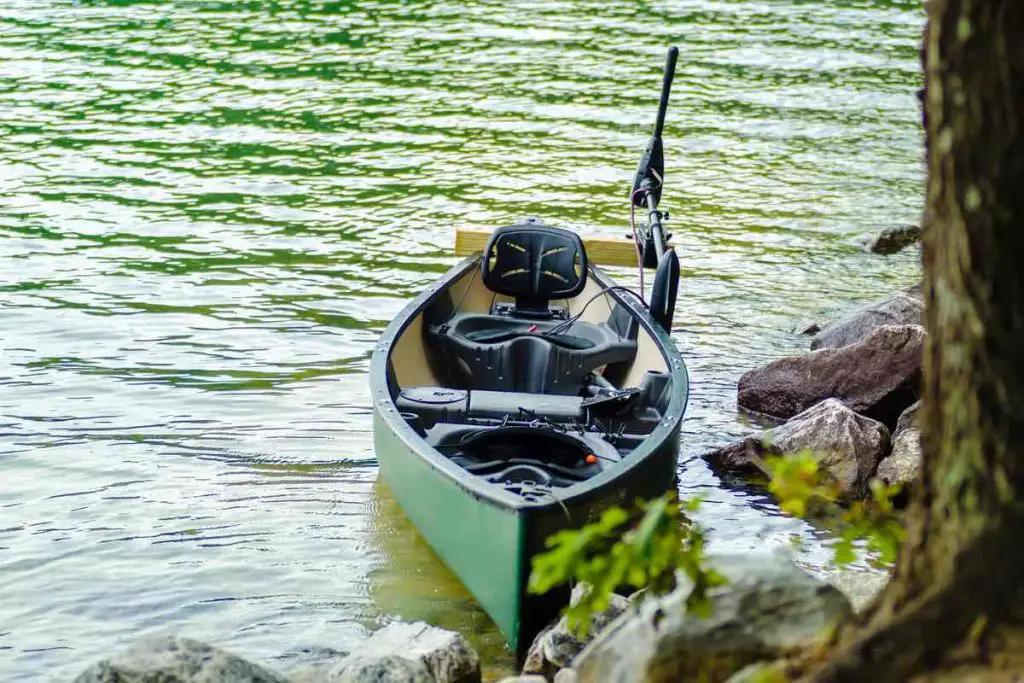 Fishing Kayak Drive: Paddle vs Pedal
Paddle Fishing Kayak
Most of the basic kayaks are usually propelled with paddling. Paddles have a lot of benefits. They are usually less expensive and require little to no maintenance. Most kayak anglers consider paddling kayak a better sneak option for fishing.
Pedal Fishing Kayak
The foremost benefit of a pedal kayak is that you can focus more on fishing as your hands are free. This eliminates multi-tasking by paddling and managing your fishing rod at the same time.
A pedal kayak is easier to use as you don't have to learn paddling techniques and other related skills. This means that nearly anyone can navigate a pedal kayak.
To get a little bit into the technical side of things, the power given to pedals by legs is transmitted by a rotary drive mechanism to the fins beneath the kayak that propels it. Some pedal kayaks offer reverse movement too. For these specific reasons, pedal kayaks are mostly expensive and a little bit more maintenance-hungry. 
You can go with any option, but it is recommended that you go out on the water with a paddle before gaining some familiarity with its use, obviously.
While Pedal kayaks are considered lightly faster, our analysis concludes that, above all, speed derives from the skills and strength of the user's muscles.
Types of Fishing Kayaks
Now by analyzing all the aspects, we hope you would be able to select the best kind of fishing kayak satisfying all of the requirements.
Inflatable kayaks offer their users freedom and convenience and can be taken anywhere when you are going for an adventure. They are the perfect choice when you don't have space for storage and transportation.
Inflatable ones are usually best suited for calm and smooth waters and inflated within a few minutes. The term inflatable conjures up the mental picture of a toy. However, inflatable kayaks are serious business. They are strong and brawny in disguise.
They are usually more affordable than the more traditional kayaks. You don't need to worry about the support equipment, though, as most of the time, these kayaks are shipped with the complete package of paddles and pump to inflate them.
Conclusion
To sum up, the most important things you need to put in front of yourself when selecting a kayak are to consider the way you'll use the craft — including the waters you'll fish on, the species you are going to target, and the amount of gear you'll need.
As well as the real-world curbs you are already aware of such as your size, your budget, and your car's potential to accommodate your yak.
Frequently Asked Questions FAQ's