The first couple of questions popping in the mind of anyone looking to buy a kayak is whether it can serve the specific needs of its user and how big a cheque they'll have to write to have it shipped to their garage. If you have a limited budget, this guide will let you find the best fishing kayaks under $1000 and catch some bites in style.
Due to recent advancements in technology, manufacturers are now producing more stable and durable fishing kayaks that are easily affordable. With Kayaks, you can easily access the small water places, but you'd already know that.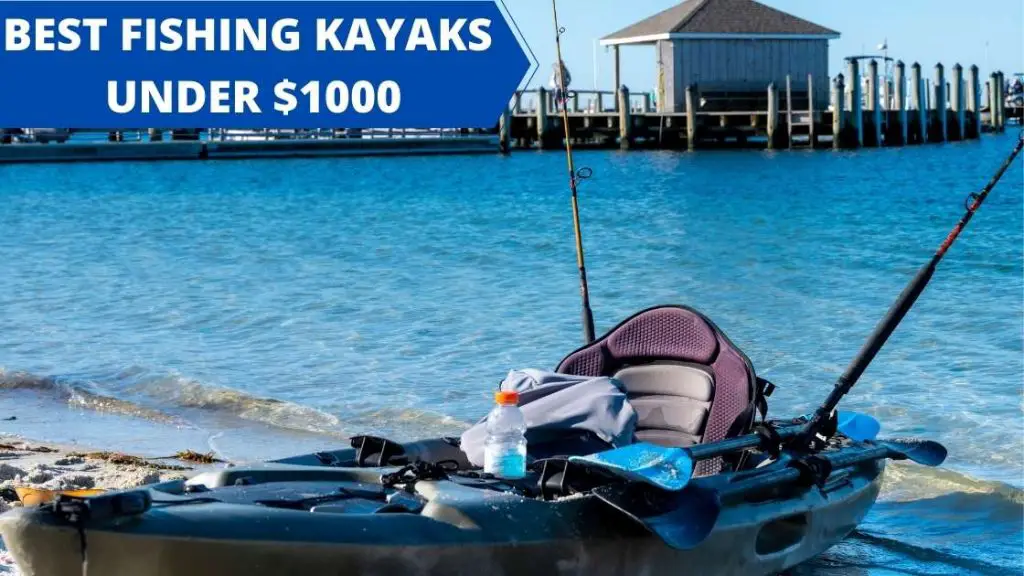 ---
Top 3 Picks
Top 12 Best Fishing Kayaks Under $1000 Reviews
1. Vibe Sea Ghost 110 Angler 11 Foot Sit On Top Fishing Kayak

❝ Best Sit On Top Fishing Kayak Under $1000 ❞
The Vibe Sea Ghost 110 is one of the best fishing kayaks under $1000 with its price to feature ratio. The kayak has a single piece of rotomolded polyethylene construction with 10 scupper holes molded in. 
One of the exceptional features is its Hero seat which is adjustable and comfortable enough to let you paddle and fish for several hours without getting uneasy.
The Vibe Sea Ghost 110 comes with a rudder system controlled by foot pedals and allows you to steer your kayak while paddling with ease from one side to the other. The Rudder system will assist you when water and wind conditions are harsh.
A 20-inch storage hatch in front and 6 inches storage hatch with bag-insert features at the back of the seat can be seen for storage purposes. Other than these, the rear area has a big tank space with a bungee cord to fasten boxes and other gear. All these storage options are more than enough for gear storage.
When it comes to adding accessories, the kayak offers four integrated gear tracks to add anything with a gear mounting system like a camera mount.
There are two flush-mounted fishing rod holders and a fish finder transducer port with mounting points and a protective lid.
Read: Best Fish Finder For Small Boat
The maneuverability of this kayak is excellent in rough conditions.
---
2. Perception Outlaw 11.5 Fishing Kayak – Best Stand Up FIshing Kayak Under $1000
The Perception Outlaw 11.5 Fishing Kayak is a one-of-a-kind sit-on-top kayak. From the vivid and eye-catching colors of this model to its construction, everything is up to the mark. First of all, this model comes in 5 different color options, so you have the freedom to pick your favorite.
In addition to that, it has been constructed with high-quality polyethylene, which is full of nifty features. Top of the list is durability and rigidity, which gives this model a prolonged life. Moreover, the manufacturers have incorporated a mesh seat in the center of this kayak. This seat is capable of lifting a teenager as well as a heavier adult. The wide-leg space of this kayak is another perk that makes it a great investment for an adult.
Furthermore, the wide storage space at the back is another feature of this kayak that I really like. There is also storage space at the front, which comes with a net at the top. A really great addition to this kayak is the molded cup holders. Lastly, the kayak is 11.6 feet long and has a maximum capacity of 425 lbs.
Even though this model comes at a high price, the fancy features along with the top-notch construction make it a great investment. This kayak has been built with polyethylene, so you can rest assured that it will be around for a longer period of time.
---
If your budget is $1500, Check out the Best Fishing Kayaks Under $1500
---
3. Lifetime Tamarack Angler 100 Fishing Kayak

❝ Best Inexpensive Option❞
Next on our list of best fishing kayaks under $1000 is Lifetime Tamarack Angler. It is a great beginner-level boat for someone wanting to get out on the water without striking it rich, but the features provided in this money to spend some quality time fishing in this kayak will blow you away.
It is made from ultraviolet-protected polyethylene, which makes it not just wear-resistant, but also rigid and durable – while still being relatively lightweight. Deep hull channels and chine rails make for a stable ride.
The sit-on-top kayak comes with an adjustable padded seat back to provide all-day-long comfort.
The cockpit is spacious enough with foot-wells to give you comfortable paddling. The kayak offers satisfactory storage for vessels of this size and price. 
A small storage deck at the bow and a large one at the stern are present featuring bungee cords to tackle gear and other tools to make sure you have a great day of fishing. Two flush-mounted rod holders are located at the back of the seat and an articulating rod holder can be found on the starboard side of the cockpit.
Tamarack Angler 100 is quite maneuverable and easy to pilot around. Despite being such a lightweight vessel, it tracks really well.
Now coming towards Tamarack angler 100 vs Sundolphin journey SS. Both kayaks perform well in the water but I would prefer the Tamarack over the Sun Dolphin anytime due to the increased weight, better feel of the plastic, and the manufacturing.
Anglers looking for the best fishing kayaks under $1000 will be well served by this kayak and should give it serious consideration.
---
4. Vibe Kayaks Skipjack 90
The Vibe Kayaks Skipjack 90 is widely considered one of the best compact fishing kayaks in this price range when compared to others in the market. Being firm and only 9 feet long, the kayak can be easily fitted into the back of most SUVs.
Skipjack 90 comes pre-rigged with all necessary user functionality to help make a great catch during your fishing trip.
To ensure that your paddles never make you feel uneasy during fishing, there are paddle parks on either side of the boat to prevent them from falling into the water.
There are two sealed hatches at the front of the seat for storage of gear and other useful accessories. In addition, there is a large tank at the rear side for dry storage and 6 scupper holes with plugs.
There are four flush-mounted rod holders with capes and an extra mounting point for accessories. To move the kayak easily with hands, four handles with grips are present at the bow and stern sides.
Its reasonable price value, portability, and outstanding performance make it an ideal companion on your fishing trips.
---
5. Lifetime Sport 10 Foot Tandem Fishing Kayak
Lifetime Sport 10 is the ideal kayak for you if you have a low budget but want to go on a fishing adventure with a companion that could be your friend or a family member. This is one of the cheapest kayaks that will seat three people in complete comfort.
The low price of this kayak doesn't really mean that the build is average. The kayak has a robust construction and is made up of high-quality polyethylene which gives maximum strength to seat 3 adults with ease. The build is UV protected that shields it from fading, peeling, and cracking -making it durable.
The stable hull design makes it suitable for almost all types of waters and gives you the freedom to stand and reel in your catch while fishing. 
The vessel offers enough storage options to store your gear and tackles with a 6-inch storage hatch at the back.
The Sport Fisher from Lifetime has various embellishments like 4 angling rod shaft holders, scupper holes for seepage, string straps to secure your valuables, and a mount that can be utilized for trolling motors.
Also, Lifetime has added extra padded backrests on each seat and multiple footrests to make the vessel both spacious and comfortable.
---
6. Ocean Kayak Prowler 13 Angler Sit On Top Fishing Kayak

❝ Best Angler Fishing Kayak Under $1000❞
If you're looking for a fishing kayak that is durable and can accommodate both beginners and professionals, consider buying the Ocean Kayak Prowler 13. It is a sit-on-top fishing kayak that comes with the fine build quality and stability for a pleasing angling experience.
The Ocean Kayak Prowler 13 Angler is considered one of the best fishing kayaks under $1000 and the best fishing kayak overall. It turns up with the combination of speed and stability with enormous fishing ease.
The kayak has a comfortable, spacious, and adjustable seat with a backrest and offers ample storage.
There is a large storage hatch at the bow with a click seal lock and a 6-inch hatch with a storage bucket in front of the seat. In the large hatch, you can store your gear that needs to be kept dry and small valuables in the 6-inch hatch. 
Behind the seat, we can find a large tank well cargo area with a bungee that keeps securing relatively larger items. Other than storage areas, there are paddle holders on both sides of the kayak to secure your paddles and help you utilize your hands efficiently for a better fishing experience.
In addition to paddle holders, there are two-rod holders, a 6-inch hatch with a storage bucket, 2 cup holders, 2 paddle keeps, and a skid plate.
With a well-designed hull, Ocean kayak prowler 13 offers stable performance on several types of water. For increased tracking, the kayak can be installed with a rudder, however, it will cost you some money.
Considering the overall features, we will conclude Ocean Kayak Prowler 13 as one of the best fishing kayaks under the $1000 bracket.
Want to fish in open waters: Have a look at the best ocean fishing kayaks
---
7. Old Town Topwater 106 Angler Fishing Kayak

❝ Best For Heavy Anglers ❞
Old town is a well-known brand when it comes to fishing kayaks. Their Topwater 106 is one of the most stable kayaks in the "best fishing kayaks under the $1000" category regardless of whether you prefer to stand or sit while fishing.
With a weight of 73 lbs., this kayak can hold 440 lbs. of weight making it the most impressive option for larger anglers. 
With the all-new ultra-stable double U-shaped Hull, the kayak easily glides through any water condition. The platform is well built for stand-up fishing with abrasive pads integrated into the hull's floor.
The new breathable ElementAir seat with dual positioning keeps you cool, dry, and comfy while on the water. 
To keep your gear, tackles, and other valuables safe, there is enough storage with an extra-large rear tank well secured with elastic cords. In addition to the rear ones, a hatch in the front provides additional storage.
Two-rod holders at the back and a one-rod holder at the front provide proper placement and accessibility to enhance your fishing experience while the universal transducer mounting system makes mounting your fishfinder easier. 
---
8. Sun Dolphin Excursion 10 SS Sit In Fishing Kayak
A small, lightweight, and durable vessel, the Excursion 10 SS offers a number of features and storage options like many kayaks with higher price points. Most anglers praised its durability and reported that the craft is well-built and sturdy.
The Excursion 10 SS provides a fine amount of storage space for such a small craft. It comes equipped with two flush-mount rod holders, as well as an articulating rod holder in front of the seat. The articulating rod holder is present to the left of the craft.
The Excursion 10 SS also features an accessory carrier, which can be removed from the craft and towed via a cord that makes room in the designated cargo area. The cargo area equipped with bungee cords keeps your gear secured. In addition, you can also store coolers, bait wells, and similar items. The Excursion 10 SS also features a hands-free electronics console for your cell phone and other electronic devices.
For its size, The Excursion 10 SS is a very comfortable kayak, as it has a roomy cockpit and adjustable foot braces to give you plenty of room and allow you to adjust your body in the vessel. However, exceptionally tall anglers may find the cockpit a little packed.
---
For additional comfort Check out The Best Kayak Foot Pegs And Foot Braces
---
The craft possesses a padded seat that can be adjusted and the cockpit is lined with thigh pads to ensure you remain comfortable while paddling and fishing. The bigger storage area is located at the rear of the vessel, so you'll have to twist around to access it, but this is not a big deal for most anglers.
The kayak tracks well and provides more stability than many other kayaks of similar size on the water. Its small size makes it quite maneuverable and allows anglers to navigate easily.
You can find retractable handles at the bow and stern, it is very easy to move it across the dry ground because of its lightweight. The kayak is not stable enough for standing, despite its 30-inch-wide beam.
It is a great choice for anglers who want to fish in lakes and rivers. Most of those who are interested in purchasing sit-in type best fishing kayaks under $1000 should give the Excursion 10 SS a look.
---
9. Perception Pescador Pro 12 Sit On Top Fishing Kayak

❝ Best Stand Up Fishing Kayak Under $1000 ❞
The Pescador Pro 12.0 is a sit-on-top, wide and stable vessel for taking all your gear out for a day's fishing trip. When it comes to the fishing features, Pescador Pro 12 is considered one of the best fishing kayaks under the $1000 category.
The hull of the kayak is made from polyethylene, so it is lightweight and durable. A skid plate is added at the bottom of the hull to provide added durability. The quality of the build is really high, so you can expect this vessel to serve you for many years to come.
The design of the kayak shows that a lot of work has been done on the layout. The stadium-style seat gives you a big cushioned area. The backrest and adjustable seat provide much-needed support when spending hours out on the water for fishing. The seat is also removable if you want to take it off. There is plenty of space, and cushioning to support an angler of even larger size. 
The cockpit is spacious and allows you to move your legs around freely, which again is an important factor when spending a long time in the kayak. Adjustable foot braces put your feet in the most comfortable position while paddling out to your desired fishing point.
The dry storage hatch in front and behind the seat is enough to keep your valuables like cell phones and keys safe. Having a spacious cargo deck behind the seat, with bungee cords lets you secure your bags and larger items, while smaller gear can be placed at the bow storage.  There is also a cup holder and a tackle storage box area that comes with a gear track to attach other gear to it.
Pescador Pro 12 features two molded-in rod holders, as well as a paddle holder to keep your paddle while you're fishing.
In addition, there is a center console designed to attach electronics such as a fish finder and GPS.

There are four carrying handles and a skid plate to easily carry the kayak from one spot to another.
Experienced anglers found it easy to maneuver when you're on calm waters, such as a lake or slow-moving river. The vessel can track well in calm to moderate conditions, due to the shape of its hull. 
Now what to choose between Perception Outlaw and Pescador? If stand-up fishing is really important for you, Outlaw is the ultimate choice. But I'd always prefer Pescador for a better paddling trip. I've got both ones and really like the versatility of Pescador. The only reason you should upgrade to Outlaw is if you like to stand and fish.
---
10. Advance Elements Strait Edge Angler Pro Fishing Kayak

❝ Best Inflatable Fishing Kayak Under $1000 ❞
If you are looking for the best inflatable kayak for fishing without breaking the bank, you have found it, probably. Advanced Elements has manufactured a durable and sturdy inflatable kayak with serious consideration for anglers.
With drop stitch floor technology, you don't need to worry about standing up for sight casting and reeling in a big catch.
The Straitedge Angler pro is a well-built kayak designed to ensure better performance.  The hull is divided into five chambers with built-in aluminum ribs in the bow and stern, making it rigid. A number of abrasion pads are attached to the exposed areas of the craft to improve its durability. Moreover, inflation and deflation are made quick and easy by several spring valves.
The kayak offers a high-backed aluminum frame chair with inflatable lumbar support which will help minimize soreness, while the mesh design of the seat helps to keep your back cool and dry. Additionally, by virtue of its inflatable design, your knees and thighs will remain perfectly comfortable when resting against the sides of the craft.
The Straightedge Angler Pro provides satisfactory storage space but It doesn't have any waterproof compartments. Two-rod holders near the seat and two spacious bungee-cord decks with stainless steel D-rings re there to keep your gear secure are present. One of the most convenient features is the removable accessory mounting rail at the bow where there is a provision to mount your fish finder and similar equipment.
Being wide the kayak offers a great amount of foot room and stability; hence anglers can stand comfortably and confidently while fishing. Usually, inflatable kayaks have poor tracking and relatively poor maneuverability, but the Straitedge Angler Pro surpasses many comparable crafts and tracks really well for an inflatable craft.
Read: Best Inflatable Kayaks For Dogs
---
11. Brooklyn Kayak Company BKC UH TK 181 Tandem Fishing Kayak

❝ Best For Tandem Fishing ❞
If you are looking for the best fishing kayaks under $1000 that can accommodate your buddy or any family member, then Brooklyn Kayak Company's BKC UH 181 is the ultimate solution to your fishing adventure.
UH-TK181 is built from lightweight and strong polyethylene material that is tough and scratch-resistant.
The smooth hull design makes it suitable for almost all types of water. In addition, there is a central keel and four deep channels to provide stability and maneuverability and ensure it tracks well. The kayak can accommodate two fully grown adults, hence it is a little heavier, but this is to be expected from a longer kayak.
Two watertight storage compartments are conveniently located between each paddler's legs to store tackles, tools, or smaller items. A bungee-cord storage area is located at the stern to secure large items. 
The craft features seven-rod holders – one articulating holder at the stern, one articulating holder on each side of the rear seat, and four flush-mount holders on the sides. Two paddle rests are also included to keep your paddles safe while reeling in the bass.

The seats are adjustable and most anglers who rode this craft for fishing found them to be comfortable. 
The kayak has spacious cockpits and provides plenty of room for both passengers. In fact, it is large enough to extend the legs to the maximum when you need a break.
Measuring 12.5 feet in length and just under 3 feet in width, this kayak's longer and skinnier dimensions distinguish it a bit from the pack of traditional fishing kayaks. The longer length gives it better speed on the water as well as efficient tracking and maneuverability than other stodgy tandem fishing kayaks. The kayak can be paddled solo too – in fact, it is a great ride for rivers, surf, and flatwater for even single-person adventures.
---
12. Feelfree Moken 12.5 Angler
The FeelFree Moken 12.5 is an intermediate-level kayak for anglers who have gained some experience and are eager to find a craft with more fishing features. The Feelfree has built this vessel quite well. Any angler who is looking to upgrade his beginner-level kayak should consider buying it.
The Moken 12.5 is 12 feet and 8 inches long which makes it relatively longer and a faster kayak. The width is only 32 inches, which might decrease its stability in heavy surf.
But Feelfree hasn't compromised with the build quality. The craft has a high-quality polyethylene fabrication, making it sturdy and durable. 
The Moken 12.5 provides a good amount of space for anglers to store their gear. A large chamber is located in the bow designed to hold the tackle and similar equipment. Meanwhile, to keep larger items, the rear deck secured with bungee laces can be utilized.

Two flush-mount rod holders are located behind the seat. A center console is present at the front of the cockpit with a cup holder and a paddle keeper. 
The vessel features quite a spacious cockpit, which can accommodate anglers of even larger sizes. Adjustable foot braces allow riders to adjust their posture accordingly, while a good amount of anglers found the adjustable KingFisher seat quite comfortable.
The craft even includes a standing pad, so that your feet and back don't become fatigued while out on the water.
Most anglers who tried the Moken 12.5 found it really stable on slow waters and lakes and did not recommend it on heavy surf and turbulent water. The kayak stays stable if you want to stand and fish.
Some anglers found it difficult to turn and found it drifting away a bit while others felt that it tracked well. There is a difference of opinions regarding the maneuverability of Moken 12.5. But we think it depends on the skill level and experienced kayakers will find it really maneuverable. 
---
Things to Consider When Choosing From Best Fishing Kayaks Under $1000
There are multiple key factors that every angler should consider when choosing a fishing kayak. Let us have a look at those factors before you make that all-important decision to choose a kayak best suited for your purpose.
Type of Fishing Kayak
Sit-in kayaks allow your lower body to be enclosed within the kayak's hull. The angler sits low closer to the water and hence, provides a lower center of gravity which in turn enhances stability when floating in the water.
As the name depicts, the sit-on-tops are ideal for normal usage and are more often used when the weather is stable and clear. Open top makes the in and out access easier along with easy handling of fishing equipment and gear.
---
Portability
A lightweight and well-designed kayak make it easy to move around. One should always think about the ways he/she will handle and transport it before considering buying a kayak. A portable kayak makes your whole fishing journey quite effortless.
---
Storage
Storage is a very important aspect to consider for kayak fishing. You need to secure tackle and other important accessories. Most fishing kayaks come with storage compartments on both ends.
So the buyer should consider the kayak that offers an ample amount of storage.
---
Durability
Choose a fishing kayak that is durable. Fishing is not a one-time trip. The anglers usually go for multiple fishing trips. So it is really important to own a kayak that is durable. Fishing kayaks are mostly made of polyethylene material which is strong and tough. Some kayaks have abrasion pads to protect them from scratches.
---
Size
A fishing kayak's length has an exceptional impact on its performance. The first step to determine the required length is to consider the type of water you are going to use for fishing. Shorter kayaks are more maneuverable and longer kayaks faster. Similarly wider kayaks are stable but slower. If you are considering ponds, creeks, and backwaters – opt for maneuverability. However, if you're going to choose lakes, rivers, or the ocean – go with a longer and faster vessel. It's also really important to think about your body size. A larger individual should always go for a kayak that is more spacious and offers a greater weight capacity.
---
Anchor
There are several methods to anchor your kayak in quite all price ranges. Adding a normal or electronic anchoring system can be a huge benefit if you fish in open water or even in calm waters where you may want to anchor up to fish. However, the use of such techniques also adds weight to the craft and can be unsuitable for anglers that like to drift with the waves while fishing. 
---
Final Thoughts On Best Fishing Kayaks Under $1000
To conclude, some of the factors you need to be mindful of as you proceed with your kayak hunt are,
1) The type of water you have for fishing -.salt or freshwater, warm or cold water, farm ponds or huge lakes, offshore or slow-moving rivers
2) The site of launching of the kayak. Are you going to launch the kayak from the seashore or from a dock?
3) The point of deployment of the kayak will be shallow or deep.
4) Is there a specific place you want to reach for fishing?
5) Would you be going solo or with a partner, do you have a family that you'd be taking on kayaking adventures? 
You need to keep all these factors in mind before deciding on the model to buy. Good clarity on these variables will narrow down your options and ultimately help you pick the best fishing kayaks under $1000.
Frequently Asked Questions FAQ's
Check out all the Best Fishing Kayak Brands in 2022.