Kayaking isn't just about going out and enjoying nature. It also involves exploration of hidden places that only a few watercraft can discover, but it is important to be aware when too far away from your location.
The risk of getting lost out on the water is real for any kayaker, and that's why I think every paddler should buy the best kayak GPS unit.
There are many different options available when choosing a kayak GPS that will work well for you. You'll want one that has excellent customer reviews from people who have used them before, as well as features like waterproofing or high-sensitivity receivers for accurate readings in areas with limited satellite coverage. For your convenience, we have put together a list of the 8 best GPS for kayaks.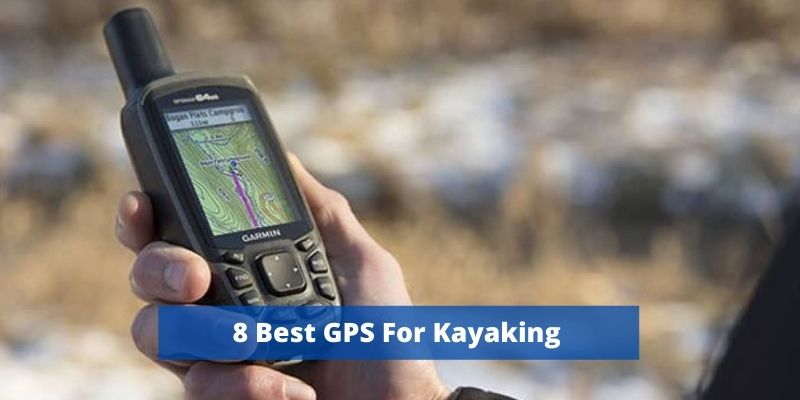 Our Top Pick (Best GPS For Kayaking)
Here is our top pick after a lot of testing and research.
Do I Really Need A Dedicated Kayak GPS
You might wonder why you should pay for a high-quality GPS unit when your smartphone has built-in GPS. Right?
Smartphones can be incredibly helpful in navigating through day-to-day life. Most of the time, I could reach my destinations without the help of my phone's GPS.
But I wouldn't totally rely on it when Navigating unknown waters and finding my way back to the shore.
Kayakers often need to get away from civilization and this means they lose access to Wi-Fi. Without a cellular network connection, smartphones become useless so top kayak GPS devices are a big help there.
Without requiring a signal from any cellular networks, dedicated kayak GPS units use satellite-based systems to pinpoint your location.
A global positioning system
You can use coordinates to pinpoint your exact location at any moment. 
Guide you to and from a specific location
Think of your favorite spots on the route as waypoints and memorize them.
You can see all the directions you are moving towards and track your accurate speed.
Buying Guide For The Best Kayak GPS (Things To Consider)
Wrist Wearable, Handheld, Or Console
A wearable device is usually a wristwatch that can track your physical activity. They are extremely convenient because you always know where they are and aren't likely to drop one. Because these devices come in close contact with the body, it's easy for them to integrate heart-rate monitors and other measurements which help keep a record of training activities.
On the downside, their small displays limit what these wearables contain or offer in terms of entertainment value for users.
Handheld GPS Devices
Handheld GPS devices are the top choice for paddlers because they're lightweight, portable, and can fit in a dry storage bag. A handheld has more advanced features than a wearable device; typically it's larger with an improved display that gives you quick access to key data like your speed or distance traveled.
Console Mounted GPS Devices
Kayakers rarely use console-mounted GPS devices (although they are advanced and feature-rich), since they are bulky and require an external source. However, the fishing community has embraced this type of device on their fishing kayaks that integrate sonar technology to find fish.
Water Proofing Ability
When shopping for the best GPS to kayak with, I'd recommend a completely waterproof unit that can be submerged. A higher IP rating of around IPX7 ensures protection against water damage in case you capsize your boat or it gets hit by raindrops if you're on choppy waters.
There are different levels of water resistance and waterproof cases. If the GPS only has a basic level of protection, use either one or store it in an airtight bag that will keep out any moisture.
Accuracy And Satellite Coverage
In addition to the standard US-based GPS system, some devices are paired with GLONASS – a Russian-based satellite tracking technology that offers 24 other satellites for better speed and precision.
It's a famous opinion that kayaking GPS must be compatible with the US and Russia's leading satellite navigation systems. This way, you can count on a reliable signal in more places than just one system alone. WAAS (Wide Area Augmentation System) is another function of Kayak GPS units that further adds to the accuracy and reliability.
To speed up GPS loading times, the HotFix (another necessary feature) allows your unit to collect and predict satellites' positions. This is a must-have feature for the best kayak GPS devices.
Mapping
A GPS device can come with preloaded maps – but the level of detail and type will vary from one to another. 
Some might only feature a default map for North America, but the best systems on market are likely to have an installed world map instead. However, you may be able to download additional maps or upgrade what is already included.
GPS Display
When looking for a GPS unit, I would recommend that you consider the size of its screen. The best screens are reasonably sized so it is easy to read them in various lighting conditions and high-resolution if possible.
The screen size of a handheld or watch-style kayak GPS unit is not comparable to one that can be mounted on the boat. The display measures between 2 and 5 inches diagonally, corner to corner.
Longer Battery Life Is Better
A dead GPS unit is a horrible thing to have out on the water, so you should look for something that has at least 16-18 hours of battery life. Battery-saving mode can be great too if it means having your full functionality throughout an entire day.
Also, consider the type of batteries these units consume
Lithium-ion batteries are pretty good at holding a charge, but they can only be recharged with electricity.
If you are planning for a longer (multiple days) kayaking trip, disposable batteries may be the best option. As long as you bring some spares and use them when needed.
Best Kayak GPS Device Reviews
GARMIN GPSMAP 64ST (Overall Best GPS For Kayakers)
To have full accuracy deep in the ocean canyons, consider using GPSMAP 64st without a shadow of a doubt.
The handheld GPSMAP 64st is a small, lightweight device that resembles a walkie-talkie. However, this navigation tool manages to offer unparalleled functionality.
Outfitted with GPS and GLONASS compatibility, the Garmin GPSMAP 64ST is an excellent choice. With a quad-helix antenna that provides reception even in remote areas, you'll never lose track of your location again. It comes preloaded with a world base map as well as TOPO US 100K maps and a one-year BirdsEye Satellite Imagery subscription so you can always have access to important information wherever you are.
The 2.6-inch screen is easy to read even in broad daylight conditions, and it is not touch-sensitive but that shouldn't be an issue.
I really liked the dual battery system because it can run on AA batteries or an optional rechargeable NiMH.
I loved the smart notifications tool on this kayak GPS because it can pair with external components to provide for temperature, heart rate, and speed readings.
---
Magellan eXplorist 510 GPS Kayak
When you're looking for a high-quality marine map that's easy to use, the eXplorist 510 is your go-to device.
This GPS unit comes with high-resolution marine maps, highlighting over 12000 lakes around the US.
Magellan explorist GPS is waterproof and fitted with a 3-inch touch screen. The hard buttons on this device offer an alternative method of use when your hands get dirty—which they do often during kayak fishing activity.
Featuring a 3.2 Mp camera, microphone, and speaker for the geo-tagged content. The device also has an impressive collection of topographic maps to help with navigating unfamiliar areas.
Read: Best Cameras For Kayaking
With two AA batteries included, you'll want to stock up on extra ones as it consumes the batteries in under 15 hours.
Overall this GPS device is great. I love how the large touch screen makes it easy to use when navigating, but if you're reading in direct sunlight, that can be a problem.
---
Garmin GPSMAP 78sc Waterproof Marine GPS
With the GPSMAP 78SC, Garmin steps up to the plate again with a marine-specific handheld device that promises to provide features on par with the most popular larger mounted chart plotters used on yachts. The display is easily readable and has good visibility even under bright conditions while the menu setup is sensible, easy to use with ready access to key features.
It is IPX7 water-resistant and even floats in the event of a drop. The GPS navigator is compatible with WAAS-enabled GPS technology and has HotFix prediction, so it's ready to go right out of the box without any initial setup. BlueChart g2 coastal maps come pre-installed but you can also upload other types of map data onto a micro SD card if needed.
Even though the 2.6-inch screen is on the smaller side, it displays depth contours, harbors, and marinas well. The 78sc also has a long battery life of 20 hours.
Overall the GPSMAP 78SC is a top-of-the-line marine navigation device that will help you navigate through even unfamiliar waters.
---
GARMIN FENIX 5 GPS WATCH
The Garmin Fenix 5 is a GPS watch for the wrist that has everything you could possibly want in one place. This device comes with a heart rate monitor and blood oxygen saturation sensor, which can be very helpful when monitoring your health on the go. It also doubles as a map tracker and compass. With GPS full chart and map support, GLONASS satellite reception makes it easy to navigate anywhere without getting lost.
With its 500 song limit + built-in contactless payment system, there's nothing more you need from an all-around smartwatch than what the Garmin Fenix 5 offers here today.
The Fenix 5 Plus lets you record routes and waypoints, plot your position on a chart, track your physiological metrics like heart rate or distance traveled, all while listening to tunes.
Overall The Fenix 5 GPS watch is a great pick but the built-in menus can be tricky and take time to understand all the features. It's pricey but worth it if your wallet can handle it.
---
Garmin eTrex 10 Handheld GPS Unit (Best Budget Kayak GPS)
The eTrex 10 is a cheap GPS unit that provides excellent accuracy at an affordable price. It has many features you won't find on other units in this range, like WAAS and GLONASS support and HotFix technology to speed up satellite acquisition time. However, it comes with just a base map for worldwide use as default which may not be extensive enough for some users' needs.
The kayak GPS has a 25-hour battery life and an IPX7 waterproof rating. While many higher-priced options have similar features, this is impressive for one that's so cheap.
The sleek, minimal design is complemented by a 2.2-inch monochrome display. While the low resolution might be expected for such an affordable unit.
---
Garmin eTrex 30x, Handheld GPS For Kayak (Best Mid Range Option)
The Garmin eTrex 30x is the upgraded version of 10 with a faster speed and more accurate readings. It's also cheaper than other GPS models, making it easy on your wallet.
The display is a 2.2-inch color screen that's readable under direct sunlight.
The eTrex 30x is a GPS-enabled device with both the GLONASS system and WAAS support. This allows for increased accuracy, as well as faster readings using HotFix satellite prediction technology.
The Garmin eTrex 20x has a worldwide base map, which is preloaded. The internal memory allows for the storage of more maps. It has up to 25 hours of battery life.
---
Simrad Cruise 5 GPS Chartplotter
Next and last on our list of best kayak GPS is Simrad Cruise 5 which is the console-mounted model. It features chart plotting and sonar combo. It acts as a GPS navigation device and features CHIRP sonar technology for depth tracking as well.
The GPS is preloaded with a worldwide base map and US coastal charts, although there were some inaccuracies due to a lack of updates. I recommend getting additional mapping cards if you want more details.
The 5-inch display with rotary dial and button controls is a definite improvement from my previous picks. As it's mounted on the console, I find that it's bulkier than what I'm used to when kayaking.
---
Frequently Asked Questions
What is the best GPS for kayaking?
This Garmin GPSMAP 64st may be the best option for you.
With GLONASS compatibility, a broad range of useful navigation features, and expandable storage space for downloading any additional mapping you need, this is waterproof too.
Which Garmin is best for kayaking?
The Garmin Fenix 5 is the most exceptional GPS watch available to kayakers. It has an impressive range of features and capabilities that can enhance your paddling experiences, such as superior accuracy with both GLONASS and GPS satellite communication.
How do I track my kayak on Apple Watch?
There is currently no option for tracking kayaking/canoeing with an apple watch.
What is the difference between Garmin 78s and 78sc?
78s has a compass and 78sc has the charts built-in and a compass both.
Do they have GPS for boats?
A marine GPS is a hand-held navigational tool used by the USCG to track ships as they move along the coastline. The basic principle of its use lies in understanding what different colors and signals mean on your device's screen.
Wrapping Up Best Kayak GPS
When you're out on the water exploring beautiful nature, it's important to have a high-quality GPS system that won't steer you wrong.
There are a number of different GPS systems available to meet your basic requirements of navigation. Some important factors to consider when choosing the right one for you include price, screen size, battery life, and advanced mapping features.