Comfort is important when you are kayaking and that's why there are a variety of kayak shorts to choose from. However, most non-cotton materials provide the ultimate comfort as they will not make your legs stick together in hot conditions or simply chafe against one another while paddling for hours on end.
Kayaking in damp cotton is a terrible idea. Cotton can take days to fully dry and will make you significantly more vulnerable to cold-related illnesses when kayaking, so we highly suggest avoiding it at all costs.
Kayaking is a water sport, so inevitably there will be some splashing or unexpected swims. That's why it'll always help to wear quick-drying shorts that won't weigh you down when wet.
We have curated 10 of the best kayaking shorts for you to pick from. We've also provided a brief guide on how to go about buying them; this will help narrow down your options and make an informed decision when it comes time to buy one.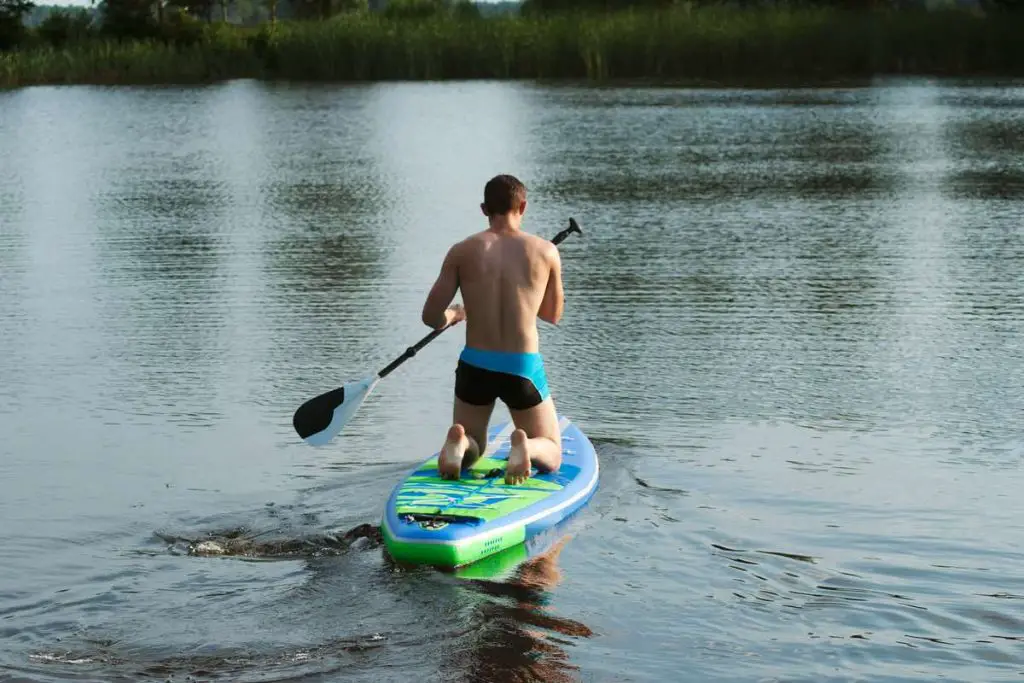 Here is our top pick after hours of market research and using it personally.
89% Nylon
11% Spandex Element
NRS Men's Guide is considered one of the best kayak shorts one can find on the market. Trusted by guides everywhere because of their four-way stretch and five pockets. These features allow for comfort during physical movement (kayaking), as well as ample storage space to carry all your gear on trips.
These cargo shorts are perfect for any outdoor activity. The two slanted hip pockets are ordinary, while the other three have zipper openings which make them suitable to hold your belongings securely without worry of losing anything during an active pursuit like swimming and kayaking. These Shorts feature a nine-inch inseam that gives you plenty of knee movement when running after things on land or swimming at sea.
---
Check: Best Kayak Spray Skirts
---
Columbia Men's PFG Backcast III Water Short
If you are looking for the best kayak short on the market, look no further than Backcast III. With 35 different color options to choose from and high-quality nylon fabric with Omni-Shade technology protecting against harmful UV rays, these board shorts have it all in one package.
On hot days, the nylon fabric is highly breathable and wicks sweat away. They dry quickly if you want to swim hopping out of your kayak.
These easy pull-on shorts are perfect for heading out with their elastic waistband, drawstring to tighten the waist if you want a snug fit. The mesh interior brief provides added support and comfort while also wicking away moisture which is great when it's warm outside.
There are two hip pockets and a side cargo pocket for storage space while the back has a zip closure to prevent any items from falling out.
Grab these breathable shorts with a zippered fly and waist button. Plus, take advantage of its adjustable webbed belt to keep them secure as they stretch for comfort during your adventure.
---
Hurley Men's Dri-Fit Chino 22 Walk Short
70% Nylon
24% Polyester
6% Spandex
These classic shorts come in twelve colors and can be machine washed. They have slanted front pockets and welt-back ones with button closures to secure your belongings while you enjoy some summer fun.
The zip-fly and button closure at the front allow for ease of use while on vacation. It also provides belt loops that allow you to adjust the waistband tighter without relying on elasticity.
---
Check: Best Kayaking Hats
---
Columbia Women's Sandy River (Best Pick For Women)
These nylon shorts come with a sun protection factor (SPF) of 30 for UVA and UVB protection. The short features a six-inch inseam with the clip-together belt, that provides waist fit adjustment as well.
Side slanted pockets are perfect for resting your hands or holding onto a phone. It also has an additional pocket that zips closed to keep keys, chapstick, etc secure while you kayak.
These shorts come with a belt and the waistband is partially elastic. The combination of these two provides more comfort because you can adjust it when they get wet or after having water activities such as swimming.
---
Columbia Men's Silver Ridge Cargo Shorts
Columbia is a leader in the outdoor suited shorts market and their prices say it all. Their wide variety of fits and styles give you great options for any activity, knowing that Columbia has got your back no matter what.
With a 12-inch inseam length and partially elastic waist, these Silver Ridge shorts offer great adjustability. They also come with a gusseted crotch for a vast range of motion when moving around.
As far as sun protection for these shorts, they are rated with a UPF 50. These shorts are perfect for those long and hot paddling days. The material is lightweight, comfortable to wear, and highly breathable. It does well in wicking away moisture on sweaty summer outings.
These shorts feature slanted hip pockets and a leg pocket on the left side with zip closure. The mesh pocket bags ensure that water drains out quickly, just in case you do go for a swim.
---
Palmyth Men's Fishing Short Quick Dry
Palmyth kayak shorts are made by keeping fishermen in mind. It will keep your legs safe from both sun and bugs. With their 10.5-inch length, they fall just below knee level for extra comfort while sitting down all day long. These pants boast an SPF 50+ rating meaning that no matter how deep into summer it gets, your skin is protected with this thick material against harsh UV rays being shone onto them.
Whether you are fishing on the ocean or in a lake, these fishing pants have seven leg pockets to store smaller gear. Made with wear-resistant plastic nylon, the pockets are durable and prevent sharp objects from cutting through them easily.
These kayak shorts are not only water-resistant but also wick away sweat to keep you cool on hot fishing days. In addition to providing plenty of sun protection, these kayak shorts will definitely come in handy when paddling around the lake.
The waistband has a hidden adjustment point to keep them tight without the need for belts. The shorts do have belt loops if you want to wear one with waterproof material like leather or canvas.
These shorts are designed with a perforated yoke in the back to provide better breathability. Additionally, they have a gusseted crotch for enhanced mobility when you're trying to catch a fish into your kayak.
---
Columbia Men's Palmerston Peak Short
Columbia's Palmerston shorts offer Omni-Shade UV protection with a sun protection factor of 50. These lightweight, quick-drying pants also have an interior mesh brief so you don't need to wear underwear underneath them (you can remove the elastic briefs if you want).
The adjustable exterior waistband is great if you want to wear your kayak shorts tight or loose, but there isn't a zip-up fly.
If you want to be sure that your phone or other items don't slide out when you're kayaking, try these shorts. Not only do they have straight hip pockets for added security and safety but also a zippered pocket on the left leg.
---
Mountain Hardwear Men's Basin Trek Short
Next on our list of best kayak shorts, The Mountain Hardwear Basin Trek Shorts features a zipper and button closure to secure the waist. They don't have an adjustable elastic waistband but do come with belt loops for a tighter fit to keep them up once they get wet.
The durable water repellent fabric on these shorts is finished with an organic, PFC-free treatment that repels water naturally. They also have a zippered fly, so you can take care of business without fully unbuttoning and unzipping your pants.
These kayak shorts are perfect for someone who loves to be active. Not only do they feature an extremely comfortable design, but their gusset construction also provides the kind of extra mobility that is needed while engaging in high-intensity activities. Plus, even a secure zip pocket where you can store your keys.
---
Jessie Kidden Women's Stretch Cargo Shorts
Stretch kayak shorts by Jessie Kidden are the perfect solution for your cargo pocket woes. No more sacrificing comfort in order to fit into a smaller cockpit.
These shorts are great for kayaking because they have easy-access cargo pockets that provide a comfortable fit and stretch spandex fabric to increase mobility.
They provide 7 inches (inseam length) of coverage and can protect you from harmful UV rays with SPF 50+. They also dry quickly when wet, which is great if you plan on swimming in them.
These shorts have slanted pockets on the hips, two more straight Velcro closures on the back with two cargo-style at the front.
These kayak shorts offer a button closure at the front and a built-in belt for a customizable fit. The waistband features elastic in the back to provide a comfortable fit for different body types.
Best Kayak Shorts Buying Guide
Kayak shorts can be a great addition to your wardrobe. However, you need to know what features are important before making the purchase. In this article, we will include some tips and reviews of kayaks shorts for an informed decision-making process.
Kayak shorts can be a great addition to your wardrobe. However, you need to know what features are important before making the purchase. In this article, we will include some tips and reviews of kayaks shorts for an informed decision-making process.
Inseam Length
Many kayak shorts are advertised according to the length of their inseam. This is measured from your crotch seam (at the top of your thigh) to the end of the leg opening. The most important thing about this measurement, however, is that it tells you how much thigh coverage a pair provides.
If your inseam is too long, it can hamper mobility and increase the frequency of sunscreen application. Longer thigh coverage decreases exposure to harmful rays but also may restrict leg movement when getting into a kayak or other water vessel.
Shorter inseam shorts can provide a better range of motion but will make it necessary for kayakers to reapply the sunscreen frequently, or they have to lay out towels while kayaking.
Fabric
Nylon, polyester, and spandex are the most commonly used fabrics. These kayak shorts will feel different depending on which fabric you choose as each is made of a different combination of material.
In terms of cost, some Kayak shorts can be very affordable. They might feature 100% nylon fabric and provide decent breathability and moisture-wicking qualities, but they may not fit well.
A pair of kayak shorts will be more comfortable if they have at least 5 percent spandex or elastane. This combination with polyester and nylon provides the stretch needed to maneuver through watery, rocky areas without ripping your clothes apart.
The shorts are not waterproof but instead designed to dry quickly if they get wet. However, some have a durable water repellent (DWR) layer that provides more resistance than others do.
Budget
If you want a pair that will last, expect to spend between $65 and $120.
Wrapping Up
The best kayaking shorts are not hard to find. Your search for the perfect pair of kayaking shorts is now complete. First off, make sure these pants are suitable for active use with easy movements. They should also provide enough comfort along with stylish features at an affordable price tag.