Typical kayaks can be best for you but not suitable for your dog. Kayaking with your furry friend will be more fun and adventurous with the best inflatable kayak for dogs. Finding one can be tricky; thus, I have assembled some best-related products in this blog. Along with that, I have provided a handy buying guide that is really detailed and tells you what to buy and what not to.
Still, this is not enough for kayaking with your dog because it is dangerous if your dog is not trained properly. That's why this blog also explains how to train your dog and the safety measures that you must keep in mind before getting onto the water with your pet. To help reduce your search and save time, this article has summed up all the important information that helps you choose the best inflatable dog kayak.
Best Inflatable Kayak for Dogs Overview
---
Top 7 Best Inflatable Kayak For Dogs Review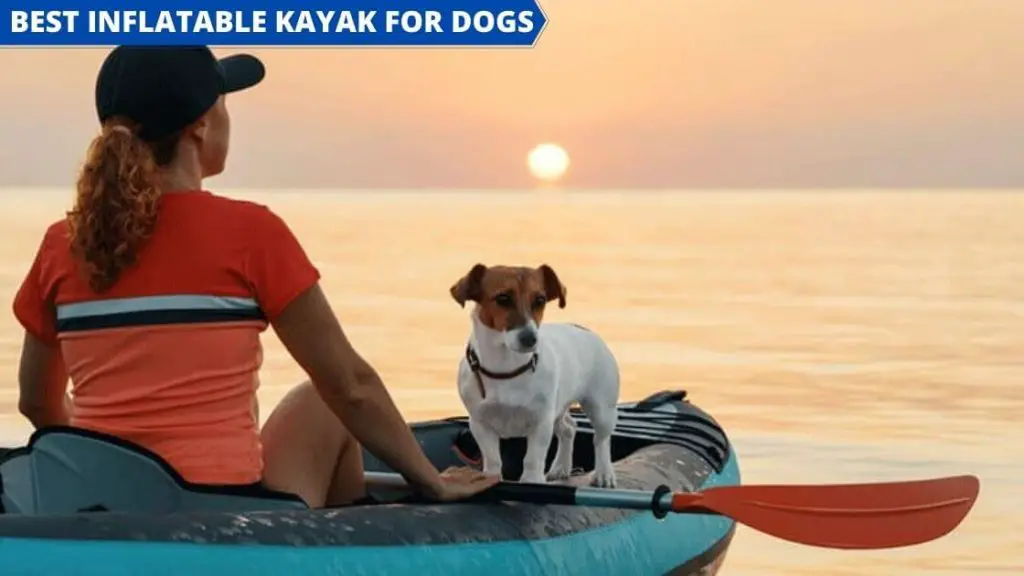 I've listed seven of my favorite inflatable kayak for dogs down below. These have served well since I started kayaking along with my dog. I've made sure to include all the pros and cons of these inflatable kayaks. So, have a look and see if you can find anything interesting.
1. Sea Eagle 370 Inflatable Kayak For Dog
The Sea Eagle 370 is one of the most popular inflatable kayaks for dogs. It is an ideal product for any level kayaker, i.e., beginner, intermediate or professional because it is lightweight and small when packed. You can easily fold it and place it in your car trunk. The Sea Eagle 370 is best for someone who wants to get rid of old-fashioned rigid models.
This user-friendly kayak offers 10 minutes of inflation, which makes it easier for everyone. It is constructed in a unique design, contributing to its greater durability, strength, and stability. Stability comes from the construction and handling of kayaks; that's why it is important to consider a product based on good quality construction.
In terms of the type of kayaking, this best inflatable kayak for dogs is perfect for tandem and solo kayaking. You can have peaceful paddling with it or rapid riding, considering your choice. Since it is an updated version of the SE 330 kayak, it is more advanced and offers the latest options like various kits, storage space, hooks, etc.
It is a perfect kayak to have for sport fishers, experts, beginners, or weekend enthusiasts. This vast versatility is one of the reasons behind its greatness and popularity in the market.
Check out the best inflatable kayaks for whitewater if you want to hit the rapids.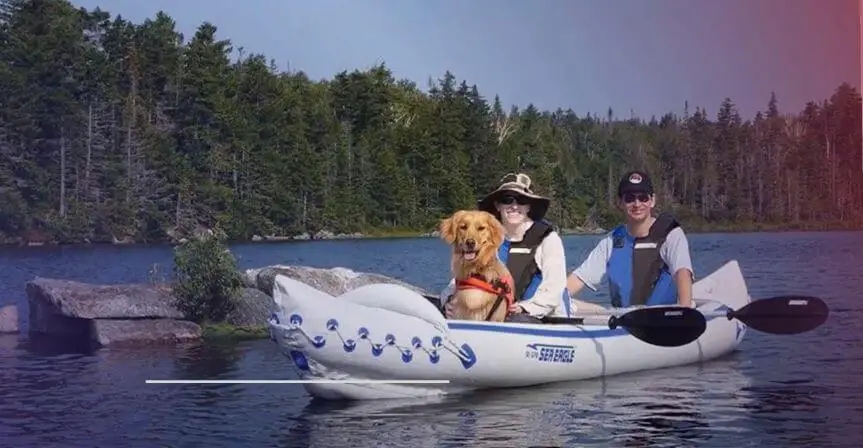 ---
2. Intex Explorer K2 – Dog-Friendly Inflatable Kayak
Here comes the best-selling inflatable kayak for dogs. The Intex Explorer K2 has thousands of positive customer reviews on the internet. Inflatable, comfortable, and durable, the K2 kayak is a great option for one who loves to paddle. It offers very convenient and quick inflation that takes no longer than just 10 minutes. The best thing about this inflatable kayak is that it comes with a measuring scale on chambers, which helps you maintain the required air pressure. Low or high air pressure results in low driving performance or damaged chambers, respectively.
The comfortability of the rider and their pet matters a lot. Keeping this factor in mind, K2 has soft chambers and comfortable seats to sit in. I would not suggest this kayak for very long trips because the seats are not much support for tours. However, I was really impressed with its speed. So, this speedy rapid inflation kayak is best suited for weekend enthusiasts. Along with speed, the boat is also well-constructed to deal with directional stability, a necessary feature for beginners.
Not only inflation, but deflation is also easier than other inflatable kayaks. All credit goes to its multi-chamber unique design. It is specially built for people who want to spend their leisure time on the water with their pets to explore the environment and chill out.
Overall, it is a thin, speedy inflatable kayak based on multiple air chambers innovative technology that offers easy inflation and deflation.
Compared to the Sea Eagle SE 370, it has a lesser weight capacity and can be purchased cheaper.
---
3. AquaGlide Chinook XP – Kayak With Dog Seat
The Aquaglide Chinook is aimed to serve the customers who are not ready to spend too much on hobbies and fun activities. This budget-friendly kayak has a compact design which means you have to stick with fishing spots that are not too large. However, it is not possible to argue with the price of AquaGlide Chinook XP. It is sold as a recreational inflatable kayak, but angling is also an option with this product.
It offers easy inflation if you start from the floor chamber and then come to the two side air chambers. After inflation, with the help of strap webbing, attach the seat and side cinches. The seat is comfortable and adjustable which provides ease for long journeys. Chinook XP is an overall outdated product that comes with a removable tracking fin. This feature adds up to improved tracking when you get on to the deepwater banks.
Furthermore, this kayak is lightweight and makes it easier for transportation. It also has padded crying handles, which allow easier movement. It comes with rear d-rings, rear deck lacing, mesh storage pocket, and rod holders to secure your kayaking gear. This feature is essential to have in your best inflatable kayaks for dogs, especially if you plan a long trip with your pet.
Overall, the Chinook XP is one of the most stable and comfortable kayaks on our list. The compacted design and size make it a great option; however, if you are more serious about angling, it is suggested to invest in something else.
---
4. Sevylor Coleman Colorado Inflatable – Kayak For Large Dogs
The Coleman Colorado by Sevylor is another trendy item on our list. It is the best inflatable kayak for two and a dog as this one is a two-person fishing kayak. This product is created for those who want to make their weekends more creative and different than usual. For kayaking with your dog, it is necessary to have a durable product that resists the dog's claws because you can't have your eyes on your pet all the time. The Colemon Colorado is a highly durable product made up of PVC material coated with nylon.
Angling, Casting, Fishing, and adventuring, you can do that all with this best inflatable kayak for dogs. It is based on AirTight technology, which offers great inflation. In case your kayak hits a snag in water, the multiple air chambers technology is promised to save you and your dog. These air chambers act like safety valves by maintaining the inflated state of your kayak. This kayak is best suited for long trips as you can paddle it all day with your dog in your comfort.
You can call it a dual system inflatable kayak not because of the two above-mentioned technologies but because it offers paddle and motor trolling. If you are tired of paddling at any point, you can switch it to the motor and sit with free hands and play with your dog. For that, you have to add the trolling motor separately as fittings are there in the vessel. Enjoying the atmosphere, eating snacks, playing with your pet, relaxing activities, this boat is a confirmed deal!
Under $400 only, this best inflatable kayak for dogs is a great option to have for coming vacations. Hurry up and get your hands on this amazing product.
Overall given the price tags, I found the build quality of Coleman colorado better than SE 370, which can easily resist the paws and claws of your fishing buddy (dog).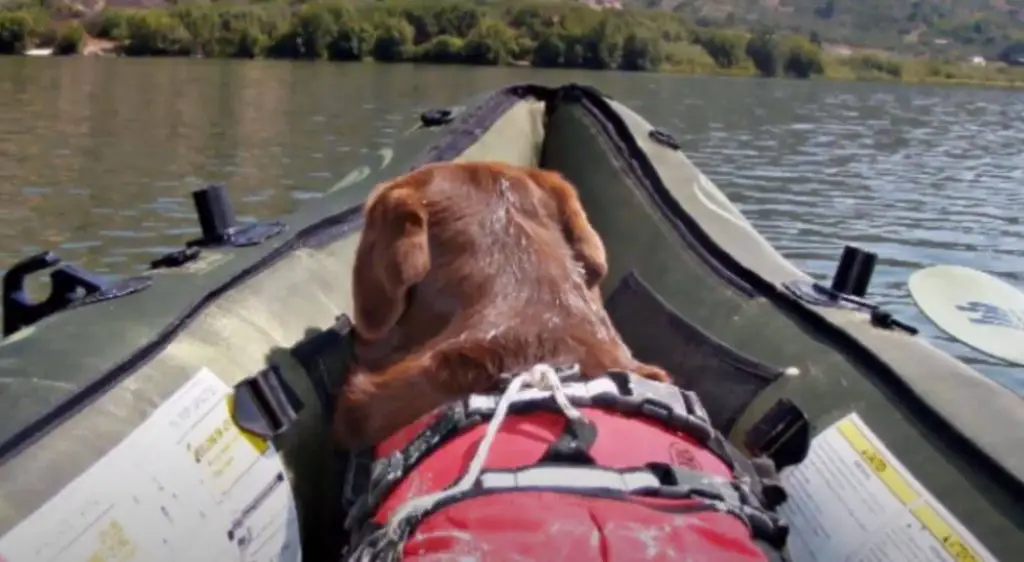 ---
To the anglers going through: Check out the Best Inflatable Fishing Kayaks
---
5. Driftsun Voyager Inflatable Kayak – Dog Carrier Kayak
Quality material construction is a big and reasonable concern for many of us before investing in dogs' best inflatable kayaks. We can't take our pets onto the water on something less durable. Considering these facts, Driftsun Voyager is built with heavy-duty Polyvinyl chloride material that is further coated with nylon to increase the overall longevity of this product. It is capable of resisting external pressures and protects against punctures.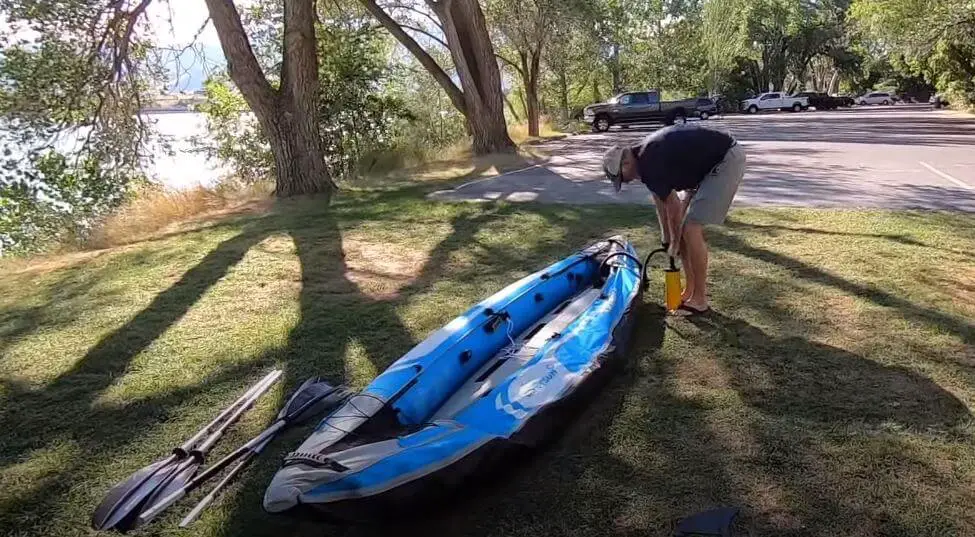 The fabric covering allows for easy inflation and deflation even for beginners. It also protects the kayak from any accidental rips regardless of its state, i.e., inflated or deflated. Moreover, this inflatable kayak is featuring the "Double Threaded valves" that claim a no-leak policy. This is a kind of insurance policy for your kayak, allowing you to go on the trip free-handed, without any pumps. Overall, it is a combination kayak that offers the best safety and security to you and your dog.
Besides that, this is a good-performing kayak mainly designed for beginners. The vessel is installed in it to get the maximum speed with minimum resistance. It has a removable fin for a better tracking experience, and it can perform nicely in almost every water bank. So you will enjoy the fishing experience and weekends with your dog.
Overall, the quality construction and durability make this product outstanding as I mentioned that quality materials are one of the major factors that need consideration before investing money. I recommend this kayak, especially to beginners.
Adding to it, this vessel is one of the best kayak for ocean use with your dog.
---
6. Advanced Elements Island Voyage 2 Inflatable Kayak
This is the best inflatable kayak for dogs by Advanced Elements. The Island Voyage 2 is another compact inflatable kayak for two persons. Advanced Elements is best known for producing recreational kayaks for regular paddlers. Voyage 2 is constructed with durable materials that make it last for years if used properly. Plus, considering materials is also as important as considering the safety factor while purchasing the best inflatable kayak for dogs. This is one of the best kayaks to have in 2021, except for the ones who are owners of larger dogs.
While discussing the features, this one to two-person kayak has almost everything one can expect. It is based on a unique design painted with a beautiful yellow color, which looks charming on a sunny day. It is also good to give someone a birthday as a present. What is more, it features a multilayered construction that resists punctures and ensures more safety. It is the best option for beginners or one who is taking out their dog for the first time.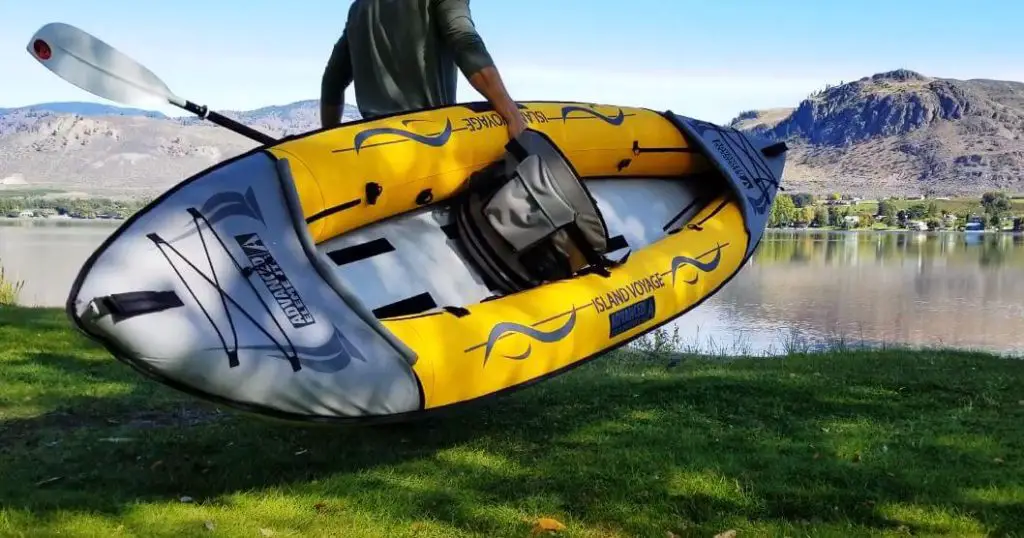 Furthermore, the kayak features grabbing handles, bungee lacing at the deck, and some storage options. It has high back seats, which makes it comfortable for long trips. It is designed to perform in almost every kind of water bank like ponds, rivers, or streams. It is a very stable kayak to have and best suited for beginners and intermediate-level kayakers.
Get ready for your next fishing and adventurous trip with Voyage 2, the best-performing kayak. It offers high-end durability and vast specifications that make it a complete weekend deal for you and your dog.
---
7. Intex Excursion Pro Kayak
A sturdy and high-quality inflatable kayak that comes at a reasonable price seemed like a far-fetched dream until Intex turned it into a reality. This model is not like any other kayak on the market. First of all, it has a seating capacity of two people. Both of the inflated seats are adjustable, so you can alter them according to your comfort.
Furthermore, this model has been manufactured with high-quality materials, which makes it a great investment. It comes with high-grade PVC construction, which adds strength, abrasion resistance, rigidity, and low weight into the design of this kayak. This model also has 2 footrests so that both the kayakers can sit comfortably.
In addition to that, this inflatable kayak comes with mourning brackets, which is a nifty little addition to the design. The presence of the mounting brackets makes it possible for you to add smaller accessories to the kayak. The weight of this kayak is a little higher, but with the grab ropes at the front and back, moving the kayak will be easier.
You do not need to buy two kayaks for two people and your dog; buy the Intex Excursion Pro Kayak and enjoy your trips into the water. This model has a seating capacity for 2 people and has been manufactured with high-quality materials, so it will have your back at all times. Moreover, I consider it a better option than Intex explorer K2 considering the build quality, fishing features, and if your budget doesn't bother you.
---
How to choose the best inflatable kayak for dogs
Only discussing the specific products is not enough because people have their personal points of view and specific needs. For this purpose, take a moment and go through this precisely discussed buying guide, which covers the main factors that you must keep under consideration to buy the best inflatable boat for dogs.
1. Stability
Being on the water, stability is imperative. In general, the narrower and elongated options are fast-moving and straighter kayaks, which are recommended by experts. An inflatable kayak is more stable if it is wider and shorter; however, it will sacrifice the speed. Suck kayaks are suggested for beginners because they are easier to turn and handle. Since you are purchasing it for your dog, too, then feel confident with the one that provides high stability.
2. Quality Material
The construction materials tell the durability and strength of a product. The best inflatable kayaks for dogs must withstand external pressures like bumps against any rocky material in water, temperature fluctuations, dog nails, etc. In particular, Polyvinylchloride, shortly as PVC, is a popular and durable material used for manufacturing the best dog-friendly inflatable kayaks. Other than that, it would help if you consider the kayaks with welded seams because they are strongly designed to tackle high inflation pressures.
3. Space In The Kayak (size of the dog)
The best inflatable kayak for large dogs is the one that has a suitably spaced cockpit. The suitability depends on your dog's size; for example, a Jack Russell owner might not need the best tandem inflatable kayak for dogs. In contrast, ones with larger pups are going to utilize that extra length. Also, consider your dog's weight and make sure that your best inflatable kayak can support it.
4. Storage Space
If you have long trips on your kayak, you will be taking essential kayaking gear with you. For this, you will need enough storage space. The best inflatable kayaks are the ones with storage sections, hooks, foldable containers, etc., that keep your necessities with you and your dog on the water trip. However, kayaks with storage options are a little expensive, so if you are tight on budget, you can skip that for regular kayaking.
5. Comfort
There are different specifications that contribute to a single "comfort" factor. The best inflatable kayak with a dog is the one that offers backrest seats, which provides you with comfortable long rides. Secondly, the lightweight kayaks are user-friendly and provide you with comfort in handling. The model by Advanced Elements in our list is one of the most comfortable kayaks if considering the thickly padded seats.
FAQs Regarding Dog Inflatable Kayaks
Can Dogs Go In An Inflatable Kayak?
The best inflatable kayak dog is ideal for your puppy as it can resist sharp rocks and dog nails.
Can an inflatable kayak handle the claws of a dog?
The best inflatable kayaks are mostly built with strong and tough materials that can handle the dog's claws. In fact, kayaks enlisted in this blog are ideal for dogs.
What are the benefits of inflatable kayak models?
The inflatable kayaks are lightweight, durable, and portable for multiple purposes like enjoying, fishing, angling, casting, etc.
Are sit-in kayaks good for dogs?
Sit in kayaks offer limited space and you have to share your cockpit with the dog. A Tandem sit-in kayak can be an option if your dog is trained and stays alarmed during the kayaking activity.
Tips And Safety Measures To Keep Your Dog Safe On The Water
Kayaking with your lovely dog can be wonderful beyond your expectations if you keep those tips and safety measures with you.
Safety and Kayaking Laws
Before getting into the kayak with room for a dog, check the boating authority laws and special safety requirements for dog kayaking. For example, in some areas wearing Personal Flotation Devices (PFDs) are mandatory. Even if they are not compulsory, they are a great idea for helping your dog if it can't get back into the kayak or falls overboard. The lifejacket is a lifesaver for your doggy as well as a source of peace of mind for you while kayaking.
Land Practicing
Practice makes everything perfect and goes in line! Before your dog's first time, it is best to make them experience kayaking on land. That might sound funny, but it will help make your pet comfortable while getting into it on the river.
Training
It's important to give your dog the best possible training so that it responds consistently to your calls and commands by giving quick reactions. On the water, there will be lots of distraction sources like fishes, birds, other pets, and if you could not take control of your dog, then you and your pet might end up in the river.
Food Storage
You might not see your pooch all the time while kayaking. So it is better to store your food in a safe place like a dry bag so it won't get sampled by your kayaking partners. For first-time kayaking, it is essential to get ready before a trip to avoid uncertain incidents.
Suitable Kayak
It is imperative to find the best suitable kayak for your dog before starting riding. Some kayaks are a great option for you alone but not suitable for your dog. Hence, it is suggested to check out the best dog-friendly inflatable kayaks for this purpose.
How to Train Your Dog for Kayaking
If you are not so confident to take your dog out for kayaking, I have some training tips to help you begin dog training and help your dogs gain sea legs. First, make sure that your dog has a good knowledge of your commands. Like, stay and sit commands are fundamental to learn before being out in the kayak. Secondly, bring your best inflatable kayak dog to your home and introduce it to your dog in a soft gesture, i.e., while playing or eating, etc. This interaction helps your dog to get familiar with your kayak.
After introducing, try to sit in the kayak with your dog without pressurizing. Do all these training steps on land or in your garden rather than on the water. Talk to your pet and try to normalize sitting in a kayak with it so that they can stay there for a long time.
While on the trip, you need to take some treats with you for your dog. The dog treats help them in staying still or calm. It is always a great idea to make your dog happy and calm. After these beginning steps, you need to introduce the water environment being on the water to your dog to avoid getting troubled or uneasy on the journey.
Gaining the confidence to sit in the kayak and enjoy the trip without fear is equally important for you and your dog kid. To make this journey more amusing with your dog, training is essential. Conclusively, the commands should be learned by your dog to resist any accident.
Final Remarks about Inflatable Kayak for Dogs Review
This article has enlisted the best inflatable kayaks for dogs in which your pet feels comfortable. There will be no risk of them floating in the water if they move around. For this purpose, you need to consider the size of your dog and kayak so that you can go tension-free. Inflatable kayaks are mostly suggested because they are lightweight, durable, and easy to handle, even for beginners.
To reduce your effort, I have enlisted my top recommendations for the category of best inflatable kayaks for dogs:
To recap, I have discussed the seven best inflatable kayaks for dogs in this blog that help you choose your favorite kayak. I have also mentioned a brief buying guide, which helps you select the best product on your own. I feel it is important to be aware of some safety measures and training tips for the safety of your pet. Please go through it, and follow the instructions properly to enjoy your trip with your dog.
Happy Kayaking!