Making a big decision, like what type of pedal drive kayak to buy, can be scary and confusing. Are pedal drive kayaks even worth it?
A pedal-powered system offers many advantages as it is faster, enables the anglers to cover greater distances with minimal effort, and frees up your hands for fishing. Lucky for you, we've compiled a quick list of the 12 best pedal fishing kayaks of 2022.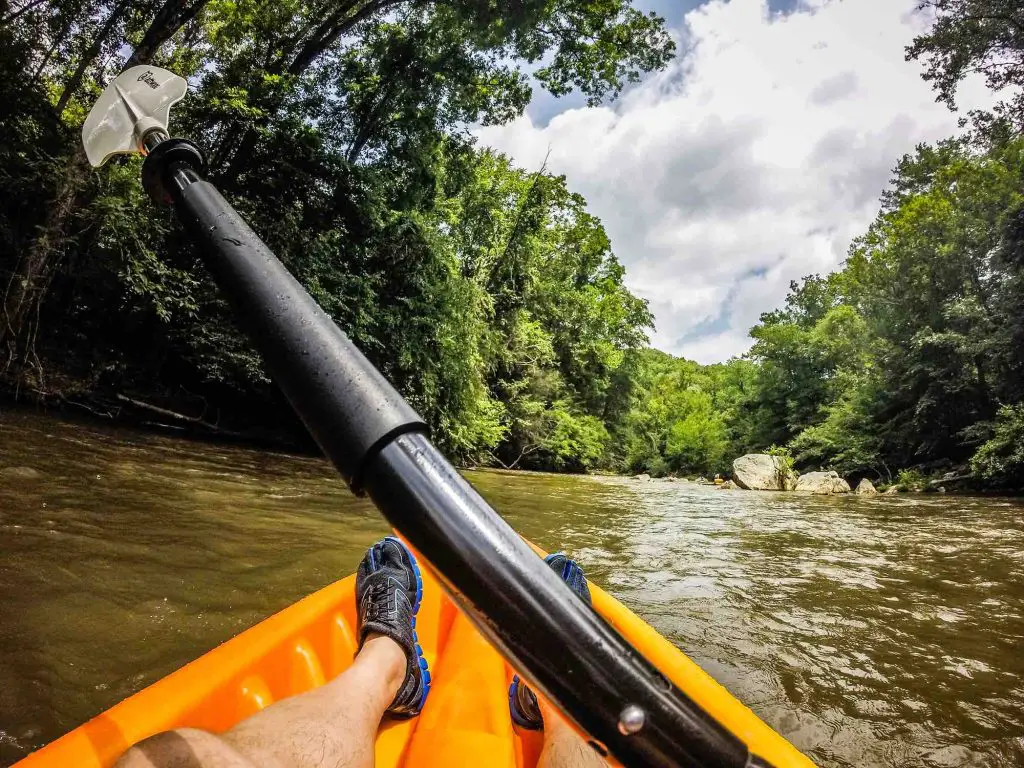 Our Top 3 Picks For Best Pedal Fishing Kayaks
Top 12 Best Fishing Kayaks With Pedals Reviews
Having gone through the key variables associated with the best pedal fishing kayaks, let's pedal ahead to the deeper waters of model-by-model analysis.
Here's a quick run-down of all the varieties we think stand out the most for those of us who're a little swamped to go through the slightly more detailed reviews further down.
1. Old Town Predator PDL

❝ Best Pedal Fishing Kayak❞
The Old Town is indeed an old name in kayaking. Their Predator series draws on decades of kayak and canoe building experience and stands out as the manufacturers' flagship project. Predator is a single-seater, Omni-role, sit-on-top kayak which is geared towards anglers in particular. 
After more than a century of building canoes and kayaks, Old Town introduced the Predator as their first all-purpose sit-on-top kayak for anglers. The PDL model is one of the more recent offerings by the company debuting foot pedal propelled kayaks into their portfolio.
The Predator PDL features a 13 feet long and 3 feet wide body with a broad hull and sturdy keel, allowing for excellent stability without compromising cruising speed. Crucially, this kayak incorporates lessons derived from years of collaboration between engineers at Old Town and ergonomic design specialists to make its ride incredibly breezy.
Additionally, the kayak mechanics have been built in a way that requires minimal muscle power to glide it forward. The switch between forward & reverse is also noticeably smooth, making it a preferred choice for professionals and seasoned anglers. 
---
2. Perception Pescador Pilot 12

Next on our list of best pedal fishing kayaks is Perception Pescador Pilot 12.
At first glance, the most striking feature of this kayak is its affordability. This pedal-powered kayak was released by Perception in 2016 for an astounding price tag of less than $2000. The craft supports solo paddlers and weighs only 85 pounds, placing it among some of the lightest in its categories.
With the Pilot Drive pedal drive system, you can gain added control when you're on the water. The rotational pedals allow you to move the yak both forwards and backward, like cycling, which could make it easier for beginners, as you don't need any special paddling skills.
The Pescador Pilot has been crafted to provide stability in a variety of water conditions, from flat water to the ocean. Keeping anglers in mind, a wide hull improves stability assisting in +can potentially stand up while fishing, allowing you to cast further and more efficiently. The seat can also be pushed back to give you more legroom.
The seat is an adjustable Captain's Chair giving easy access to the pedals. Made from breathable mesh, it keeps you dry on a sunny day. The seat can easily be removed for storage and transportation purposes.
There is a large rear tank well to fit a cooler or crate and has bungee laces to keep your gear secure. There is another storage well on the bow side, as well as a cup holder to keep your drink safe and slots on either side of the deck for tackle trays.
The Pescador Pilot 12 is specifically built for fishing. It has paddle holders on the sides and four molded-in rod holders. There are two gear tracks on both sides to attach a fish finder or other accessories.
Boasting a sleek hull, and overall nimble design, the kayak is among the easiest to pedal. Plus, the beautiful color scheme, the themed accessories, and the fluorescent overtones make the craft a pleasure to look at.  
---
3. Hobie Mirage Pro Angler 12 – Pedal Fishing Kayak

❝ Best Pedal Kayak ❞
Hobie is a well-known name in kayaking, and Mirage Pro Angler 12 is their flagship model. As expected by the fishing freaks, this model offers everything. Instead of conventional paddles, Mirage Pro Angler was introduced with two-foot pedals offering forward and reverse propulsion present in front of the seat.
At the bottom are ST Turbo fins which are rated as the most powerful and longest fins on the market. A minimum effort lets you cover loads of distance in the water. Another notable feature is its comfortable vantage ST seat with efficient boa lumbar support. This seat can keep you comfortable for hours out on the water without any awkward side-to-side shifting. The vantage seat can be adjusted easily in line as required. In fact, the seat can quickly be removed and used as a beach chair. 
We can also see a fine storage hatch in the front which can be converted into a cooler by putting in some ice cubes during summer. Two flush-mounted and four horizontal rod holders with separate caped tubes inside the hull can be seen. To top it off, this kayak has lots of room for gear and extras.
Being a wide craft, the stability offered is incredible. Even large and tall anglers will feel fairly supported while cruising around in all types of water. The craft is stable enough for most anglers to stand comfortably, Moreover, it features a special standing platform to provide additional grip while casting.
For the keen fisherperson who enjoys top-grade engineering, stability, and plenty of features, then this kayak is ideal to use with its Mirage 180 pedal-powered system. One will not find a better fishing kayak with pedals for the ocean, salt water, and overall fishing than The Hobie Mirage Pro Angler.
---
Also Check: Best Fishing Kayaks Under $1500
---
4. Wilderness Systems Radar 115 Pedal Drive Kayak
The Wilderness Radar series, which offers the 115 as well as the 135 variant, is another class of performance-oriented pedal kayaks. Our pick out of these two though is the 115. This variant is roughly 12 feet long and 3 feet wide – and weighs 82 pounds. 
The Wilderness Systems Radar 115 is an extremely versatile kayak. Offers the ability to be both paddled and pedaled and even to be used with a motor all in the same hull.
Its single-person, AirPro MAX seating makes for an exceptionally comfortable ride, even for long offshore trips. It's S.M.A.R.T. Hull Technology lends itself to reliable stability. To top it all, the platform scores impressively on the acceleration front too, regardless of what propulsion method you use.
All these features make this kayak a decent fit for the majority of kayakers for both deep and shallow as well as calm and rowdy water.
---
5. Native Watercraft Titan Propel 10.5
The Native Watercraft's 2019 Titan Propel is another single-seat, sleek pedal design. It comes in a standard blue & grey finish which is definitely one of the feathers in its cap and probably the first thing anyone notices. However, it would be a mistake to think this beauty lacks teeth. 
Its excellent hull design keeps it stable even when anglers are fishing standing up while its slightly smaller size (just under 12 feet long and about 3 feet wide) makes it very maneuverable yet quick. It also offers a decent storage capacity with an open compartment in the back and a smaller hatched one on deck.
One domain where the craft can be said to lack a little is speed. But that's okay if you intend to indulge in recreational fishing or just regular kayaking.
---
6. Perception Crank 10 – Sit on Top Pedal Kayak

❝ Best Budget Option ❞
The Perception Crank 10 combines innovative design with great performance. 10-foot kayaks possessing a pedal drive and 350 lbs capacity are rare to find.
The Crank 10 has been constructed with High-Density Polyethylene material using one-piece rotational molding technology. The process includes streaming beads of polyethylene into the mold, which is heated and rotated slowly so that the material fills up every nook and cranny. After the mold cools down, you get a one-piece, leak-proof structure that is extremely strong and durable.
The Perception Crank 10 allows a number of custom rigging and modifications. The kayak comes with two flush-mounted and firm carrying handles with two molded-in side grips and a portable, flat deck.
At the bow, the open storage tank well is grasped with bungees and adds a recess where you can install a 6″ or 8″ deck plate. At the bottom, you can fit a fish finder which gets covered by a molded pocket next to the transducer scupper and protects it from colliding with rocks or debris in the water.
The kayak has a roomy cockpit that integrates the Pilot Pedal Drive Unit which offers calm but efficient propulsion. The Crank 10 uses the same pedal pod as Perception Pescador Pilot 12, which means that the 10-footer moves with a force and technology designed for a 12.5 footer.
The seating area mirrors an adjustable lawn-style chair which can be positioned depending on the seating style. You can easily remove the seat and enjoy the freedom of flyfishing with the extreme stability of the Crank 10.
You can find, a rudder control comfortable grip knob, cup holder, and molded trays for putting little items like hooks and bait. Molded-in channels are there for draining the water that build-ups in the trays sometimes.
Moreover, there is a large tank well that fits a cooler or crate and a backpack. It includes bungee cords for securing your gear. At the stern are the rudder kit and replaceable skid plate on the keel.
The Perception Crank 10 performs great in all types of water except for ranking higher than class II and easily makes it to our list of best pedal fishing kayaks.
Having a short length, responsive rudder, and a powerful pedal drive unit, The lightweight Crank 10 will not disappoint you with speed and maneuverability.
Find more here: Best Budget Fishing Kayaks
---
7. Ocean Kayak Malibu PDL Fishing Kayak With Foot Pedals

❝ Best Pedal Drive Kayak❞

Malibu PDL Kayak is another craft that makes the cut to the best pedal fishing kayaks category. It has a kid's jump seat that can make family trips much more wholesome.
About the design, its bow is designed to be pedaled through long stretches of water while a wide stern and abundant chines lend it second-to-none stability. It is also one of the lightest boats around, which makes it very maneuverable and perfect for short excursions.
Given the specs, this boat is designed with anglers or beginner kayakers in mind and sure does fulfill all those requirements pretty impressively 
One important thing worth mentioning about the craft is its pedal system. Though Ocean Kayak is a newcomer to the field of pedal kayaks with Malibu PDL, they built upon the tested pedal design of Predator's PDL and trimmed some parts of it to make it much more compact and capable of fitting their new vessel – Malibu PDL. The final pedal is pretty impressive – clocking some of the highest speeds in its class. The pedals are padded which comes in really handy when you're pedaling with bare feet while using just a knob you can freeze everything in place and lift the lower unit in seconds.
Overall though, the elegance and simplicity of this craft really sets it apart from the crowd and make it an ideal choice for amateur kayakers. 
---
Sometimes, you are out of budget to buy pedal kayaks. Go for Best Fishing Kayaks Under $1000 instead.
---
8. Brooklyn Kayak Company UH PK 13
This is another candidate among our top picks of best pedal fishing kayaks. The Brooklyn Kayak Company's single-seater UH PK 13 comes loaded with a lot of features and demonstrates excellent stability even on most adventurous trips.
This vessel's pedal-driven propulsion system comes rigged with a hand-powered oar, which gives the user the ability to enlist their arm-power in those long trips when feet tire out.
It's light weight, yet strong and features a very ergonomic seat that is adjustable and adequately padded. The storage space is also very decent – with a strapping-friendly section for bags in the back and a waterproof hatch in the front.
On the flip side, the vessel lacks a dedicated supper holder to facilitate the use of a transducer. Plus, since the craft is among the larger ones (around 13 feet long), this makes maneuvering it around obstacles a little challenging for beginners.
Overall though, this kayak is intended for more serious kayaking lovers. This is something that is also reflected in its price, which isn't exactly out of the park, but is still on the high side.  
---
9. Hobie Mirage Passport 10.5
Hobie is a trusted name in the world of kayaking, as many adventurists would know. In the single-crew Mirage Passport 10.5, the company has incorporated the classic Mirage Drive which is proven to be simple and easy to maintain the drive. With its default seagrass green color the platform catches the eye of any onlooker. What's more, seasoned users have commented very favorably about its stability. 
Coming to the pedal system, its pedal arms are can be adjusted to allow users of diverse leg lengths and heights to ride and propel with ease. The vessel demands to be noticed when it comes to seating – with mesh-design, aluminum-frame seats that can be reclined, riding a Mirage Drive 10.5 is a pleasure. It also carries accessory mounting tracks on the side that can be used for holding any of the extras offered by Hobie. Cargo space is also ample and reliable with its Bungee tie-down holders.
---
10. Riot Mako 10 Kayak
Here's another pedal kayak that stands out for its sturdiness and economy. Riot Kayaks' Mako 10 is marketed by the brand as offering great value for money.
On a practical level, this single-seater kayak is designed to handle fishing trips of short to medium lengths. Weighing just 65 pounds, the kayak is easy to transport. It operates with an impulse drive which makes the entire system weigh just 7.5 pounds. 
A great upside is that the hull can be rigged to store gear, as it includes a deep well with a bungee cord on the stern. The cockpit has been kept open which makes the whole kayaking and fishing experience more wholesome. Seating also scores well, with good padding and adjustability. 
Some of the cons of Mako 10 are: the leg space makes riding this vessel inconvenient for anyone taller than 6'5"; its lightweight can hinder effective tracking; the absence of footrests to place your feet on when not pedaling; and the lack of lumbar support. Overall though, if your goal is to go on regular weekend fishing trips to lakes or rivers nearby, the logistical ease that comes with this kayak, coupled with its affordability is something you shouldn't overlook.
---
11. Hobie Mirage i11s

❝ Best Inflatable Pedal Kayak ❞
Hobie's Mirage i11S is an inflatable pedal kayak that weighs just 64.5 pounds in a fully-rigged state and measures just 11'3″ in length and 39″ in width. Built for solo kayaking, it sports the proven Mirage Drive 180 pedal system to power it around.
This boat's low-profile design is elegant and attractive – besides featuring a rigid inflatable drop-stitch hull that maximizes inflation. For users that are looking for superior ease and convenience, this inflatable kayak, which is both lightweight and very portable, may just be the pedal kayak they need.
Most importantly, this kayak offers all the perks of inflatable kayaks with most of the benefits of traditional 'steel and polyethylene models.
While this craft is definitely not among the most affordable ones, by virtue of its quality manufacturing, sophisticated pedal system, and relaxing seat, it offers a good bang for the buck. Not to mention, it's extremely good-looking too!
The downside is that, since this is a sit-on-top kayak, it's not made for every user. Riders can get wet while traversing the waters as well as find it unsuitable for kayaking on seas. Additionally, as this model comes with a substantial price tag, some anglers and kayaking aficionados might find it budget-breaking!
Also Read: Best Inflatable Fishing Kayaks
---
12. BKC PK11 Angler 10.5-Foot Sit On Top Solo Pedal Propulsion Fishing Kayak
The Brooklyn Kayak Company is famous for some of its angling kayaks in the market. UH-PK11 is one of their compact models, with the pedal-driven feature. The UH-PK11 is a sit-on-top kayak that offers a roto-molded Ultraviolet-protected streamlined design hull.
It would help if you weren't worrying about the space as there is a large cargo area to accommodate all your belongings and catches for a whole day out on the water. A large watertight hatch at the bow and a smaller one behind the seat, both with bag inserts, can be seen to keep your valuables from getting wet. There is a spacious rear cargo area with bungee riggings to secure larger items.
The lightweight construction makes it easier to transport and load. Built handles can be seen at the bow as well as the stern of the kayak with a paddle keeper.
The ergonomic adjustable seat allows you to sit in a more elevated position. Moreover, the seating allows anglers of different sizes to reach the foot pedals for fishing ease.
Coming to the fishing features, there are three flush-mounted rod holders and fittings in case you want to replace the pedal system with trolling motor. This pedal drive makes use of bicycle-style pedals with adjustable straps for your feet, to turn the high-efficiency propeller.
The vessel performs quite well on the water. It has better stability and is easy to handle in moderate water conditions like ponds, lakes, and mild currents. We found it stable for stand-up fishing. In addition, the rudder adds to the maneuverability of the kayak.
Brooklyn Kayak Company UH-PK11 is an overall very decent fishing kayak with pedals for anglers looking for a compact, but spacious and comfortable kayak.
Although the pedal drive system is not as high-end as the ones equipped in hobies and old towns, it is powerful enough to cover distances quickly, and it is easy to operate. In addition, it enables anglers to cover a lot of distance very quickly, which is great if you have some out-of-the-way spots at your favorite fishing location.
---
What Is A Pedal Drive Kayak, And Why Would I Buy One?
So what is a pedal fishing kayak? A fishing kayak with a pedal drive is like a regular kayak, except it is equipped with a built-in pedal system. Now, since the pedal is designed to be operated by your feet' rhythmic movements, very much like riding a bicycle. Pedals are situated where your feet normally rest. Moreover, it gives users great ease and comfort.
As your hands are freed-up from the simple task of propelling the kayak forward, kayaks with pedal drive can give users much-needed dexterity to hold their fishing rod, move it around, and reel in the sumptuous catch anytime they want. This simple fact allows for a much more enhanced fishing experience and an on-water experience as a whole. 
Pedal kayaks are a bit wider to offer more stability in the water. As you're not using a paddle and trying to uphold yourself, this provides you the additional help to prevent the tilt over. 
Having a better deck space and removable seats, you will notice that it is easy to stand up in a pedal kayak. Adding to it, a standing platform in your kayak will give you better visibility around the water and more versatility for fishing.
Most of the fishing kayaks with pedals come with a rudder already installed, as this will help you to glide through the water in a straight line. The rudder will play its role in controlling the direction of your craft which can be operated by a handle close to the seat.
Pros And Cons Of A Pedal Kayak
Pros Cons
How To Use A Kayak With Pedals
Kayak with pedals can take a bit of getting used to if you have used traditional kayaks before. For example, carrying the pedal kayak from your home to the fishing destination might be a tricky job.
Fishing kayaks with pedals turn out to be heavier than paddle ones. You can't just load it off your vehicle and take it to the water as there are some additional mechanisms. The pedal drive system should be installed once you get to the water as it could get damaged during transportation.
The pedal kayaks usually come with a removable seat as they add to the weight during transportation, so it is probably better to install it after getting on the water.
In this regard, you'll be able to secure the correct position of your seat and get comfortable for long-distance pedaling. The adjustable seat will make it easier for you to change the position and maintain a proper angle.
You might feel a little off-balance at the start of your pedaling as your hands would be free, but soon you would get comfortable once you get going.
Getting used to maneuvering the yak using the rudder isn't a piece of cake. At first, you may not be moving in a straight manner as you might wish.
The rudder is usually found near the seat where it could be easily operated by the user to keep him in a straight path.
Types Of Pedal Kayaks
There are two main types of pedal kayaks depending on the foot pedals movement
Rotational Pedals
Rotational pedals work similarly to you would pedal a bicycle. You will need more room in your cockpit, as you will use your whole legs.
Kayaks with rotational pedals are usually easier to propel, as most of the hard work is done by the whole of your leg muscles. Moreover, it will allow you to move a bit faster than push pedal craft.
You will also observe that you can pedal for a longer time than push pedals. Just like pedaling a bicycle, you keep on moving with some momentum even if you have stopped pedaling.
Push Pedals
Push pedals operate with your feet driving down on each pedal to drive you through the water. Instead of using your whole leg muscles, the dynamism comes from your feet and ankles. The craft will slow down quickly as you stop pushing the pedals.
Factors To Consider Before Buying Best Pedal Fishing Kayaks
Let's break down the things to consider before buying a pedal kayak
Weight & Size
Pedal kayaks lie on a wide spectrum of size and weight. Depending upon the specific purpose, pedal kayaks can range from 8 to 14 feet in length and 25 to 100 pounds in weight. In a nutshell, though, choosing between different sizes and weights is best seen as a trade-off between speed and endurance (which is maximized in bigger, heavier kayaks) versus ease of haul and storage (better in smaller/ lighter kayaks)
Seating Capacity
Seating capacity is another very important point to keep in mind when you're in the market to buy pedal kayaks. Generally speaking, smaller or lighter kayaks are one-seater, whereas the larger ones usually support two seats. This allows for two anglers to paddle and fish together. Which in turn can make for a very wholesome experience with family or a buddy. 
But Wait! If you are a regular kayaker, you need to look at some better kayak seats.
Check: Best Kayak Seats
Storage
Closely related to the size, storage capacity built into a pedal kayak is a crucial factor to be aware of. For more casual users, who might only carry snacks, water cooler, personal electronics, or life jackets, smaller storage will do. However, for hobbyists or more seasoned anglers, bigger cargo space to store fish or meals is needed especially as they venture further out.
Comfort
When it comes to comfort, all pedal kayaks are most definitely not created equal. Some come furnished with nicely padded, reclining, and ergonomically designed seats with great neck and lumbar support which make your kayaking experience a breeze. On the other hand, there are those models that make kayaking for more than a couple of hours a drag. Unfortunately, though, the only way to know if the comfort level is up to your satisfaction is by taking the kayak out for a spin yourself.
Fishing Gear
Whether or not the pedal kayak has auxiliary fishing equipment – fishing rod holders, fish storage compartment, and fish locating electronics – should also figure into your calculations. It's worth mentioning here that for those of us who are not particularly interested in fishing, this factor is not so important. Still, it's nice to know what fishing-friendly perks your pedal kayak comes rigged with. 
Strength & Stability
Strength is a kayak's ability to withstand impacts from rocks or ground as it is pedaled on water, hauled overland, or disembarked from the SUV. Most modern kayaks are of polyethylene or composite-material make and don't break down under normal use conditions. Stability can be thought of as the extent to which a kayak can take tugs and shakes in water without flipping over. For those of us who plan to take the kayak out on rowdy waters with strong currents or just regular fishing trips in which they might have to stand in the vessel, stability takes on paramount importance. 
Aesthetics
This is among the less practical factors to be considered when buying a pedal kayak, but an important one, nonetheless. It relates to how visually appealing a kayak appears to the user. Since beauty lies in the eyes of the beholder, each user can fall for a differently designed or painted pedal kayak. As a side note, it's good to remember that you can always have your kayak custom painted and finished in the style of your choosing. 
Famous Pedal Kayak Brands
Perception
For over 40 years, Perception has produced long-lasting and budget-friendly kayaks in the market. Perception became recognized due to its superbly designed crafts that do not cost too much.
Perception was famous for its non-pedal kayaks. But in the past couple of years, they have introduced some brilliant pedal kayaks like Pilot 12, which has easily managed to make it to the list of best fishing kayaks with pedals. It is the best pedal kayak the company has offered, combining stability, affordability, and user-friendly features.
Hobie
Hobie is a well-known name in the world of kayaking and is famous for its pedal kayaks. They are believed to be the makers of the original pedal kayak. Hobie kayaks have been making high-quality kayaks for years and carried their legacy to their pedal kayak offerings. 
Mirage 360 offered by Hobie is one of the best pedal drive systems in the pedal yak market, with some offering reverse movement too.
Hobie kayaks tend to offer a lot of features which mainly include durability and stability but some of their high-end kayaks are expensive.
Native Watercraft
The Native watercraft Propel drive has been in the market for about the same time as the Mirage Drive. The Native kayaks are almost as good as the Hobie ones, except that Hobie kayaks have several different models.
Native Watercraft kayaks are usually built by keeping the anglers in mind. They offer the propel pedal drive system, which uses a propeller to move the kayak forward. In addition, you can also move your kayak in the backward direction.
Old Town/Ocean Kayak
Johnson Outdoors owns both Old town and ocean kayak. Old town started making canoes, but now they are manufacturing quality canoes and kayaks both. They offer a range of pedal kayaks with a forward and reverse PDL drive system.
Ocean kayak is famous for making recreational kayaks offering stability and durability making them ideal for beginners. They also offer their pedal kayaks with the same PDL system.
Wilderness Systems
Another reliable brand is Wilderness Systems which produces the best-quality pedal kayaks suitable for all water conditions. Their pedal kayaks are built for better performance and sturdiness.
One of the remarkable things about Wilderness Systems is its durable and compact construction. With their solid and robust materials, your sturdy vessel can last for several years.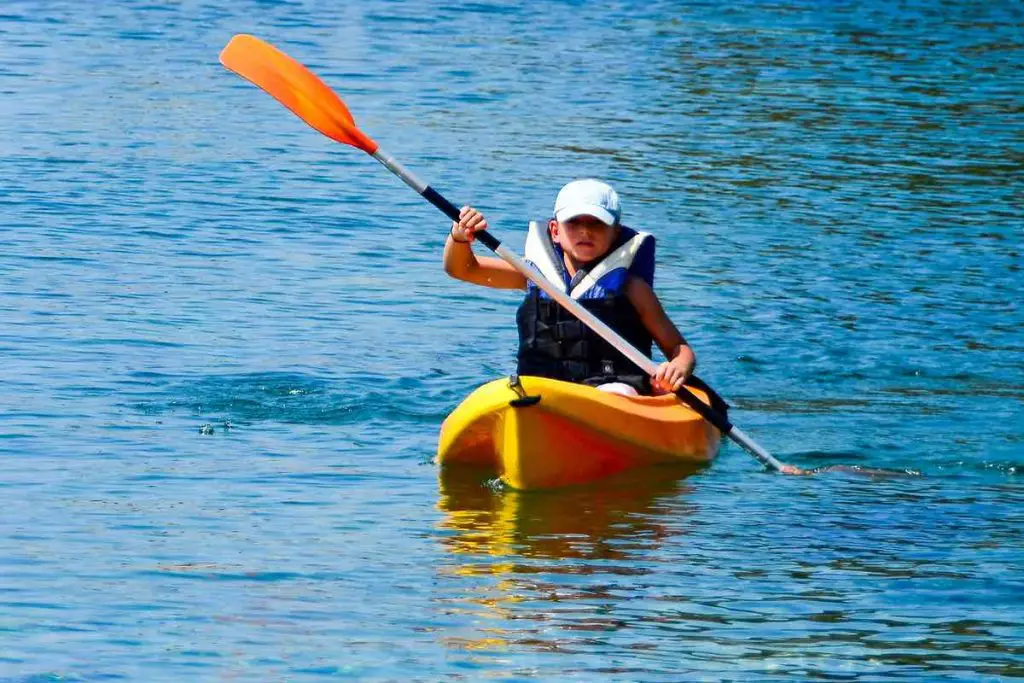 Conclusion
I hope that this article would clear all your queries about pedal kayaks and what they are most often used for. You should also know whether or not you should prefer it over paddle kayak fishing.
Now, it is totally your personal preference whether to go for a rotational or push pedal kayak.
Some important aspects to keep in mind are how you plan to transport it to and from the water, the weight, and the additional maintenance. These secondary expenditures are something to consider before making a purchase.