Who doesn't want to enjoy fishing with all the necessary accessories and gadgets? Above all, if you are highly comfortable in your dressing, specifically shoes, you would be the most confident and relaxed fisherman. Your shoes make life easy and less difficult, the more right wearing you have on your foot, the more comfortable you will be in yourself.
Fishing itself is a game and a sport. It's an outdoor activity you would probably love to perform especially when you are stressed out. Here are the 11 best fishing shoes that are highly recommended and selected for you to get the maximum comfort level during fishing play.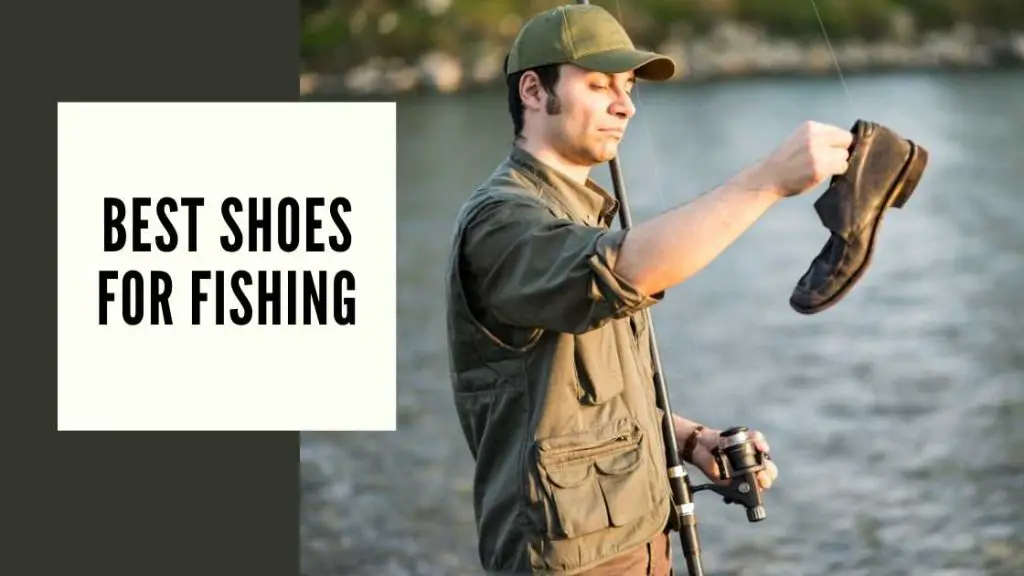 Our Top Picks
---
Best Fishing Shoes For Fly, Bass & Offshore Fishing Reviews
1. Merrell Men's All Out Blaze Sieve Water Shoe
This is a highly suggestible product for those who are concerned with their health or those who are highly health-conscious. This product is made by M Select Fresh Technology which is responsible for minimizing shoe odor. This technology consists of antimicrobial agents that help keep your feet fresh.
The upper is made up of waxy waterproof leather fabric which is the most long-lasting and water-resistant form of leather. It makes your shoe look elegant with extremely powerful waterproof technology to make sure your feet are not wet for a greater period which will affect your health.
The Vibram Technology makes you comfortable with the soul grip. The rubber soles of the shoe are made up of Vibram Technology that provides you with larger control at the bottom of the shoe to ensure you have greater traction ability. These shoes allow you to walk on longer terrains as compared to others.
We would also recommend Merell all-out blaze the best shoes for rock fishing.
Bottom Line
The best performer both in and outside of the water. They make you feel relaxed because of their efficient midsole. They are easy to manage as they are easy to wear on and take off. The waxy waterproof upper makes it resistant to water and accurate for underwater fishing. They give the highest breathability to give an efficient performance.
---
Are you into kayaking? Check out: The Best Shoes For Kayaking Freaks
---
2. Columbia Men's Drainmaker IV Boat Shoe
This is said to be the hybrid shoe that is made for both dry and wet weather conditions. It is specifically designed in this hybrid way to give you 2 in 1 property. Its versatility makes it unique and demandable. You can rock while fishing by putting on this shoe without any hindrance in any weather.
Every side of the shoe is made up of mesh upper material which is a breathable fabric membrane that allows your sweat to stay away from the foot keeping it dry. The midsole of the shoe consists of Techlite Technology which promotes a quick fry system and enhances foot cooling.
Two of the main technologies make it versatile and perfect for fishing. Omni Grip Technology helps increase stability on various surfaces by giving you a proper grip over your foot. And the Techlite Responsive Cushioning Technology brings outstanding Cushioning and promotes high energy return.
Bottom Line
This product is equipped with the latest technologies to give you the highest level of support and comfort for your foot during fishing. The outsole is strong on any kind of terrain. The midsole provides strong cushioning and the versatility of the shoe makes it perfect for every kind of dry or wet weather condition.
---
3. DLGJPA Men's Lightweight Quick Drying Aqua Water Shoes
It is a very indifferent and the topmost renowned water shoe. Which have the quick-drying ability that makes sure if your shoe and feet are wet, they quickly dry and will provide you a healthy foot environment. The sole has a hard rubber fixed on it and a hole at the bottom enhances the breathability of the shoe.
The upper part of the shoe is composed of lightweight fabric which helps in flexibility and adjustment of the feet inside the shoe. The sole has an anti-slip rubber fix in it which protects the feet from abrupt ups and down and slippery surfaces to avoid any harsh slip that may hurt you harshly.
They are highly versatile in functioning as they can be used for fishing, swimming, walking on the beach, or even for dancing and yoga. They are made of a full-coverage design and flexible straps. Full covering design helps in the good foot protection from every side. It equally encloses your foot to provide the proper coverage.
Bottom Line
These shoes are versatile. The multi-functionality makes it for every kind of use. It gives you good food safety and protection if you are health conscious. Elastic straps make your foot fixation in the shoes more comfortable and easier.
---
4. Columbia Men's Bahama Vent PFG Boat Shoe
This product is highly recommendable because of its versatility. It not only gives you the 24 hours comfort level but also provides supportive cushioning that will help you stand without tiring yourself throughout the day. It also consists of stain repellent technology to help you clean and clear the shoe without any complications.
The outsole is made up of high-quality rubber that has strong traction properties which control your foot and movement on tricky surfaces. The inside of the shoe is composed of soft cushioning which gives an extra level of support and relaxation to your foot to make you feel fresh and comfortable.
The Omni-Shield Blood 'n Guts Technology is used to shield and properly take off the dirt and mess you have on your shoe during fishing. It is also equipped with Techlite Responsive Cushioning Technology that helps provide high-energy backup to your foot. The Omni Grip Technology helps to grip on every surface to provide control over any kind of terrain.
Bottom Line
These shoes are equipped with high technology systems that are responsible for providing excellent grip on slippery surfaces and are easy to clean up. The material used is highly breathable and the ventilation property makes it complete. Additionally, it also gives you all the necessary support and comfort you need to have throughout the day.
---
5. UBFAN Mens Womens Water Shoes Aqua Shoes Swim Shoes Beach Sports
These shoes are made for every kind of water sport including fishing, swimming, sailing, and surfing. They are highly light in weight and highly manageable without any issues. You can easily wear them off and remove them whenever you want. They are soft and smooth to wear and feel.
The shoe has stretchable and has a stretchy fabric membrane that helps you in the perfect fit and offers a higher level of comfortability. They are very light in weight and are easy to carry. When wearing these shoes, you would feel like you are barefooted and free of any heaviness around the foot.
The most special and unique feature of the shoe is that you would not get any kind of sand or pebbles or rocks inside but still, you would be able to drain out all the water you had during fishing in your shoe. They provide strong support, friction, and control on the surface where you are walking.
Bottom Line
These UBFEN Mens Womens Water Shoes Aqua Shoes Swim Shoes Beach Sports are highly comfortable and stretchable for the foot. They will provide you with complete support and perfect fixation to get an ideal fitting on your foot. The water drainage system is made in a technical way which makes sure no sand and pebbles can get in it.
---
6. ALEADER Men's Mesh Slip On Water Shoes
The shoe is made up of mesh fabric membrane which has larger than usual mesh upper holes. It allows more drainage than the regular one. These holes are present at both upper and lower soles to allow an adequate drainage system. Another attractive feature is that this shoe comes in a variety of colors and designs.
The soles are made up of strong grip rubber that provides extreme traction over various terrains and surfaces. The inner soles are also appropriately cushioned which provides a soft step and makes sure you don't get tired even on longer plains. They are easy to clean from sand by continuous shaking.
They are very light as compared to the other water or fishing shoes which makes them easy to carry and manage throughout the day. These are highly comfortable shoes and you can blindly trust them with the size. They are accurate in their sizes and most of the time you can easily order your regular size to get the perfect fit and look.
Bottom Line
These ALEADER Men's Mesh Slip On Water Shoes are highly supportive and helpful during the fishing. They protect your feet from harsh surroundings and make you feel relaxed and comfortable. These are also known as amphibious shoes as they can easily be used in dry and water on both surfaces.
---
7. 3T BAREFOOT MAX Water Shoe
These 3T BAREFOOT MAX Water Shoes are highly suitable for fishing, specifically underwater fishing techniques. These shoes are made up of synthetic upper and internal drainage systems. They give you comfort and support during the fishing.
This product is versatile depending upon its usage. It can be used inside the water and outside the water on the land too. It works for both surfaces. Highly ventilated to offer cross ventilation for the health of your foot. This shoe is very unique in its design. It's made up of a 3-toe design.
These shoes are breathable and comfortable which gives you the necessary support you want during fishing. The shoes are very convenient to take off and on. You can easily wear it because of its slip-on style and can easily take it off. It is also renowned for perfect fit because of the presence of adjustable hooks and loops.
Bottom Line
The Versatile 3T BAREFOOT MAX Water Shoe is a breathable and durable product that is designed for both inside the water usage and outside the water use on the surface. They look great because of their 3 toe design and slip-on on and off the property. The lightweight feature makes them easy to carry.
---
8. Rugged SharkBill Dance Pro Boat Shoe
The following shoe is termed as the most comfortable wearing for the fisherman. They are made of fast-drying nylon mesh, and a comfortable, removable footbed. The footbed also has antimicrobial properties that help you in staying away from shoe odor.
These shoes are constructed with a handmade leather upper which has a pad around the lacing system to give you comfort and support inside the water. It also provides you with the perfect fit for your foot. These shoes have rubber outsoles that make sure you are on your foot throughout the day, both inside and outside the water.
You would feel peace as soon as you put them on. They give you all the necessary comfort you need to stay stable in. and out of the water. It would give you such a nice comfort level that you would feel highly energetic and enthusiastic while fishing play.
Bottom Line
The shoe is completely made up of durable material which makes it long-lasting and worth buying. Easy to clean and reuse more than once. This provides the highest level of comfort and support to you and can be used inside the water and outside it on the plain dry surface. It can easily be fitted in your foot because of the presence of a hand-sewn upper
---
9. Columbia Women's Drainmaker Iv Shoe Water
These shoes are specially designed for women. They are versatile and can be used for every outdoor activity no matter how wet conditions or dry the conditions are. They are highly comfortable during outdoor activities.
It is made up of mesh upper covering which is open and gives fast drying ability with its breathable nature. The midsole is composed of Techlite Technology which is supposed to give energy back up and provide superior cushioning to enhance your performance. There are holes in the midsole that are responsible for the water drainage system.
The Omni Grip Technology helps the outsole to give an accurate and necessary grip on the surface, no matter how it is on the surface. It provides you with strong control over the environment which makes it perfect for controlling the balance of ups and downs of the terrains.
Bottom Line
These women's shoes are versatile and highly comfortable. They can easily be used in dry and wet weather conditions. Both Omni Grip Technology and Techlite Responsive Cushioning Technology make your shoe the best and the most appropriate for the fisherman.
---
10. Skechers Men's Selmo Fisherman Sandal
These comfortable shoes are built for men. Specifically the fisherman. They look like sandals. It is made in a sporty style and is functional for heavy outdoor activities. It provides you with a larger room for your foot adjustment.
The front toe of the shoe is composed of stretchable lacy material which helps in the easy adjustment of your foot toe to make it comfortable for you. The outsole is composed of heavy rubber material which gives your shoe long life and increases its longevity.
The midsole of the shoe has shock-absorbing properties which help you in quick adjustment and absorption of the sudden abrupt changes that you may have to face as a fisherman during fishing. The Sandal has adjustable hooks and loops to make sure you are in the correct fitting of your foot.
Bottom Line
These shoes are easy to wear off with or without socks. They are high in comfortability and give efficient adjustability to make sure you are wearing the lightest and the perfect fit for your shoes. You can easily wear them both in winters and summers.
---
Why Do I Need Fishing Shoes?
Comfortability
The first and foremost reason why you need fishing shoes is comfortability. Comfortability and a relaxed foot environment work excellently in any kind of circumstances. They give you perfect arch support and cushioned foundation to ensure you can stand longer without getting tired compared to normal days.
Protection & Safety
Then we have protection and safety. Proper footwear is necessary for you to provide you high protection against the sharp and pointed tools or the things that are already there. That can cause you tharm if you accidentally step on them without covering your feet with proper shoes. Safety and protection should be a top priority before going on to things.
Good Health
Similarly, we have a health point of view. To maintain the good health of your feet, you need to cover them with accurate shoes that will not allow water to move inside the shoe and let your feet soaked in the water. It causes you distress and discomfort which will result in damaging the top layer of your skin and may even cause pain.
Types of Fishing Shoes
There are different types of fishing shoes. These include Waders, mesh shoes, deck shoes, water shoes, and clogs.
Waders
Wader boots are of great advantage when going fishing on a kayak or without as these are high boots made up of rubber, neoprene, PVC, nylon, etc. these are thigh high and keep your dress clean and dry. These waders are very comfortable and warm and are perfect for both freshwater and seawater fishing. 
Due to their size, they provide leg and foot protection against sharp rocks or jellyfish stings, and crabs bites if present in water. These also provide support while moving in low-level water and give a good grip on stones whereas can be slippery on moss-covered rocks.
Mesh shoes:
These are the most common types of shoes which people use when going on vacations for fishing or having a good time in the sea or freshwater. These are very soft and breathable as water moves freely in them. these are multipurpose shoes and get dried easily.
Deck Shoes
As the name indicates these are deck shoes also known as boat shoes, these shoes are used for deep-sea fishing purposes or if fishing while sitting on the deck. These are made up of leather and have oily surroundings which make shoe water-free but not recommended for other than a dock as it gets filled with mud etc.
Water Shoes
These shoes are normal water shoes that are used whenever near water they have meshwork, are soft comfortable, and easy slip on. They provide excellent grip when moving on rocks or traveling along water surfaces and most importantly for fishing purposes. These are tight in wearing and easily fit your feet hence are also used in water sports.
Clogs
Clogs are another type of shoe that is breathable and easy to walk in while going fishing. These are also known as crocs. Mainly made up of rubber, these shoes enhance the joy of fishing. These are easily wearable and very comfortable, mostly used by people of all age groups. These are affordable and easy to find as well. 
Guide To Pick The Best Water Shoes For Fishing
If you are willing to purchase your fishing shoe, keep in mind to look for the following characteristics in the shoe to make sure you are getting the best suitable product.
Comfortability & Durability
Make sure to go with the long-lasting product to ensure your money is well spent. The shoe you are going to buy should be high in comfortability, it would give you the necessary arch support beneath your foot and proper cushioning inside the shoe to make sure you are stepping smoothly. The shoes selected should be durable, if you are getting a nice product at an expensive price, yet it's worth buying because the quality of the expensive original products is far better than the cheap purchases. So never compromise on the durability and comfortability of the product.
Breathable Material
Go for the shoe that is made up of breathable material, it just means that your feet should be dry throughout the fishing time. This would not let you dampen your foot and create itchy, hot, and sweaty feet that can indirectly cause you harm. Breathable material helps in keeping the feet dry and makes sure the sweat of the foot stays away from the foot. It will help in removing the moisture of the foot easily. Keep in mind to look for breathable material while selecting shoes. Look for the material that is not only breathable and comfortable but durable too, to make sure you can use the product again and again.
Weight And Height
Look for the appropriate height and weight of the shoe, you are going to buy. These are the main features that would determine your comfort during the fishing game. If you are going to spend the whole day fishing then you should be at your most comfortable level. The shoe you are going to buy should be light in weight and easy to carry. This would not cause any inconvenience for you if you have to stand and walk for a longer time. Similarly long shoes and boots up to the calves will protect you from water and any sharp object that causes you harm. Look for the lightweight and long shoe, that would perform best during fishing.
Sole
While purchasing the right shoe, keep in mind which area you are selecting for fishing purposes. There are lots of shoes that are perfect for one sight and completely imperfect for others. Check for the perfect soul of the shoe, which will provide slip resistance technology that will protect you from slippery surfaces. Similarly, look for the rubber soles, they would be outstanding for muddy fishing areas, as they are easiest to clean. Purchase the hard rubber sole, with great traction properties. Get the perfect soul that perfectly goes with your fishing area.
Waterproof Nature
Get a purely waterproof shoe to help you in keeping your feet away from the water. It will not let water seep into the shoe and will help you feel fresh. Because if for once the water reaches your foot it will make your foot wet that will cause hindrance in your fishing experience. Not only the hindrance but it will cause you health problems because if your foot is in water for a longer time, it would soften the skin of the foot and may cause bruises and burns. The waterproof feature of the shoe should be the topmost priority while buying the shoe.
FREQUENTLY ASKED QUESTIONS
Do bright colors scare fish?
Research has made us clear that fish see colors. They can recognize the objects and surroundings with the help of colors. The fish can detect your presence because of the colors you are wearing. They can detect your bright color dressing and get scared and could stay away from you for their protection.
Can fish hear you?
Yes, fish are capable of hearing human sounds. They can hear you and can act according to your voice. They associate actions with your voice, let's say if you're talking to them before feeding them, they would come to the top of the tank the next time they hear your voice.
What colors are perfect for fishing?
Colors that diminish your presence with the surroundings are the best suitable color to wear during fishing. They will fade away your presence and fish would not recognize the threat. Camouflage, light color, green, grey, and brown are colors that would help you during fishing.
What are the best shoes to wear fishing?
1. Merrell Men's All Out Blaze Sieve Water Shoe
2. Columbia Men's Drainmaker IV Boat Shoe
3. DLGJPA Men's Lightweight Quick Drying Aqua Water Shoes
4. Columbia Men's Bahama Vent PFG Boat Shoe
5. UBFAN Mens Womens Water Shoes Aqua Shoes Swim Shoes Beach Sports
6. ALEADER Men's Mesh Slip On Water Shoes
7. 3T BAREFOOT MAX Water Shoe
8. Rugged SharkBill Dance Pro Boat Shoe
9. Columbia Women's Drainmaker Iv Shoe Water
10. Skechers Men's Selmo Fisherman Sandal
What kind of shoes do fishermen wear?
There is a variety of shoes made specifically for fishing but it all depends on the fisherman's choice. These include Waders, mesh shoes, deck shoes, water shoes, and clogs.
Concluding Remarks
The right choice of footwear will make you comfortable and confident at the same time. If you spend your time selecting the right choice you would be thankful to yourself later. Fishing is an interesting game and when you are willing to play it, make it more interesting and attractive with the proper and accurate accessories you need.
Proper shoes enhance your comfort zone and make sure you are at the highest level of peace during the play. This will polish your fishing abilities and increase your interest. Above mentioned are all the necessary details and the 11 best fishing shoes that you can select and buy based on your need and requirements.
I would recommend the following shoes to give you all that you want.
Columbia Men's Bahama Vent PFG Boat Shoe for its breathable material, easy to clean nature, and Omni Grip Technology that provides superior traction on surfaces.
ALEADER Men's Mesh Slip On Water Shoes because these shoes have a greater drainage system and a cushioned midsole that gives you all the necessary support for your comfort.
DLGJPA Men's Lightweight Quick Drying Aqua Water Shoes Athletic Sport Walking Shoes because these provide high protection against surroundings and are highly multi-functional that can be used for many water sports.