"Relive your best memories" is not a phrase, but it can be true if you capture those moments with a good camera. I have experienced different recreational activities, but the way kayaking enriches our minds and body and brings fun is treasured. The best camera for kayaking is like a free return ticket to that fun experience, which no one wants to miss, right? It would be best to have a picture-perfect camera that captures that priceless time.
You have millions of choices in this progressive world, each advertising itself the best. Finding the one that is more suitable for you is a difficult task, so I decided to save your effort and time by stacking all the related information in this one piece of the discussion. I'll explain some top-notch kayaking cameras, buying features for you to make worthwhile decisions, and give you the reasons why one should buy an optical kayaking device.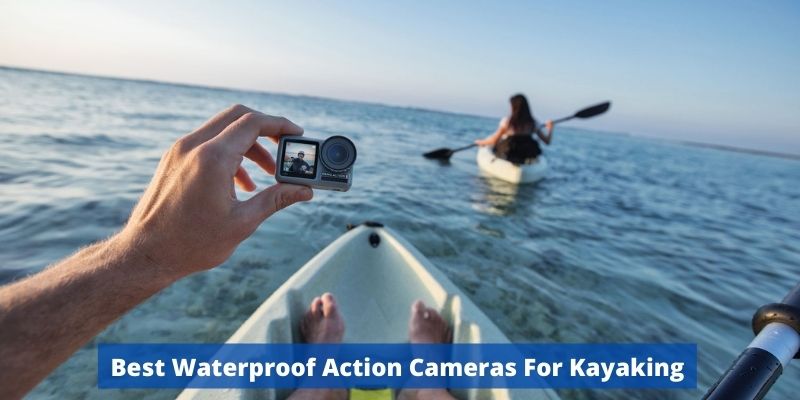 Best Camera For Kayaking ( Comparison Table )
5 Best Waterproof Action Cameras For Kayaking Reviews
1. GoPro HERO 9 Black – Overall Best Camera For Kayaking
The first choice on this list is the most popular camera for kayaking called GoPro Hero 9! Go Pro is an American company founded in 2002 and stands in the market for its best quality action cameras. However, GoPro also launches some application software for video editing, which you can easily download on your smartphone. But for this, you need to have recorded content with a top-notch camera like GoPro Hero 9, which has some outstanding features like:
20 Megapixel monster sensor
5K Resolution Display
LCD touchscreen
Webcam for live streaming
Perhaps, GoPro Hero 9 is the latest version of the hero series, so it comes with advanced and upgraded features, ensuring unbeatable quality and specs. When buying a camera, the primary thing to consider is its pixel count: which refers to the camera's resolution, measured in megapixels. A megapixel is equal to one million pixels, which shows the detailing of a picture captured by the camera eye. In simple words, the higher the pixel count, the more detailed, crystal clear, and conspicuous the image will be.
The Hero 9 is integrated with a twenty-megapixel sensor, a monster that has drastically improved the picture capturing ability of a camera. The dynamic range is better than its previous models and provides good detail about highlights, shadows, and edges. The picture quality is terrific even in low-light conditions because of this professional-grade sensor in it. Plus, you'll improve your editing skills too using this flawless camera.
Low resolution can flub up the display of any good video; in this way, it is necessary to buy a camera with a good resolution. For your information, the display resolution is a measurement of horizontal and vertical pixels; for instance, Hero 9 has a 5K display resolution, which means a 5120 x 2880 pixel count. 5K resolution provides translucent and bright resolution and is 50 % better than its predecessor, "4K resolution," quality and precision.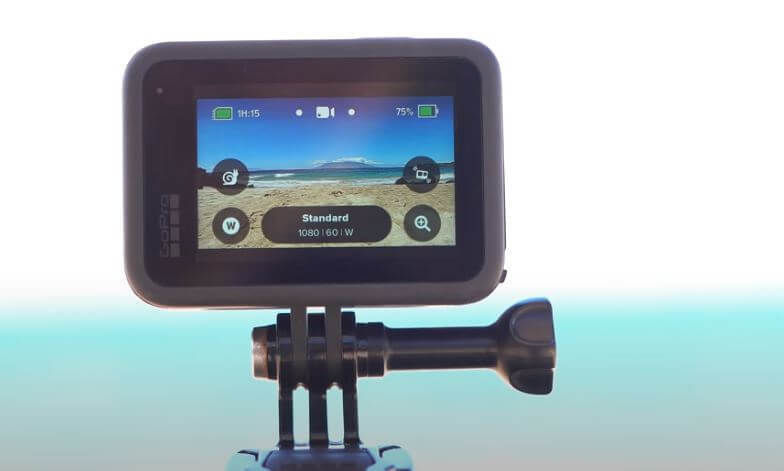 It's 2022 already, and the world of technology has reached the utmost level of advancements and has undoubtedly made life convenient. The brand has integrated some latest features like an LCD touch screen to display and edit the captured data instantly, a webcam for live streaming, and much more to make this camera user-friendly. Shortly, if you're looking for the best action camera for kayaking, Hero 9 is truly the top runner!
Bottom Line
In conclusion, the Hero 9 is a leader in today's market for its exceptional resolution and capturing quality. It provides ultimate precision and detailing about shadows and highlights, giving users a next-level platform for capturing and editing objects. In addition, it comes with advanced specs like image stabilization, waterproof features, touchscreen display, webcam for live streaming, and more which makes it a top choice for young kayakers.
---
2. Olympus Tough TG-6 – Best Waterproof Camera For Kayaking
Here comes the best waterproof camera for kayaking called Olympus tough TG-6! Olympus is a Japanese company that stands out for selling top-notch optical products. Certainly, TG-6 is its finest production to date because it is incredibly durable, stylish, and carries lots of features which I'll explain below. Let's have a look at its primary features first:
Sturdy construction
Digital Sensor
Waterproof nature
GPS tracking
LCD Touchscreen
The appearance of a camera might not be a matter of concern for some, but build quality surely is, as it determines how sturdy, resistant, and long-lasting a product will be! As the name indicates, TG-6 is tough enough to slash wood; however, it would void the camera's warranty. On a serious note, it has a red classy and user-friendly profile with ports for memory card, I/O or battery, at edges, dual locks, buttons for controlling, and more. In a few words, I would call it a pretty pocketable plasticky look!
Besides design, the Olympus tough TG-6 comes with a BSI-CMOS sensor, the smallest digital picture sensor that utilizes tomography elements to enhance the light effect and capture images wisely. This sensor is designed to improve the low-light performance of a camera. However, the 12MP 1/2.3″ BSI-CMOS sensor does not have a top-notch pixel count but provides good detailing. This sensor stands out primarily for its compactness.
You might be wondering why I called it the best waterproof camera, let me reveal! The Olympus tough TG-6 is made for underwater photographers, so it has a premium construction that makes it withstand water, dust, shock, crush, fog, or any other extreme condition. You can dive deeper into seawater and enjoy capturing fascinating submarine objects with this ultra-rugged device!
Over that, the company has offered a variety of accessories and features in this camera to make it an extravagant entry in today's optical market. It has a wide-angle capturing capability, conversion lens, fire flash, thermometer, altimeter, GPS, compass, and so on. It would provide you with a hustle-less amusing undersea tour!
The newest Olympus put in this camera is the higher resolution touchscreen LCD. You can edit or view pictures and use underwater modes to make capturing quality and focus better. The TG-6 also has minimal ghosting or flare issues, making it the best choice for beginners. So, it's a user-friendly, pocketable, progressive, and high-resolution camera in a few words.
Bottom Line
Olympus Tough TG-6 indeed has a small sensor with not very impressive pixel count, but if you consider its other features, you'll find it a worthwhile camera. It boasts a high-resolution LCD, connectivity ports, wide-angle quality, conversion lens, fire flash, thermometer, altimeter, GPS, compass, and whatnot. If you're an underwater photographer, no other camera is better for you than TG-6!
---
3. Garmin VIRB Ultra 30
The VIRB Ultra 30 is a flagship device under the best action cameras for kayaking. It is an updated and finest model by Garmin, which has scored reputable feedback from customers. The most standing out features of Garmin VIRB Ultra 30 are the following:
4K resolution
Double locking mechanism
More than two hours of battery life
Robust profile
The predecessor of VIRB Ultra 30 has a 1440 p resolution, which is maxed out in this model as it comes with a 4 K resolution. The 4K display provides enough sharpness, shadows, highlights detailing, vibrant colors, and smooth contrast. The primary advantage of 4K resolution is that it gives fine longitudinal details with 3840×2160-pixel footage. Even after the release of 5K resolution, 4K is still in demand!
Moreover, it has a double locking feature that provides an extraordinary resistance against water. This optical device can stay in 40 m deep water and record undersea adventures. This depth is quite commendable, but this camera has no particular IP rating, which sounds like a dark side. Plus, it can withstand fog, dust, extreme temperature, weather fluctuations, and more, making it a suitable choice for adventurers.
Unlike its market competitors, this ultra 30 camera has good battery health. It is equipped with a 1250mAh rechargeable battery, which allows a device to function straight for two and a half hours. You can also prolong the battery timing by enabling the power-saving mode.
This camera is far better than its previous models in terms of build quality. It is made of solid and decent quality plastic and comes in a black and red body, which looks pretty masculine. I love adding advanced features in this model like built-in GPS, touchscreen, image stabilizer, and more. It's a complete package camera for every level paddler.
Bottom Line
Long story short, this camera stands out in the market for its advanced features and decent build quality. I found it great for kayaking because of its withstanding nature and durability. Regardless of your level of angling, you can get this masterpiece anyway, and I bet you'll not regret it!
---
4. GoPro Hero7 – Best Outdoor Action Camera
Here comes another Gopro for kayaking, a diva from the Hero series. I have reviewed its successor above (GoPro Hero 9), but Hero 7 has its separate demand in the market to date. It comes with unbeatable quality and specs, which have grasped the consumers like a knot! That's not just word of mouth; you'll also be convinced after knowing the utmost features of Hero 7. The main features of the GoPro Hero7 are the following:
Digital Sensor
Promising Resolution
Webcam
Image Stabilization feature
While purchasing a kayaking camera, pixel count is the main factor to consider because it will decide the display resolution and quality of the footage captured. The pixel count is measured in megapixels (1 megapixel = 1 million pixels). The Hero 7 comes with a 12 MP sensor which is not top-notch but offers improved picture quality. It provides good details regarding highlights, shadows, and edges. If weather fluctuation often impacts your photography experience, Hero 7 is an excellent choice!
Undoubtedly, lousy resolution can ruin footage display regardless of how beautifully it was taken, and none of us can afford that after a memorable kayaking adventure. Therefore, it is necessary to buy a camera with promising resolution. Hero 7 offers a 4K display resolution, which means a 3840 x 2160 pixel count. The technology has been advancing every day, so today's latest is 5K resolution. Of course, you have to pay more dollars for each step, considering that a 4K resolution is prodigious.
Don't think that Hero 7 is a predecessor and lacks progressive features! It features boundless convenience and portability because it is integrated with the latest features like an LCD touch screen to display and edit the footage, a 720 p webcam for live streaming, a headset port, settings to record vocals, and much more. I love its image stabilization capability, which allows you to capture smooth pictures or videos with no gimbal, which is far-fetched!
Bottom Line
In a nutshell, Hero 7 is a popular choice in the kayaking industry because of its good quality resolution and capturing quality. It provides ultimate precision and detailing about shadows and highlights, giving users a next-level platform for capturing and editing objects. In addition, it comes with advanced specs like image stabilization, waterproof features, touchscreen display, webcam for live streaming, headsets settings, and so on.
---
5. DJI Osmo Digital Camera – Best Action Camera For Fishing
Another best action camera on this list is the DJI Osmo Action digital camera! DJI is a Chinese company that stands out worldwide for selling the best drones. Indeed, the company also has the finest collection of cameras too, and from their entire collection, I love Osmo Action digital camera for several reasons:
Long-Lasting
Digital Sensor
Rock Steady technology
Waterproof nature
Starting with the build quality and appearance, DJI Osmo comes with a durable profile. This optical device is equipped with jam-packed technology that makes the camera long-lasting, so you can enjoy the kayaking session without being worried about your device. Plus, it has two screens, one on the rear side and the other on the front, displaying a clear, sharp, and hyper-responsive image or video. The front touch screen looks different and more classy than other models.
The Osmo action camera has a 1/2.3″ CMOS digital sensor that utilizes picture or light elements to enhance illumination and capture images wisely. This sensor shows drastic improvement in quality during dim light or weather fluctuated conditions. However, the 12MP CMOS sensor is not better than the 20 MP monster sensor in cameras like Hero 9 but still provides promising footage. This sensor is mainly considered for the illumination effect.
When you're an entry-level kayaker, controlling a boat is a challenging task to do, and side-by-side doing photography is head-hitting. To enjoy a peaceful trip with unforgettable pictures, it is essential to have a camera like Osmo because it is integrated with Rock Steady technology, which delivers a stable, complete, and shake-free photography experience, regardless of unsteady or heavy actions your boat was performing. This feature is more than a blessing, especially for vloggers or content creators!
Moreover, this camera has some extraordinary specs, like its waterproof nature. It can travel to 11m depth and capture undersea objects, which sounds fascinating. It can withstand temperature fluctuations, dust, shock, crush, fog, or any other extreme conditions because of its rugged construction. If you're planning to invest in a camera that lasts longer than enough, Osmo is probably the right choice!
Bottom Line
The Osmo action camera is a worthwhile device featuring a dual-screen setup, a range of picture and video edit settings, promising display resolution, connectivity ports, wide-angle feature, conversion lens, and whatnot. The best thing is that it can withstand extreme exterior conditions like low temperature, water, dust, fog, etc., which makes it a durable choice. I found the image stabilization capability of this camera excellent.
---
What Do Kayakers Need In An Action Camera?
The answer is pretty obvious; a kayaker does need a camera to capture footage. It can be intentionally for professional purposes, to make the trip memorable, and so on. But do you know what makes that possible? Of course, a perfect kayaking camera! The advanced cameras come with user-friendly control settings through which photographers can alternate balance, shadows, exposure, ISO, and more.
When you're at recreational sites, weather changes do occur drastically and shift the illumination, which might affect your photographic practice. But, if you have your hands on a picture-perfect camera, you can shoot flawlessly regardless of exterior conditions. In addition, I love the feature of image stabilization offered by some latest cameras, which is extremely important for kayakers or travelers. This feature makes the camera work like magic even when the boat is unsteady or jostling along waves, which is incredible!
Furthermore, a kayaking camera is different from a conventional camera in durability and resistance, as it is waterproof. Water exposure to standard optical devices is kryptonite, which means a moderate raining session can terminate your DSLR forever. And as far as kayaking is concerned, it is nearly impossible that your camera would not get in contact with water, right?
In this way, waterproof action cameras are lifesavers because they are designed to withstand water. Some action cameras are available that can be entirely submerged and offer you an undersea photography experience that is mind-blowing. If you are an enthusiast, Olympus tough TG-6 is an excellent choice for you.
Well, if you already have a camera that is of good quality, but is not for scuba footage, use a case to protect it from water. Most of the cameras can withstand water if well-protected with a shield or case; at least you'll save its life. It is concluded that use your old camera with a protective case no matter if you're in the midst of waves or at the shore; however, get a waterproof action camera if you're planning to buy a new one.
Buying Guide
A memorable trip with no good pictures sounds terrible, right? To never face that, you must buy a good quality camera before leaving for a tour. In recent years, social media has unquestionably increased the demand for optical devices, especially cameras, which results in an expanded camera market. There are tons of cameras available in the market, which brings a puzzling thought to buyers' minds: what to buy and what not to!
Even when there are so many choices, if you know some primary features to consider, it will ease deciding the best. When purchasing a good quality camera, you must be precise about the "job" first, and here it is, KAYAKING! In this section, I'll be revealing the main factors which should be undertaken before you spend dollars on a camera for kayaking, so let's not waste more time and dig into this helpful piece of information:
Waterproof Rating
As far as kayaking is concerned, getting a non-water repellent camera is a bad idea regardless of whether you'll do undersea photography or not. This is because you can't take care of the camera or prevent it from water when you're between the water yourself, which would also put it in a hustle during the tour. Therefore, a waterproof camera is the safest and most good gateway for recreational anglers.
Numerous brands sell waterproof cameras in the market, but every product is not entirely waterproof. Now, what does that mean? Some waterproof cameras can only withstand moisture content or minimal amounts of water that accidentally get on them. In contrast, others are resistant to water and can offer undersea photography. In my opinion, a camera with high water repellency is compatible with kayaking!
Therefore, before purchasing the best camera, you need to ensure that you're getting a device that can withstand water, and for this, you have to check this feature by yourself. There is no need to dip the camera in a water bucket which you must have seen content creators doing in their videos; instead, you can just check out the IP rating of that camera. If the IP rating is in the range of 65 to 67, it means the waterproofing capacity of that device is excellent.
Resolution
Imagine that you've done a fantastic job as a photographer underwater, and you're pretty excited about the results, but once you back home and see the recordings are blurry, isn't it the most terrible thing ever? This annoying scenario is due to "low resolution," which can mess up the entire display of a video or picture. Therefore, one should buy a camera that offers top-notch display resolution.
For your information, a resolution is defined as a measurement of horizontal and vertical pixels. For example, a 5K display resolution means a 5120 x 2880-pixel count, the highest in today's market. 5K resolution provides translucent and bright resolution and is 50 % better than its predecessor, "4K resolution," quality and precision. Hence, going for a high-resolution camera is suggested, especially if you're purchasing one for kayaking or recreational photography.
Mounting Type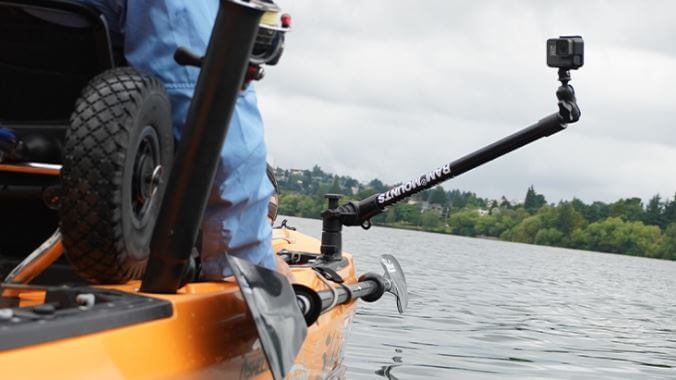 When looking for a kayaking camera, mounting type is the most necessary feature to consider. This is because one can not hold a camera in hand while moving over a water bank, so you need to mount it somewhere. In general, travelers mount cameras on their kayaks or boats, helmet, or chest.
Consequently, one must tick mark the mounting feature of a kayaking camera before buying one. But unfortunately, most optical devices have a single mounting type, which is not very impressive. If you find one with multiple mounting ports, go for that, as it allows you to fix the camera conveniently and serve the purpose excellently.
I have seen many kayakers who're more into brand name and reputation, and in this hustle, they usually end up compromising their requirements. In other words, one should buy a kayaking camera by keeping suitability in mind rather than rating, style, or trend because recreational photography is a new thing, and not many brands know about investing efforts to deliver the right equipment. Therefore, considering a brand name is not a good idea here!
That's why I recommend going for a manufacturer producing products intended for kayaking or similar stuff. GoPro is the boss in today's market if you want to have a branded product because their cameras offer premium quality results, easy handling, mounting features, and whatnot. In short, GoPro will take your frivolous or undersea photography skills to the next level. However, their cameras are a bit expensive.
Ease of Use
As I said before, roving over water is itself a difficult task that demands handling and concentration, so in this condition, you've no time to take a camera in your hands and understand or work on an all-thumbs interface. Thus, it would be great to purchase a camera that offers a user-friendly setup with more automated functionality than a mechanical interface. This way, you will do photography conveniently and enjoy traveling side-by-side, without any hustle.
GPS Tracking
Typically, users consider a GPS tracking feature in-camera as additional, but it is genuinely not! People who want to enjoy adventurous rides over the roughest water banks should have a camera with GPS so that they would enjoy a luxurious and mess-less trip. However, cameras with built-in GPS are more expensive than conventional ones.
Frequently Asked Questions
Which GoPro is best for kayaking?
Unquestionably, GoPro is a leading company in the kayaking industry and has launched a range of exceptional quality products. Amongst all, I found the Hero 9 best because of its premium quality resolution, utmost precision, transparent shadows, highlights, and so on. In short, it gives users a next-level platform for capturing and editing objects by offering advanced specs like image stabilization, waterproof features, touchscreen display, webcam for live streaming, and more.
How do you take pictures while kayaking?
If you have a conventional camera, fasten the kayak, or leash its paddle to capture moments. Try to perform photography from stable angles by avoiding mid-day footage. The better idea is to take pictures from the shoreline. However, if you are a content creator and want to record a smooth film of your trip, better buy a mountable camera so that you'll enjoy and handle the kayak without any hustle and get stable shots. Waterproof cameras with excellent ratings are suggested for underwater photography.
How do I protect my camera while kayaking?
If you're not using a camera at the moment, keep it inside a bag and secure it with a ziplock. While using a conventional camera, cover it with a case or shield so that it won't get in contact with water. However, I strongly recommend that kayakers or travelers buy an excellent waterproof camera to avoid any risk.
What features should we consider before buying a kayaking camera?
The best kayaking camera is one that boasts durable construction and promising withstanding property against water or other extreme conditions. In short, to buy an excellent camera, you should consider resistance, build quality, display resolution, mounting specs, GPS tracking, and usability. I have explained the buying guide in this article, so don't forget to look at that!
Where do you mount a GoPro on a kayak helmet?
Kayak helmets mostly come with chin mounts, which are the perfect way to mount your GoPro with a chin strap. These mounts can be used for other cameras too but are best suited for GoPros.
Our Final Remarks On Best Camera For Kayaking
Make your moment memorable and more special with the afore-mentioned best cameras, which feature excellent build quality, high display resolution, mounting modes, built-in GPS tracking, and a user-friendly interface. I found those five top-notch based on my personal experience and use, but if you're facing reading issues, then look at my three top picks:
GoPro Hero 9 for its 5 K display resolution, waterproof feature, and touchscreen LCD.
Olympus Tough TG-6 has robust build quality, built-in GPS, and withstanding nature.
DJI Osmo Action for its durability, dual-lens, and image stabilization capability.
Go Pro Hero 9, Garmin Virb Ultra, and Olympus TG-6 are the best action cameras, but considering the price, operability, water resistance, and other features Go Pro Hero 9 is the best option for kayakers can get hands-on.
In conclusion, getting a camera intended to perform kayaking photography is always a great idea for content creators or hobbyists. Now that you're aware of the best angling camera features and what not to consider, I hope you'll end up with a promising model. Good Luck, paddlers!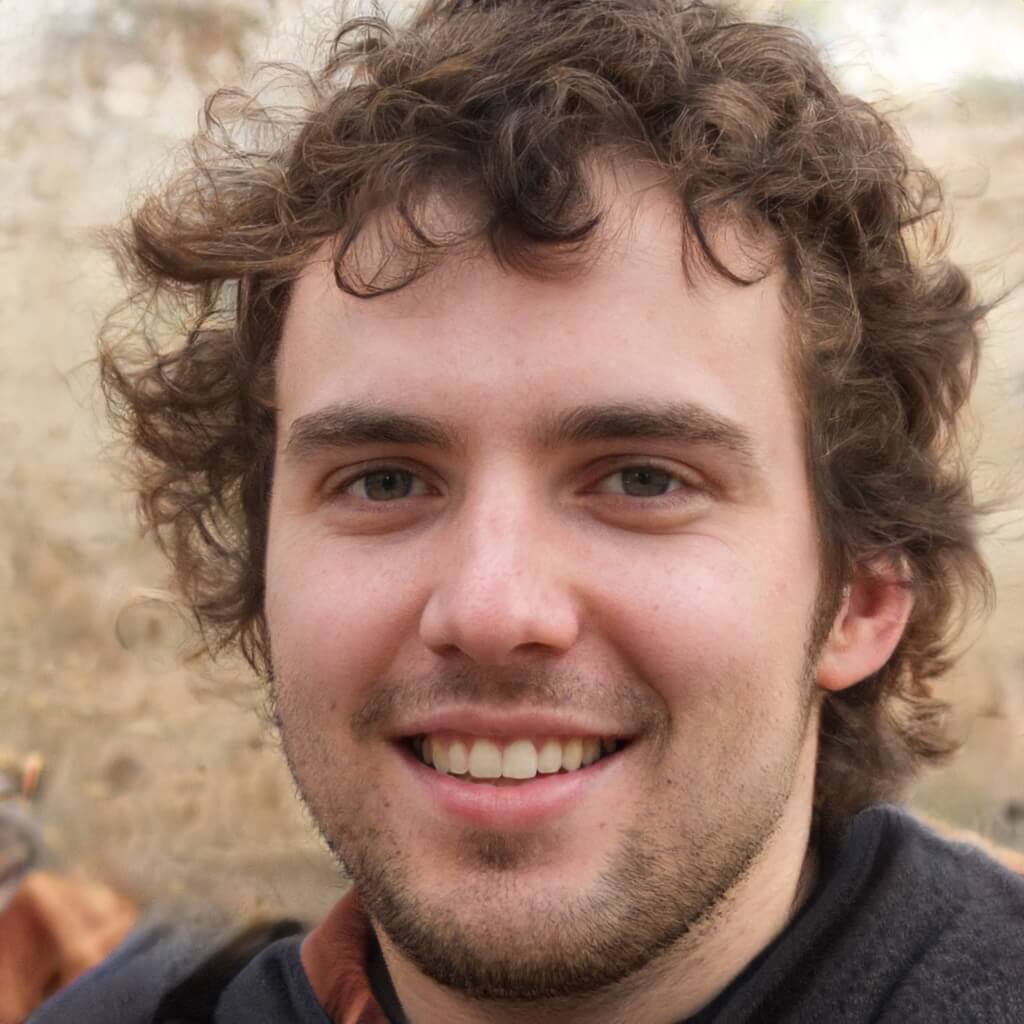 Hi, I'm Randy R. Lios and the owner of Floating Kayaks. I've always been adventuresome at heart. From the time, I got my first kayak at age 18 until now when I have multiple kayaks with accessories and spend 5-6 hours researching all the new related stuff in the market. I have always been fond of fishing since my childhood and kayaking is part of my weekend routine.