If you are a huge fan of kayaking, then you must be familiar with the names that are associated with the best kayaks in the market. Among those best names is a name called Lifetime. Some of the best pocket-friendly kayaks that I have used came with the name of Lifetime. Every fan should keep up with the best model of kayaks by reading Lifetime kayak reviews.
After reading multiple reviews, and using many Lifetime kayaks for years, I know my way around many models of Lifetime kayaks. The lifetime kayak reviews that I am sharing in this article are the ones that are my personal favorites. In every review, I have shared the pros and cons as well so that you can make a well-informed decision.
9 Best Lifetime Kayaks Reviews
Here is the list of 9 best Lifetime Kayaks that are highly recommended and are very stable, made specifically to provide you with a safer and more comfortable kayaking adventure.
1. Best Lifetime Kayak – Tamarack Angler 100
It consists of multiple footrest positions.
It is highly stable and safer for both beginners and professionals.
Can hold up to 275 lbs of weight.
Very durable, high-density polyethylene (HDPE) construction.
The looks for the Lifetime Tamarack Angler 100 may not be as fancy as some of their other models, but the performance of this model is no less than the competition. Lifetime Tamarack Angler 100 is the most famous Kayak used for fishing purposes and is highly popular because of being amazingly stable and durable in construction. The construction of 31 inches beam and chine rails helps absorb and adjust by quickly shifting the user's weight according to the need.
This increases the boat's stability and makes it safer for beginners and professional users. To make your fishing and paddling easily and quickly accessible, three-rod holders are located at different sides of the boat. One of them is fixed in the cockpit's front, and the other two are installed and located on the sides of the boat.
The boat comes with paddles that are compatible and help you in paddling conveniently without tiring yourself. Furthermore, the presence of multiple footrest positions makes you stay comfortable throughout kayaking. Moreover, this Lifetime Tamarack Angler 100 can hold up to 275 lbs of weight, making it suitable and ideal for two people to sit in the boat and enjoy kayaking simultaneously.
Lifetime Tamarack Angler 100 is outstanding and the most popular kayak that is famous among beginners and professionals both. It consists of exceptional stability that provides a safer environment for the users. This Kayak comes with three-rod holders located at different sides for easy and quick accessibility while paddling and fishing. Furthermore, it consists of multiple footrest positions to make it more comfortable for you.
---
2. Best Lifetime Fishing Kayak – Tamarack Pro
Constructed with a flat bottom design.
Numerous integrated channels for added stability.
Adjustable footrest and seats.
Comes with a five years warranty.
The construction and the features this Lifetime Kayak possess to make it stand in our top 9 list. It is designed to provide you with maximum comfort and relaxation while kayaking that will not make you tired and will keep you motivated and passionate. It is constructed with a flat bottom and has numerous deeply integrated channels that help in maintaining the stability of the kayak.
This construction not only makes it ideal in terms of stability but also makes it easier for the user to move the boat. You can quickly find the most comfortable sitting position because of the adjustable features in the footrest and seat. This feature helps you adjust the seat and footrest according to your convenience.
Moreover, the universal tracking mount makes it possible to make your boat more advanced and customize it with particular gadgets. Furthermore, this Lifetime Tamarack Pro kayak comes with five years warranty and can reliably hold up to 300 lbs of weight at one time. This means you, with your partner, can easily sit in this kayak if you come under 300 lbs in total.
Lifetime Tamarack Pro kayak is a boat that comes with a five-year warranty. It can hold up to 300 lbs of weight and is constructed to provide maximum movement stability. Moreover, the seat and footrest are adjustable to find the best sitting position according to his need and comfort.
---
Read: Best Budget Fishing Kayaks
---
3. Best Lifetime Tandem Kayak – Lifetime 10 Foot Fisher
Beautifully designed.
It offers various options for paddling.
Convertible into electrical paddling.
You can change your sitting position quickly.
With a beautiful camouflage design, this ten feet Lifetime Kayak is an outstanding and versatile boat that allows you to paddle it either solely or in tandem. With the possibility of holding 500 lbs at a time, this boat is constructed in a way that can hold up to two or three persons at a time.
The boat is designed to provide the user with the most stable kayaking experience. This makes the tipping over impossible for the boat in the water waves. This boat consists of two paddles two seats with a padded backrest that adds to the user's comfortability.
These seats are designed in a way that you can move them anywhere among the three seating positions available. The presence of three fishing rod holders makes the paddling and fishing quick and accessible, saving your time. Furthermore, you can also convert your boat from manual paddling to an electrical system by simply mounting the Lifetime Power Mate Motor.
Lifetime 10 Foot, Two Person Tandem is the top Lifetime kayak that you can use for fishing reliably. It consists of three fishing rod holders, making it easier to place the rods. Versatile in functioning and stable construction, this kayak is popular among many anglers.
---
4. Best Sit on Top – Lifetime Lotus
Affordable and inexpensive option.
It consists of multiple footrests.
Comes with a quick release and adjustable back seat.
Constructed with the use of durable and long-lasting quality construction materials.
I had to read multiple lifetime kayak reviews before I stumbled upon this model. After careful consideration, I spent my money on this model, and to this day, I have no regrets. This kayak has a very basic design, but that does not stop it from outshining its competition. This kayak is accompanied by a paddle, so you do not have to buy one separately. The kayak is 8 feet long, 30 inches wide, and has a weight capacity of 250 lbs.
Because of being an affordable option, this boat is ideal for beginners and those who don't want to break their budget. It is constructed with the use of Polyethylene material that makes it reliable when it comes to durability and long-lasting tendency.
Thanks to the high-grade construction, you will be able to enjoy the perks of this kayak for a long time. The best part is that it comes with a T-shaped handle at the front and rear ends. So moving the kayak from one spot to another and dragging it out of the water will not give you a tough time.
In addition to that, towards the back end of the kayak, there is a backrest strapped to the seat. You can temper the length of the straps to easily adjust the position of the seat's backrest. At the front end, there are multiple molded footrests present, so that you can keep your feet comfortable while in the water. The presence of a storage compartment at the back of the kayak makes it easier for you to keep water and other items with you in the kayak.
Everything about the Lifetime Lotus Sit-On-Top Kayak speaks volumes. This kayak has been built with high-quality materials and comes with all the perks that you need in a kayak. From storage compartment to easy portability, this model checks all the boxes. In addition to that, it also has 250 lbs of weight lifting capacity, so an adult can enjoy this kayak.
---
Check: Best Sit On Top Kayaks Under $500
---
5. Lifetime Youth Wave Kayak
Ideal for kids.
Budget-friendly and inexpensive option.
Enhances the stability of the kayak.
It has used strong materials in construction.
This is another budget-friendly, affordable and fantastic kayak that offers excellent stability features to the user. If you are looking for kayaks for kids' adventure, you can reliably buy them as it provides them with a secure and effortless environment to paddle.
Moreover, there are these molded finger handles that are present on each side of the boat, making it very easy to carry. The feature of reverse chine in the boat enhances the stability that ultimately increases the safety and makes this boat recommended for children.
Furthermore, the twin-fin design helps in the surf riding of the kayak, making it versatile for various adventures. The addition of UV protected top layer makes this boat last longer without getting fading away, peeling off, or external damages and breakage. Although there is a five-year warranty, this boat will serve your child more than these five years because of being durable and robust in construction.
This is the top kayak ideal for children of five or above. It is stable and safer for children, offering them a secure environment to paddle and learn various forms of kayaking. The boat can hold up to 130 lbs of weight and is designed in a twin fin style for providing versatility in adventures.
---
6. Lifetime Cruze 100 – Sit-in Kayak
Highly comfortable.
Offers outstanding stability.
It consists of additional storage space for storing various items.
Multiple footrest positions.
If you are looking for something that provides you with maximum comfort while sitting in your kayak, Lifetime Cruze 100 Sit-in kayak is made for you. It is specifically designed to provide you with options of customizable features and padded seating.
The adjustable quick-release seats make sure you adjust the seats according to your sitting position. The presence of deeply integrated channels in the base of the boat and the chine rails helps in boosting stability and making it more stable so you can fish safely and reliably.
Furthermore, the presence of multiple footrest positions makes this kayak ideal for various pedlers. An oval hatch is present beneath the deck position that provides you with extra storage space to keep your things and accessories if you want.
Lifetime Cruze 100 Sit-in Kayak is another highly comfortable and stable Kayak that you can buy. It comes with multiple footrest positions and offers you great stability features to make sure you can paddle it reliably for as long as you want. Moreover, it also consists of handles that make the boat easy to carry from one place to another.
---
7. Lifetime 90899 Payette 98 – Lifetime Sit-in Kayak
It can hold a maximum weight capacity of 250 lbs.
This kayak is relatively faster in traveling.
Highly stable to paddle because of flat bottom construction and presence of chine rails.
It comes with various extras to help you make your kayaking experience better.
Because it is styled and constructed in a slimmer and narrower design, this lifetime kayak travels faster and more speedily than others. So if you are the one who loves to paddle the kayak fastly, this Lifetime 90899 Payette 98 Sit-in Kayak is the one made for you.
With slightly flat construction on the bottom side of the boat and chine rails, the boat's stability ultimately increases, making it safer for the beginner fisherman. Keep in mind that the cockpit area is large and allows you to put your feet in various comfortable positions according to your need.
Furthermore, carry handles are located on the front side and backside of the boat, making it easy to move it from one place to another. It is ideal for kids; it would be easier to paddle this lightweight Kayak. Furthermore, the presence of multiple footrest positions makes this kayak convenient and comfortable to use.
The specifications and the features and characteristics this boat possesses make it popular in the market. It comes with shock cord straps and a storage area with a lid that provides outstanding features and will make your kayaking adventure the best adventure.
Lifetime 90899 Payette 98 Sit-in Kayak is a boat that comes with different features providing you with a memorable kayaking adventure. It is easy to carry and performs stably in waves. Moreover, it is constructed in such a design that makes it faster.
---
8. Most Comfortable Lifetime Kayak – Hydros Angler 85
Presence of adjustable rod holders.
Easy to carry from one place to another.
Availability of multiple footrest positions.
Durable and robust construction material used.
As this model of Lifetime has been built with the needs of a kayaker being kept in mind, it has all the features that a kayaker needs. Along with high-quality construction, the design of the Lifetime Hydros Angler 85 is also quite thoughtful. This model comes with a tunnel hull design which provides better control to the user of the kayak, as it flows smoothly over water.
Furthermore, this model comes with a single seat present at the lower end of the kayak, and multiple footrests in front of it. You can easily adjust the backrest with the help of the straps that are holding it to the kayak. Moreover, the curved design of the backrest brings comfort to the table, as it makes it possible for the user of the kayak to rest their back without feeling any pain.
In addition to that, there is a T-shaped handle present at the front of the kayak. The presence of this handle makes it easier for the user to drag the kayak from one place to another. Moreover, there are bungee ropes at the front and back ends, so you can stash your belongings and keep them secured with the tight ropes.
If you want to experience the comfort of any lifetime kayak, then get yourself the Lifetime Hydros Angler 85. This model comes with a variety of features that make the usage of the kayak easier and smoother. These features include T-shaped handles, multiple footrests, and storage space. In addition to that, this model has a vivid and bright color, which makes it easier to spot it in the water.
---
9. Lifetime Triton 100 – Lifetime Angler Kayak
Ideal for every kind of wave.
Enhance stability and performance of the pedler.
Adjustable footrest and backseats.
Easy to transport.
No matter what water waves you select to fish in, this Lifetime Triton Angler 100 Fishing Kayak is another best kayak that you can reliably buy from a Lifetime manufacturing company. It makes your kayaking experience outstanding in all kinds of waves, no matter what water conditions you select.
It is designed and constructed to enhance the stability and performance of the fisherman. Since it is another kayak that comes with various extra features so is said to be ideal for beginners to make their kayaking experience professional and more fun.
The possibility of adjusting the footrests and seat backs makes it possible for the user to get into the most comfortable and easy sitting position. Moreover, the integrated center carry handle makes the boat's transportation convenient and quick for your ease.
Lifetime Triton Angler 100 Fishing Kayak is a reliable boat that is beginner-friendly and helps you in advancing your level from beginner to professional. It comes with five years warranty and consists of various specifications. This feature of this kayak makes sure you stay comfortable throughout paddling.
---
Lifetime Vs. Other Brands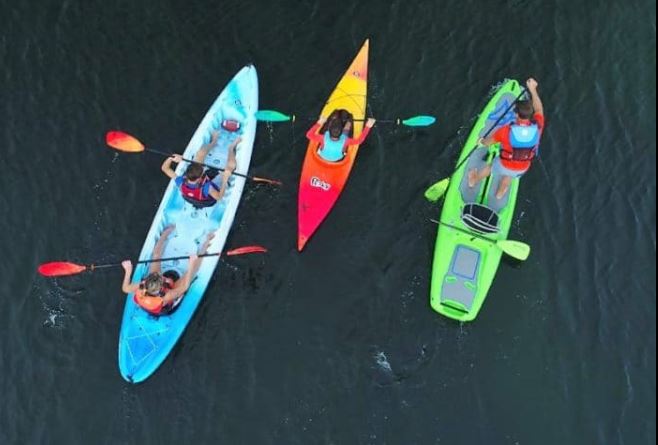 Because kayaking is getting famous day by day among all other water sports, numerous companies are constructing kayaks with their specifications and features. Every brand makes the product in its way, having its specific advantages and disadvantages.
That is why I have planned to write this part of the article that will let you know about the various other brands. Look forward to the following details if you want to dig out the basics of different bands constructing kayaks. Moreover, it will also help you select the best brand of kayaks that would fulfill your requirements.
Pelican Kayaks
The main difference between Pelican Kayaks and lifetimes kayaks is that the pelican kayaks are lightest in weight and compact in structuring. This makes them easy to carry from one place to another, so they are ideal for those pedlers who change their kayaking location every time. Whereas it is not preferred for those who look for durability factors as when we compare the Pelican kayaks with Lifetime Kayaks, the Lifetime is a winner here.
Perception Kayaks
The main difference between perception kayaks and lifetime kayaks is If you want to get the best sit-on-top kayaks, these perception Kayaks are the best in this regard. This Perception brand makes kayaks that are perfect for tracking capabilities and stability. They are known for making faster and more efficient boats in straight line speeding. So pedlers who want to experience high-speed adventurous kayaking can reliably go with Perception kayaks.
Sun Dolphin Kayaks
The main difference between lifetime and sun dolphin kayaks is If you are the one who is just starting your kayaking experience, then reliably select the Sun Dolphin Kayaks as they construct the most beginner-friendly kayaks. They work outstandingly and exceptionally in quality while making their kayaks.
The company does not compromise over the quality of the products. So if you are a quality freak, you can blindly go with the selection of Sun Dolphin kayaks. Moreover, if you want to get a budget-friendly and affordable option, Sun Dolphin will provide you with numerous possibilities that are both affordable and qualitative.
Vibe Kayaks
The main difference between lifetime and vibe kayaks is, for professional fishers, I will recommend selecting Vibe kayaks since they make the strongest, qualitative and best kayaks for professional pedlers. There is zero doubt in the quality of the kayaks constructed under this name, as every kayak has been built with thorough research and practical testing. Moreover, those serious pedlers looking for professional paddling in the wildest and adventurous way are heartedly welcomed here.
Sea Eagle And Intex Kayaks
Looking for Kayaks to make you paddle in lakes, rivers, and ponds? Sea Eagle and Intex kayaks are in the market with many options. This company makes highly reliable Kayaks that will support you throughout paddling no matter what kind of waves you plan to paddle on. Moreover, it consists of inflatable boats and constructing kayaks for almost 40 years.
Furthermore, they provide their users with three years extended warranty in which the fisherman and pedlers can reliably contact the manufacturers in case of faults. Additionally, the 180 days money-back guarantee is also a great thing offered by Sea Eagle and Intex, which makes it a highly reputable and recommended brand when compared with others in the market.
Furthermore, they are robust and sturdy making them durable, and long-lasting. The rigidity and comfort kayaks that this company offers you make this brand stand out among many others. However, it also makes adjusting the seats and footrest possible. This also adds to the user's comfort level because the user can conveniently change the seat's settings according to his need.
FAQs
How do I take care of my Lifetime kayak?
Because saltwater is not suitable for the durability of Lifetime Kayaks, it is recommended that if you have taken your boat in the seawater, then make sure to wash it as soon as you come back home. Alternatively, you can wipe it out with some cloth if you want to remove the dirt. Furthermore, keep in mind to place your Lifetime Kayak in an area where they are not prone to get mold.
What is the function of scupper holes?
All sit on top kayaks consist of holes in their bottom. There are chances of water getting into the boat with the splashing of the paddle or while encountering more giant waves. These scupper holes are designed for draining out of the water that has come in the inside of the boat accidentally. So these scuppers are very important while constructing sit-on-top kayaks.
What should you look for when you are buying Lifetime Kayak?
At the top of the list, you have to focus on how many people will use the Kayak simultaneously. This is very important to focus on because kayaks are designed with specific weight capacities, exaggerating them, and you will be in trouble. So look for the kayak that is compatible with the weight of the paddler. Moreover, focus on stability features and extras that the kayak is offering you as this will help you select the best kayak to fulfill your need.
Does Lifetime make good kayaks?
Lifetime Kayak a renowned for making stable and outstandingly reliable kayaks. They are constructed using polyethylene plastic material, which is considered the most muscular and most rugged material for boats. All of the kayaks from the Lifetime brand are covered with UV protection layering on the top. This layering on ships makes them resistant and adds to the durability factor. Furthermore, Lifetime constructs kayaks that are ideal for lakes.
Can I use my Kayak without scupper plugs?
Scupper plugs are compatible and only available with the kayaks that consist of scupper holes in the bottom. If your boat does not consist of these holes, there is no need to have scupper plugs with you. These holes are made to drain the water that has unintentionally come into the boat. Having scupper holes in your kayak makes it more efficient and helps in making your boat durable.
Where are Lifetime kayaks manufactured?
Clearfield, Utah, is an area where Lifetime Kayaks are now manufacturing. This is where the headquarter of the lifetime brand is located. Here is where the Lifetime Kayaks are constructed and then supplied worldwide.
Why waxing your kayak is essential?
Waxing and adding a layer on the top of our boat gives more protection and safety from damage. It provides your boat with an extra top layer that helps make your boat durable and consistently efficient. Moreover, it also protects your boat from scratches and dents.
Final Thoughts On Lifetime Kayaks
To make your kayaking adventure best in every possible way, this article mentioned above offers you the nine best products from the most reliable and trustworthy manufacturing company, Lifetime Kayaks. These products are selected based on stability, durability, and construction materials. You can buy these kayaks and can make your experience more fun and adventure in the presence of a stable and safe kayaking environment.
Moreover, more information is present in the above article related to lifetime brands vs other brands. This is where I have covered up the other famous brands constructing kayaks. These brands are undoubtedly making reliable products, but still, some are best in some regards, and others are best in others. So before finalizing the one for yourself, make sure to focus on every feature and specs it provides you.
As a reviewer, I will recommend you to buy the,
Lifetime Tamarack Angler 100 is the most popular and highly stable that is safer for both beginners and professionals. It comes with multiple footrest positions and helps you make your kayaking and fishing experience the best in every possible way.
Lifetime Tamarack Pro comes with five years warranty and offers great customizable options in seat and footrest. It is highly stable and can hold 300 lbs of weight while maintaining stability.
Lifetime Lotus Sit-On-Top Kayak is a boat that is lightweight and portable. It consists of a handle that makes it convenient to take from one place to another without complications.