Sometimes you get too passionate to buy your first kayak. By that moment, all you wish is to bring yourself to a seashore and quickly get on the water. But before the level of your excitement gets too high, you need to consider the weight of your kayak before anything else, which is usually determined by the material and size.
Why so? Because you never know when you need to haul the kayak from your place to the water. You probably have to lift the kayak all the way up to the car's roof and drive to the waterfront. Or you might encounter the need to take the kayak from the outhouse to the river bank.
Hence, you will eventually wonder how much does a kayak weigh for comfortable transportation and bring it to the place where it needs to be.
But first, make sure that the kayak you are buying is of perfect weight cause if you are a beginner, you would certainly not want your first experience to go bad, so let us find out about it.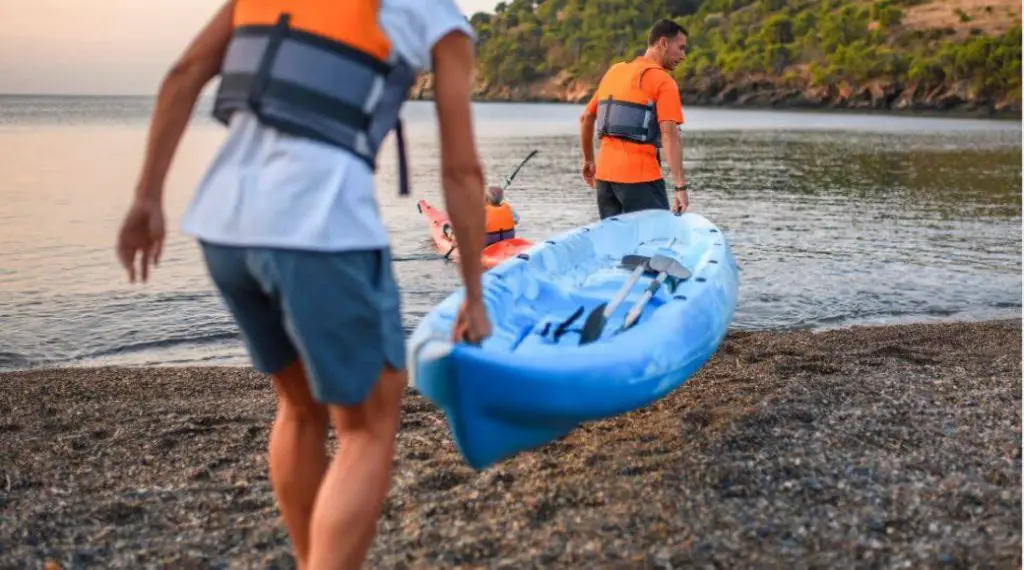 Are Kayaks Heavy Or Light? How Much Does A Kayak Weigh On Average?
As living in the modern age, we have multiple kayak types out in the market. Seemingly, they are engineered to fight against certain situations and frequently are different from one another. Typically made from different types of materials depending on the goal. However, an average kayak can weigh up to 20 to 60 pounds and even more (100lbs), but a question arises here which kayak is more suitable, the heavy kayak or the lightweight kayak. It depends on your needs. You may sometimes need to carry it to the shore if you happen to live nearby, or your kayak may face the rough wind and harsh waves, and you may not be able to balance yourself on a heavy kayak while catching some fish.
A Comparison Table (Average Weight Of A Kayak Depending On Type)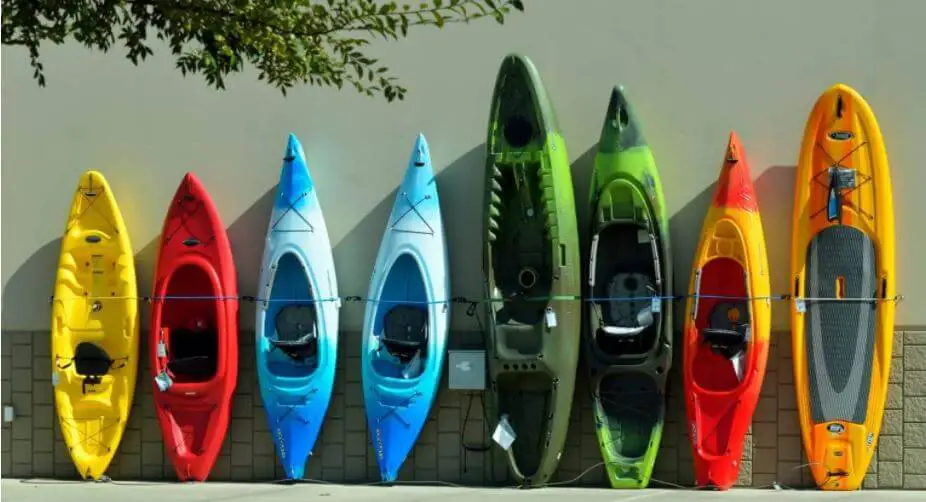 Does Kayak Weight Matter?
The product's weight is one of the least important things on my mind while buying something – And Yes I'll admit that.
But, I made the wrong choice buying my first kayak! It was too heavy for me to handle.
I considered all the factors like kayaking destination, dimensions, capacity, and storage options – and yes I forgot to mention the budget.
But I didn't take into account the weight as I thought 5 to 10 pounds wouldn't be anything to worry about.
Now transporting the kayak from the store, loading it onto the car's roof, and taking it to the launch site was a different ball game. 
Yes, weight does matter if you can't manage to lift heavy. Unless you have opted for tandem kayaking, you can easily manage to carry your kayak anywhere with the help of your kayaking partner.
But, we would recommend buying a kayak that is easy to carry and manageable by your own self.
How To Find A Kayak's Weight?
It seems risky if you are unaware of how much your kayak weighs, and you let people use it. Though it is not as difficult as it seems, you can visit the manufacturer's website and look for your desired kayak. If the kayak's weight is not mentioned on the front page, you need not worry because you can find it by just clicking on the option that says"more details" or "specifications". You are likely to find the weight of the kayak.
How Construction Affects Kayak Weight?
The material and size of a kayak are a big factor in affecting a kayak's weight. A kayak comes in different materials and its material will decide your kayak's weight and sustainability. There are some of the common kayak materials listed below:
Rotomolded
They are made up by using melted plastics which are shaped into a kayak, they are known to be sold at a lower price and are often the cheapest one in all the materials but they are quite heavy in weight.
Thermoform
These appear to be best recommended for beginners who are looking for something cheap and affordable. They are made by joining two separate molded pieces of top and bottom. The interesting thing about them is they are medium-weight kayaks.
Fiberglass
Kayaks that are made out of this material are known to provide the best quality with their smooth and fast pace in water. They are lighter in weight and give the best performance out of all the other kayaks. The sole downside of these kayaks is that they are prohibitively expensive.
Composite
They are quite similar to fiberglass kayaks the only difference is that they are mostly professional choices and like fiberglass the prices of these kayaks are sky-high.
Wood kayak
Wood kayaks can be expensive if the material used in them is fiberglass resin and to some extent heavy too. But the material used in the is not reliable and can easily be damaged.
Different Types Of The Kayak With Different Weight Range
Light And Fast Kayaks
Surely the light kayak would not be made out of rotomolded material, instead, they utilize lightweight composition materials or fiberglass. Nonetheless, a 16-foot long kayak with merely a weight of 55 pounds would lie in this category. Normally, their length varies from 13 feet long to 16 feet. Usually, the SEA KAYAKS will be found in this class. However, the shortcoming of using these kayaks is that they are not meant for hitting rocks. They are more likely to be cracked even if you strike with any impediment with force.
Heavy Kayaks
These are quite hefty kayaks with a weight that can easily be greater than 100 or even 150 pounds. They are usually huge sit-on-top kayaks with having enough room to carry additional accessories. This weight class usually embodies FISHING KAYAKS. Normally their hull measures 30 inches wide and 10ft long.
Their wider bottoms make them supremely maneuverable and one can easily stand on them. If you are planning to join kayak camping, these boats make sure that all your gears are easily carried in them. It has one downside that is mainly pertaining to transportation. Dragging the 120 pounds kayaks up to the car's roof does not seem fair. You will have to get a trailer to tow your kayak.
Average Weight Kayaks
In the line of kayaks according to weight, the next is average or intermediate weight kayaks. The sit inside as well as sit on top kayaks are supposed to reside in this class. They normally weigh around 30 to 50 pounds while offering you some additional length to carry your gears. For instance, some 12ft long sea kayaks with rotomolded construction can be seen weighing around 50 pounds. These kayaks allow the user to go faster with each stroke and carry more gears. You may also find hatch lids for storing storage purposes and bulkheads that are supposed to separate the front middle and rear parts of the kayaks.
Kayak Transportation
Somehow, if you are intended to store your kayak all on your own to cartop. Keep in mind that some of the racks can bear a weight of about 100 pounds but not more than that. Thus make sure you check the weight limit of the rack before lifting it to the rack.
Heavy kayaks are not supposed to carry by cartop, this way they are likely to fall and more susceptible to danger. Thus it is better to get some help from the truck bed that facilitates the kayaks with a longer length.
Even though, the kayak cart is also a great option to add a little convenience in transportation. These are two-wheeled cradles that slip under the kayaks, you would have to manually take the kayaks to the launch area without scraping them on the ground.
Final Thoughts
Do you see? Why it is important to know how much does a kayak weigh? You have to lift, push and drag the kayak in order to transport and stow your kayaks. We tried our best to deliver you the imperative information that might help you choose the right Kayak. Now it is up to you how you will be benefited from our guide.
How much does a 10 ft kayak weight?
A 10-foot kayak rotomolded polyethylene kayak could weigh around 50-70 lbs but it could be different for a 10 ft kayak made of any other material.
How much does a 13 foot kayak weigh?
As a 13-foot kayak is usually longer in length, it is heavier and weighs around 60-80 lbs depending on the construction material.
How heavy is too heavy for a kayak?
Professional kayakers have all the expertise and accessories to carry heavier kayaks but for a general or beginner, a kayak heavier than 45 lbs would be difficult to carry.
How much does a 14 foot kayak weight?
The longer the kayak, the heavier it will be. A 14 feet kayak would weight around 90-120 lbs or even heavier.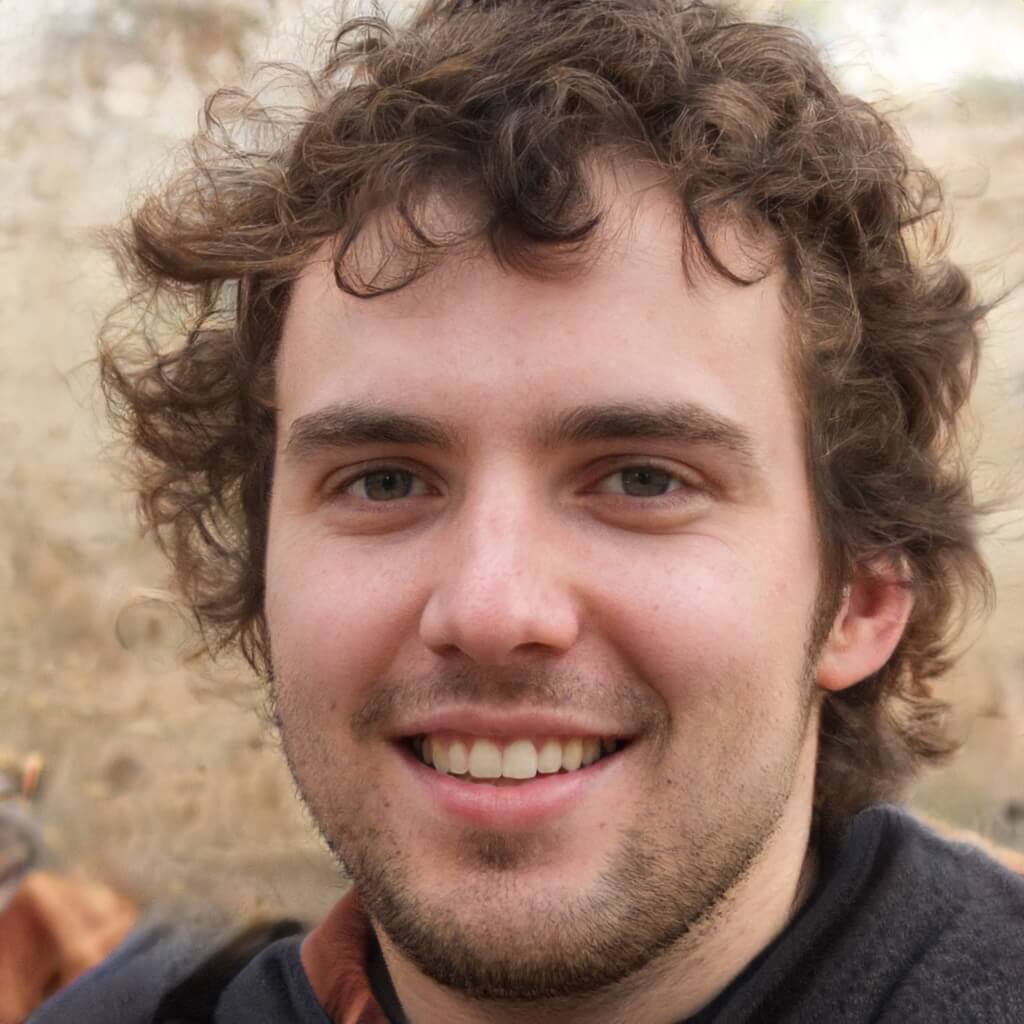 Hi, I'm Randy R. Lios and the owner of Floating Kayaks. I've always been adventuresome at heart. From the time, I got my first kayak at age 18 until now when I have multiple kayaks with accessories and spend 5-6 hours researching all the new related stuff in the market. I have always been fond of fishing since my childhood and kayaking is part of my weekend routine.