Without a doubt, inflatable kayaks and boats have become the most popular outdoor activity especially when you need to revitalize your mental health. With improvising in adventuring gears, these inflatable boats are extremely convenient to stow into any place with less area when its air is blown out.
Though it sounds a bit annoying when the kayak takes more hours to blow up and you could not get the most of your enjoyment, in this situation you need a pump with the capabilities of airing up the kayak in less time.
With a vast range of air pumps available on the market providing better stability and comfortable gliding, however, it is crucial to air up the kayak or SUP to the preferable pressure therefore it is required to pick the pump following the size and weight of the inflatable kayak and boat.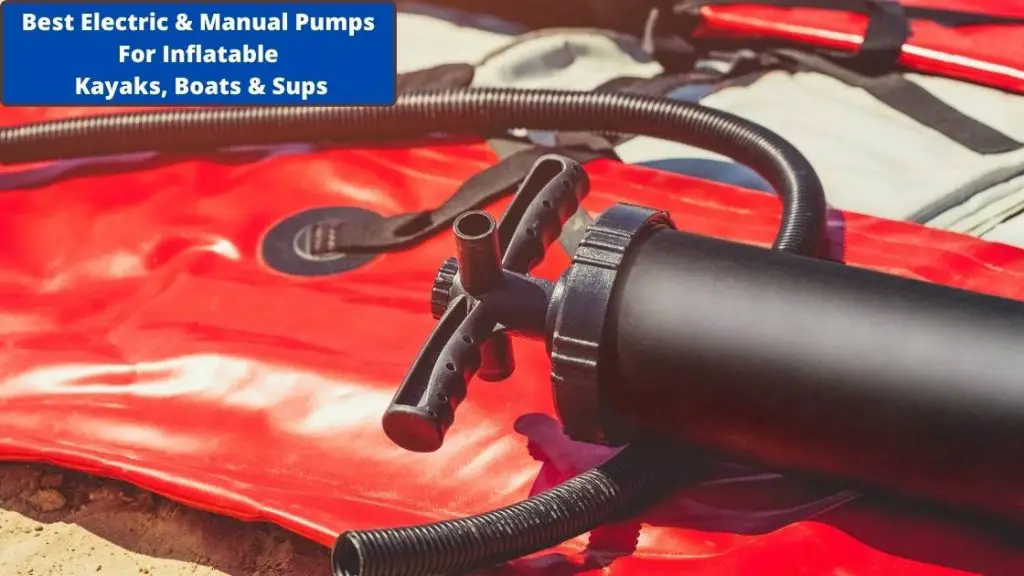 It can be confusing to figure out what type of pump you actually need for your inflatable kayak and boat, to help you out regarding this case we have lined up the best pumps for an inflatable kayak and boat with a complete buying guide and FAQs to help you clear your concerns that are worth noticing.
Best Inflatable Kayak Pump (Top 3 Picks)
---
Best Electric Pump For Inflatable Kayaks, Boats & Sups
---
1. OutdoorMaster 20PSI High-Pressure SUP High Volume Air Pump (Best Electric Pump)
If you are looking for the most powerful who could endure inflating three to four SUPs in less than no time then you should not miss out on this pick. It is a 12V electric air pump with a lot of beneficial features. It features a black glossy design with an orange contrast that compliments it really well.
The Outdoor electric air pump is programmable allows a person to set the desired pressure. It also has got automatic dual-stage inflation in which it releases 350L/minutes to fill the inflatable kayaks instantly.
Moreover, the Outdoor master 20PSI air pump will automatically shut once the pressure reaches a particular point. Its capability of filling the four SUPs in a row makes it more popular among people who spend vacations with friends.
Its biggest convenient feature is that it comes with three different kinds of nozzle to fit various types of valves. The built-in feature of the Outdoor master is what makes it extremely maneuverable. The in-built display makes real-time monitoring possible.
Check out our guide to the best inflatable kayaks.
---
2. Sevylor SUP and Water Sport Electric Pump For Boats & SUPs
The Sevylor SUP and water sport electric pump have a great working capacity with an astounding price that you will be tempted to buy it. Its effective and efficient function makes it possible to inflate a sizeable SUP within 8 minutes.
Making it accessible, now you can choose from the KSI, KPA, or mbar on the integrated LCD pressure gauge to achieve your desired pressure value and the electric pump will be spontaneously disconnected. It can blow up a watercraft up to 15 PSI. The cigarette outlet of your car is an advantage for you because you can easily plug the pump in it moreover it offers a slot for a 12V battery.
It is packed with adapters for Double Lock, Mini Double Lock, Boston, and pinch valves. Now you can simply count this water pump in the category of most suitable in all inflatable SUP boards and other watercraft. It also comes with two different hoses: a high-pressure hose reliable for effective inflation and a low-pressure hose for your convenience.
---
3. Seamax SUP20D 20PSI Double Stage Electric Air Pump
The seamax is as good as any other electric air pump would be but it seems to be working efficiently for inflatables like Bravo, Halkey Roberts (HR), Naru, and other likely valves. It comes with 3 different O ring sizes so be careful while selecting them for a better connection.
This tremendous electric pump has two stages in which it completes the inflation and reaches the maximum of 20 PSI. The first stage allows the speed to go up to 350 l / min whereas the second stage is fixed to function at 70 l / min.
However, Its another mind-blowing feature is that the Seamax double stage is automated. With a backlit LCD display, it gives you the opportunity to set pressure as you desire. And making it easy and simple it stops working as soon as your desired pressure is attained.
The breakage of the SUP, kayak, and inflatable boat pump has become more common than it is heard and one of its critical reason is overheating. This is why this electric pump is helpful at times like these because its internal temperature sensor protects your pump from being overheated and immediately turns off when the temperature rises above the limit.
Its incredible quality is that it perfectly fits in a 12V cigarette lighter or a battery. The cigarette lighter has a 12V fuse such that the Seamax SUP20D plugs in it easily.
---
4. New 20PSI SUP Electric High Air Pump
This Electric high air pump by the Furein brand is designed for SUPs and inflatable boats with 12V high pressure. It gets the job of inflating and deflating your SUPs done real quick and it is just what you need to inflate all your water sports without any physical exertion.
You can monitor the pressure of this electric pump with the digital display. It is within your reach to make it possible that it doesn't exceed above your desired pressure you can process the whole thing manually without having any help.
The pump is beneficial when you are perplexed about what speed you want to set with what pressure. But you don't need to worry about it as this electric air pump has an automatic two-stage system. The first stage allows you to set the speed at 350l /min, while the second stage is set to have a maximum pressure of 70l / min.
It has a 12V car connecter which is convenient for all the people who love to travel this electric air pump allows you to connect it to the car cigarette lighter plug which has a current fuse in it making it easier and safe for you to inflate your boat any time. It is best for inflatable beds, pulp boards, tents, etc.
---
Best Manual Pump For Inflatable Kayak, Boat & Sups
5 . NRS 80057.01.100 (Best Manual Pump)
NRS super 11 hp manual pump is a high-profile and durable air pump. It features a casing of polypropylene and a shaft of aluminum. This robust manual pump has got everything a user would need while inflating the kayak.
Out of shock, it has the ability to inflate the boat, kayak, or SUPs in a matter of a few seconds. This hand pump is convertible to Double Action hand pump by simply pressing the AIR MAX button, which means in both up and down motion it can pump the air into the kayak with no hassle.
However, it usually pumps in 1.4 liters per stroke but when converted to a double action pump, the amount is maximized to 3.8 per double stroke. Apart from this, this convenient tool uses a built-in pressure gauge in order to keep track of the pressure level. This tool is capable to achieve a pressure of 25 PSI.
Also Read : Best inflatable kayaks for dogs
---
6. AIRHEAD Watersports AIRHEAD Double Action Hand Pump
This Airhead Watersports air pump is perfect for those who are seeking out a cost-effective air pump and who do not fear doing some hard work rather than getting their hands on some less efficient electrical pumps.
It inflates and deflates the kayak at an unrivaled speed. This can also be used for topping off the inflatable when you feel the back pressure.
Features four different types of adapters making it more convenient to be used for other inflatables like pools, boats, SUP. This air pump is ideal to inflate small size inflatables, not for bigger ones that require high pressure.
This manual pump is evitably suitable for camping and in a remote area where electricity is not easily accessible. The seal of the Airhead is secured as no air will rush back which means your efforts will not go in vain.
---
7. ADVANCED ELEMENTS Double Action Pump
The Advanced Elements double action pump features an integrated pressure gauge to keep track of the level of pressure. This pressure gauge is adjustable to 15 PSI. The double-action pump is intended to be used for both inflating and deflating the kayaks.
It includes a ubiquitous valve adaptor which means it can conveniently be fitted to many common types of valves. This wide range of connectivity shows that these pumps can be used to inflate other inflatables too.
Making adjustments on the pressure gauge can appear slightly problematic. The reviews from some common users say that the dial on the pressure gauge may not be found accurate, therefore, while inflating the kayak you must not look anywhere else.
This convenient device weighs nearly 1kg therefore, by all means, it seems to be a great option, especially when using electricity is not your priority.
---
8. Texsport Double Action Hand Pump (Best Budget Air Pump)
The Texsports double action hand pump is not so cheap in price but offers a great quality of specifications. For those who do not mind spending some extra bucks to get the products that do not leave them in despair, this beneficial tool is the right choice for them.
The Texsports double action hand pumps were made to be used specifically for inflation and deflation of air mattresses. The industry is well-known for producing well-built and authentic adventure gear, this device is ideal for people with on-the-go schedules, its light and durable frame makes quick inflation possible when needed.
It features a 4 feet 6 inches hose that is non-kink so it will not be trouble while inflation. The Texsports uses a propellant that helps deliver continuous and consistent performance.
---
9. Intex Double Quick III S Hand Pump
Intex double action pump is an excellent budget option for people seeking out a good quality air pump that blows up the inflatables competently yet does not demand extra cash.  The Intex double action pump does both functions is inflation and deflation.
The Intex double action pump is ideal for pumping up the airbeds and other large inflatables. Its compact structure is what makes it more preferable among people to quickly carry it around and inflate the inflatables.
It comes with three different nozzles to fit inflatables like small and large swim rings, floats, for large inflatable boats, rafts, and airbeds. The airflow occurs at 2.8L/cycle which is good accurate pressure for quickly inflating the kayaks.
---
Buying Guide
Before getting your hands on any one of the best pumps for an inflatable kayak, there are a few noticeable factors we have covered below that you need to pay attention to before making a purchase.
Types Of The Valve
The inflation valves are typically the "connections" that are liable to provide passage to the air to enter into the kayak.
Most people complain about unmatched kayak pumps because of not having proper knowledge about what type of pump will connect to their kayak. Usually, the kayak has different kinds of valves placed on different parts of the kayak and so the pumps of inflatable kayak come with different connectors.
Therefore, before getting your hands on any one of these kayak pumps, you must know the type of valve installed in your kayak. Below, the most common types of valves are explained.
1. Boston Valve
These valves are two-way-screw-on which means that its lower part is tightened in the kayak whereas the upper is left open for inflating the kayak and then shut off after inflation. However, the air releasing mechanism is way easier and can be done by simply unscrewing the connector. There is a flap inside the valve to help deter the air from rushing back when the connectors are disconnected.
2. Pinch Valve
This valve is very effective and efficient in keeping the air from coming out. It looks like a long needle. Somehow the stem should be long enough in order to open the interior flap. And when you detach the valve the inside flap automatically becomes impenetrable.
However, the valves require compression (pinch them) to make the inside flap stay open when you want to deflate your kayak.
3. Military Valve
A push-pin style valve requires pushing down and pushing up the pin for inflation and deflation. The air can be pumped in by turning to the opening position and the pin will be pushed up, still, the air will not be rush back. When inflation seems to finish, turn to the close position and the pin will be pushed down.
Types Of Pump
Depending on the usage, the air pumps come in many types, as fewer of them require less energy and fewer of them require more comparable to others. Here are some:
1. Single Action Hand Pump
These pumps are cylindrical barrel-type pumps intended to push air solely on the downstroke. These pumps can be the most familiar type of pump because they are frequently used on bicycles.
When planning to buy a hand pump, always opt for the one with comfortable handling to help prevent blebs, make sure your hand pump has firm support to hold the pump in place while inflating the kayak.
2. Bellow Foot Pump
Unlike the hand pump, the below foot pump also functions nearly the same as the hand pump because pumping air in it also requires a down-stroke. Its compact structure makes it a great emergency backup easy to carry around.
3. Double Action Pump
Followed by a bellow foot pump, the double action pump also follows the same mechanism as the traditional hand pump, the major difference between hand pump and double action pump is that it pumps air in both ways is that when the pump is down and when the pump is lifted making it work more efficiently.
It requires more effort and endurance to fill up the whole kayak. These pumps are suitable for a kayak that gets filled up even at lower pressure.
4. Small 12V Electric Pump
Though not as efficient and faster as a hand pump it needs less effort in inflation. These pumps are made to work from the car's adaptor. Moreover, it shares a disadvantage in that they are not powerful enough to fully inflate the kayak yet people often use them to get their partially inflated kayaks refilled.
Types of Pumps Not To Use With Inflatable Kayaks
Not every air pump is meant to be used in the inflation of kayak. Fewer of them are need to avoid because they are not compatible with inflatable kayaks. Let us have a glance at these pumps.
1. Tire Pumps
Inevitably the pumps responsible to air up the bicycles or automotive will not go for inflatable kayaks due to incompatibility with the valves. Moreover, it will take a long enough time in inflation even if you use connectors.
2. Traditional Air Pumps
The reason why they are incompatible with an inflatable kayak is that the exerted pressure from these compressed air pumps is way mighty for the kayak. As they can over-inflate the kayak so there might be a chance that the air chambers of the kayak get damaged.
Pump pressure gauge
This pressure gauge will help you figure out the extent to which the kayak has inflated and how much it will take to get the kayak fully pumped. It is necessary to thoroughly go through the instructions as this will help you to find the optimal pressure required for an individual chamber.
Keep in mind that giving pressure less or more than the limits set for inflating the kayak will not only affect the shape but will make it less maneuverable.
Temperature Affects Air Pressure
The pressure of the kayak does not remain the same due to the temperature affecting the pressure and you will not find the same pressure your kayak had maybe in the morning or the noon. Therefore it is important to keep an air pump or PSI with you to inflate the kayak from time to time when it is needed.
However, there are some pumps that come with a built-in pressure gauge but in some cases, it is hard to measure the pressure for instance in the military valve, it traps the air itself even when you are not pumping and when you open the valve to check the pressure, the air blows out.
What if you don't own a PSI?
If you do not have a PSI and you feel sluggish in your kayak, follow the "firm to touch" method as it will aid you to inflate the kayak to the actual pressure it requires. Keep inflating the kayak until you feel a certain stiffness while touching. However, if you lift the kayak and if it sinks in the middle it means the kayak is not inflated enough and needs to pump up more.
FAQs
How do you dry an inflatable kayak?
To clear the debris such as sand and gravel left in the kayak, foremost you need to take take a towel piece and dry out the outer surface as much as you can. Then deflate the kayak from the bottom area and turn it sideways and upside down to drain out the excess water left in it.
Meanwhile, you do this process you can remove the debris with a towel piece. After this, deflate the rest of the kayak and soak it up again in case any moisture remains in it.
How do you pump up an inflatable kayak?
The most convenient way to get your inflatable kayak fully pumped up is by pumping the air into the kayak using an electric pump because it requires minimum effort for the user and helps to get the kayak inflated within a few minutes.
Can you use electric pump on inflatable kayak?
Yes, you can definitely use electric pumps on an inflatable as discussed in our blog. Moreover regular air pumps, compressors are not recommended for inflatable kayaks as they can overfill and damage the chambers.
Are inflatable kayaks hard to inflate?
Inflating and deflating is a simple and easy process. You just need to bring the kayak near water and inflate it with the specified pump which can hardly take 10 minutes.
Conclusion
Pumping your kayak is not a difficult task to achieve, the thing that is significant for an inflatable kayak is to use the right pump for inflatable kayaks. There are a lot of people who find inflatable equipment as a convenient tool that makes transportation and storage a hassle-free task.
The above best pumps for inflatable kayaks are a versatile choice if you use the watercraft or other gear regularly or occasionally because they provide a consecutive and accurate pressure to fill up your inflatable kayak.
Moreover, there are few electric pumps meant for people who do not want to put much effort into pumping their kayaks.
However, there are some frequent users who use manual pumps as an emergency kit when certain adjustments are required. However, using these inflatable kayaks with these pumps is the easiest way to quickly get into the water.