If you're looking into buying an inflatable kayak instead of a hard shell kayak, it's probably for two reasons: they are much easier to transport or store, and they are really cheaper. So, overall inflatable kayaks might be the most accessible way to get on the water. The inflatable kayaks might not be viewed as a status symbol, unlike fancy boats, which are pretty expensive. But because they are more convenient, affordable, and wonderful, we recommend the best budget inflatable kayaks as a perfect way to get onto the water.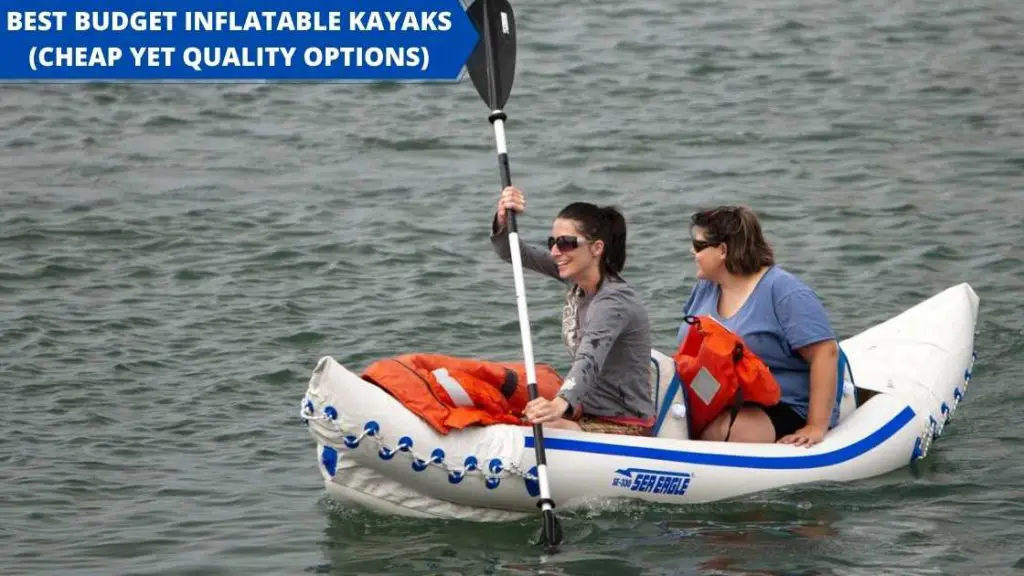 If you are an entry-level kayaker, I would suggest you read my buying guide on inflatable kayaks.
11 Best Cheap & Affordable Inflatable Kayaks Reviews
Top 3 Picks
---
1. Intex Explorer K2 – Best Cheap Inflatable Kayak
The Intex Explorer K2 is the first best cheap inflatable kayak on our list. It is the top-selling product on the market and has covered various positive customer reviews. Evaluating that positive experience, we came to know that the Intex Explorer K2 is a great paddle kayak that offers a smooth ride in water environments. It comes with the essentials and accessories that you need for a water journey.
This best budget inflatable kayak is made of rigid materials which provide great strength. Compared to other kayaks, resistance and overcoming strength makes it a perfect choice. The structure is resistant to puncture and leakage, and other environmental factors like UV rays. Overall, the layout looks rough, but that's okay in this price range.
Moreover, when it comes to buying a kayak as a beginner the most difficult step is proper inflation and deflation. But, don't worry! Because Explorer K2 offers simple and quick inflation. You can inflate this kayak in no more than 10 minutes. It also has a useful measuring scale imprinted on the air chambers that tells you the right air pressure needed for inflating the kayak. This helps the Boston valves to work perfectly and overall enhance the driving performance.
Bottom Line
The Intex Explorer K2 is the best affordable inflatable kayak made for people who like spending their leisure time on the water to chill out and enjoy the environment. It provides great support and enough space to carry essentials with you. However, it is not designed for long journeys.
---
Tired of inflating and deflating kayaks? Check out the Best Folding Kayaks.
---
2. Sevylor Fiji Kayak – Best Affordable Inflatable Kayak
The Sevylor Fiji is the best cheap Sevylor inflatable kayak that is popular in the market. It has many positive ratings and reviews, mostly appreciating its construction and well-mannered design. It is based on Polyvinyl chloride (PVC) construction that is one of the most durable materials in today's era for making such products. This material is known for its strength and finishing. The build quality should be kept under consideration before buying the best budget inflatable kayak, and the reason is that it makes a product enable to resist external factors.
This Sevylor kayak has an updated inflation mechanism. It consists of multiple air chambers that support fast inflation. The benefit of equipping multiple chambers is that it keeps each other inflated so if accidentally one gets punctured the other will keep the boat floated. It offers easy inflation and deflation, and all thanks to the mini-double lock valves installed in it.
Additionally, we must say that it is a durable and sturdy kayak. It is strong enough to carry a weight of 400 lbs. In Sevylor Fiji, one to two persons can fit when it has a removable seat in the middle. All-inclusive, it is convenient, durable, and best performing at the same time.
Bottom Line
This best-budget inflatable kayak is famous for its durable construction. It shows resistance towards external environmental and physical pressures. If you are worried about safety while traveling in a kayak, then this one is great for you.
---
3. Intex Challenger Kayak – Inflatable Kayak Under $100
Wondering which is the best inflatable kayak under $150? Here you go with the super amazing Intex Challenger Kayak. The first thing that we like to appreciate about this item is the ease of transport and basic inflation. It got a real quick setup that only requires some minutes, and you're done. This is possible because of the high output pump contained in the essentials kit of this kayak.
It is relatively light in weight, and the layout is compacted compared to a typical hardshell kayak. These features collectively play a role in making this kayak incredibly basic and simple to store or even transport in a car trunk. It is comfortable outside the water and inside the water because it is installed with cushy seats with a backrest. This combination will turn your lakeside trip into a dream.
This paddles boat is comprehensively the best entry-level inflatable kayak. It is small and nimble. It offers easy control and is equipped with the latest technology that provides good balancing. It has two air chambers that help the kayak is floating even if it gets a puncture.
Bottom Line
In conclusion, this is the best cheap inflatable kayak that is good for beginners because it offers an easy and basic setup, i.e., inflation and deflation. Moreover, the Intex Challenger K1 is made of durable materials, and the seats are very comfortable. This is a top-rated product on Amazon in the category of best budget inflatable kayaks.
---
4. Sea Eagle 370 Pro
The Sea Eagle 370 Pro is the best cheap inflatable whitewater kayak. It is an ideal product that is best-suited for amateur as well as professional kayakers. We must say that this item has no age restriction. It is very lightweight and could be carried anywhere. It can be packed in a car trunk or even in a bag, making it a great solution for daily kayakers who love water. It is not an old-fashioned piece and has been treated with advanced technology and perfect construction.
This best inflatable kayak under $400 has a good inflating system. You can inflate it in less than ten minutes. The construction is durable and rigid. This kayak is stable and has the capacity for three people. You can enjoy a water journey with your family or friends. It is best suited for weekend enthusiasts who want to relax and enjoy peaceful paddling.
Besides construction, it is a highly stable kayak. There was no case of puncture or drowning experienced with this best-budget inflatable kayak. The seats are very comfortable, and the kayak has enough storage to carry essentials. We must say that it is a great value for money.
Bottom Line
Along with pronounced portability, this best inexpensive inflatable kayak offers effortless inflation and deflation. It has enough capacity so that you can carry essentials with you. Besides, you can travel with your partner or friends because it is a three-person kayak.
---
5. Intex Dakota K2
The Intex Dakota K2 is the best inflatable kayak under $250 in the market. This product is different from outdated ones or hardshell kayaks. Generally, people think that hardshell kayaks are more reliable than inflatable ones, but that's not the case. The latest inflatable kayaks are convenient but have a rigid structure and can hold more than one person and other essentials. The Intex Dakota K2 is the best option if you are looking for durability, reliability, and convenience at the same time.
It is made of PVC material, a high-strength plastic used for various applications. It resists external pressures and provides a good balance to kayak. This heavy-duty kayak is very safe to use because it has three air chambers, which prevent drowning. Once you go on the water trip on the Intex Dakota, then we are sure that you'll never plan a road trip.
Altogether, the convenience, speed, and durability are what make it perfect! If you are searching for a practical kayak that has enough storage, too, then don't go anywhere and buy this best budget inflatable kayak. It is great in every aspect.
Bottom Line
Intex Dakota K2 is the best beginner inflatable kayak because it offers fundamental inflation and deflation. This best-performing kayak is lightweight and portable and made of good quality materials. If you are searching for the best inexpensive inflatable kayak for the day, this will be a great choice.
---
6. Sevylor Quikpak K5
Presenting you the best bargain inflatable kayak called "Sevylor Quikpak K5". It is recommended for adventurous kayakers who try to drive a car to the boat launch or hike their favorite pond. It is extremely light in weight and comes in a very compact design, making it a perfect option for every weekend adventure. In short, it is a one-person kayak with a backpack that makes it an all-in-one deal.
The Sevylor Quikpak includes paddles and pumps which offer easy and convenient kayaking. The paddles are constructed with good materials, so it doesn't need extra force to run. The setup is effortless as it just requires some minutes of yours. The material used in the making of this kayak is 24 gauge PVC that is very durable in nature. The bottom is composed of tarpaulin, while punctures are layered with polyester to provide extra protection and give a good finish.
All-inclusive, it is the best starter inflatable kayak that includes all the necessary key features. Besides build quality, this kayak is comfortable and convenient at the same time. For solo kayakers, we highly recommend this best budget inflatable kayak.
Bottom Line
This best inflatable kayak under $300 is best-suited for hikers, campers, and riders who want to leave their vehicle behind and are interested in continuing their journey in the water. It is lightweight and made of very durable materials. However, the comfortability needs improvement.
---
7. Advanced Elements FireFly
The Advanced Elements FireFly is the best inflatable kayak for kids. Like other best inflatable kayaks, it also offers easy transportation and storage. The duffel bag included in the package enables you to carry essentials along with you. For proper and fast inflation, the kayak has twist-lock valves and spring valves. You don't have to wait long because of this fast inflation system. We must say that it is a ready-to-go kayak.
In the context of comfortability, the FirFly kayak scores the highest. Though it is a paddle kayak, if you feel tired or just want to sit and enjoy the pleasing environment, then you surely can! The seating area is also very stable and enables you to sit there for hours. For relaxation and enjoyment, this best-budget kayak is highly suggested.
All-inclusive, it is light in weight, and the structure is compact. It is based on a unique style. It has rigid frames that add an element to its strongest level. It is very balanced when it goes into a water stream and puts you forward to enjoy the journey.
Bottom Line
The firefly is the best budget inflatable kayak if you invest in the long-lasting option in the market. The money is totally worth it. The key features like good construction, comfortability, balancing, ease of transport, and storage propound it as a perfect kayak you can have. It is recommended for any level kayaker.
---
8. AdvancedFrame Kayak
Offering you the best low-cost inflatable kayak with the highest portability and convenience. If you get frustrated with the previous model kayak you have because it didn't fit in your car, switch with AdvancedFrame kayak. It is very compact yet perfect in layout. It fits into your car's trunk and is very lightweight so that you don't need anyone's help to carry it. It is another best option by ADVANCED ELEMENTS and our personal favorite choice too. This model has a lot more to discuss, so let's start!
Before anything, we were impressed with the build quality of this masterpiece. It has aluminum ribs at the bow and stern, which makes it a top-selling item. Mostly, buyers don't think about the kayak's shape, but that's way too important because it helps in balancing and easy kayaking. The AdvancedFrame has a defined shape that efficiently cuts the medium and improves overall tracking. It prevents the zigzag movement and treats you with ultimate balancing throughout the ride.
This best-budget inflatable kayak has excellent resistive properties. There is almost no chance of punctures because of its multi-layer construction. It uses three layers due to which it can withstand external factors, including environmental conditions.
Bottom Line
The AdvancedFrame is the best inflatable kayak manufactured by a known company called Advanced Elements. This is a top-performing model that offers excellent convenience and the highest portability. We recommend it because of its great performance.
---
9. AQUAGLIDE Noyo 90
In our suggestion, AQUAGLIDE Noyo 90 might be more expensive than other options discussed so far, but trust us, your money is totally worth it. However, if you are running short on budget, then you should consider some other products.
It is effortless to transport from one place to another so that you enjoy kayaking far from home. It is composed of four chambers, but that doesn't mean it takes time to inflate because it has a fast inflation mechanism. These chambers keep the kayak floating. Moreover, it is compact in size and provides easy maneuverability in the water. The kayak's outer side is made of polyester material, which gives strength, rigidity, and durability to the vehicle. It is also puncture resistant and UV resistant so that you can enjoy long rides on it.
Besides, the seats inside the kayak are padded with a supportive cushion that gives you a breathable backrest. For safety, there are straps attached to the seat, which get quickly released. The seat is also adjustable so that everyone can feel comfortable sitting in this best kayak.
Bottom Line
AQUAGLIDE Noyo 90 is the best inflatable kayak on a budget that is compact in design. The best thing about this perfect kayak is that it comprises premium quality materials that make it resistive against external pressures or environmental fluctuations like punctures and UV radiations from the sun, etc. If you are looking for a one-person top-performing kayak, then this one is totally for you!
---
10. Intex Tacoma K2
The Intex Tacoma K2 is one of the best 2 persons inflatable kayaks which is made of heavy-duty materials. Vinyl is mainly used to compose this best budget inflatable kayak. It is highly resistant to punctures even after years of usage. This makes it best suited for young or inexperienced kayakers.
As it is an inflatable kayak, there are Boston valves known for offering quick inflation and deflation. The three separate air chambers are located so that if one of those got punctured, the other would keep the kayak floating. This is the latest mechanism of inflation that works for the safety and security of passengers.
It is built for two people, so it has enough space to carry the essentials. The seats located inside it are well-supported and comfortable. It includes the backrests, which are also inflatable. In typical kayaks, the comfort zone is compromised because of less space for legroom, but fortunately, in this best budget kayak, we see plenty of legroom. Along with that, it performs really well and is best suited for those who love fast kayaking!
Bottom Line
In general, the Intex Tacoma is the best budget inflatable kayak for two persons. It is easy to carry and offers effortless inflation and deflation. The perfect building and backrest seats make it the best choice if you prefer your comfort level over other factors.
---
11. Bestway Hydro-Force Cove Champion
Looking for the best budget inflatable kayak for one person? Here you go with the Bestway Hydro-Force inflatable kayak that comes with extraordinary features and a different style. This product has no rocket science or difficult mechanism of inflation. It is effortless to use and convenient for every level kayaker. We got impressed with its design and simplicity that lacks in other models.
Comfort and relaxation are paramount when it comes to purchasing the best kayak. This is because most people buy these kinds of items for enjoyment and fun going trips. But, if you get your hands on a kayak that is not comfortable, then it will ruin your journey. We are here with the Bestway Hydro-Force inflatable kayak, which has adjustable seats with a good backrest to fix that problem. It will not let you feel any pain or discomfort.
Moreover, the hydro force kayak is light in weight and has a very unique and compact design. It offers easy maneuverability as the package includes a grab rope too. It is a fun kayak with all the necessary features one can expect from the best budget inflatable kayak.
Bottom Line
Kayaking becomes more fun and comfortable with this lightweight and convenient product. It comes with an adjustable backrest seat and has cock-pit features which will make you ride at ease. It is based on a compact layout and has the folding ability, enabling you to carry in your car's dig.
---
FAQs
What is the cheapest inflatable kayak?
Among all the inflatable kayaks available in the market, Intex Challenger K1 is the cheapest and costs only $80.
Are inflatable kayaks good for beginners?
Yes. The inflatable kayaks are generally more stable and convenient than hardshell kayaks. That's why we recommend these for beginners.
Can one person use a two-person inflatable kayak?
Yes, there are tandem kayaks which are also called convertible kayaks. These kayaks have moveable seats, which bring the boat back to a solo one.
Are inflatable kayaks fast?
Generally, inflatable kayaks have no particular association with speed. But for your information, boats which are thinner and elongated are the faster ones.
Conclusion
Technology never failed to impress us! If you have read this article, you have probably come to similar thoughts about inflatable kayaks. We must say that this is the best way to enjoy the water journey with friends, family or even alone. You just need a little time to select a brand and product onto which you have to invest your money. In this blog, we have discussed more than 10 products in the best budget inflatable kayaks. However, if you're running out of time, then take a look at the mini-list that includes the top three products from this discussion:
Intex Explorer K2 because it offers basic inflation and deflation mechanisms. It is best suited for beginners.
Advanced Elements FireFly because it is durable and elementary to handle. It is the best budget inflatable kayak for kids.
Sevylor Fiji Kayak because of its popularity. It is highly punctured resistant and can withstand external pressures like UV rays etc.
In conclusion, we must mention that "Price" should be considered, but before that, it is important to look at the performance, features, and design of a product. You can find the best inflatable kayak under $100 if you search properly and identify your requirements. We hope that you'll find this article in good health and peace.