A PFD kayaking knife can be the perfect tool for when you're out on your next adventure. It doesn't require much space and will come in handy with many different functions, such as cutting ropes or fishing lines to free yourself if get tangled up. A good blade means that they don't need anything more than just this one item.
Choosing the best kayaking knife is an important decision. Luckily, we've put together some information on how you can choose your PFD blade and what are our favorite picks in this category.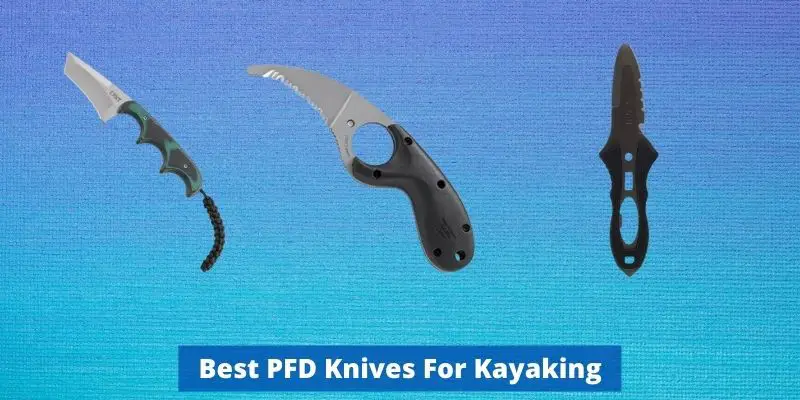 Best Kayak Knives Reviews
NRS Pilot Knife (Best Overall)
The NRS Pilot Knife is an all-purpose utility knife with both smooth and serrated edges, so it can be used for any task on your next paddling trip. The blade features 420 HC stainless steel that offers an edge of sharpness, so whatever material you working with will get sliced up just right. It also features a rope cutting hook that will allow you to cut through tough materials like nylon or fishing line quickly without hassle.
The blade is sharpened only on one edge for added safety and it features a bottle opener, glass breaking tip as well. The handle is made from a reinforced polypropylene material that can be used to break through the toughest obstacles in case you need them.
The blade of the knife is protected by a tough, fiberglass reinforced nylon sheath that locks into place and has a release point on each side. The clip can be attached securely to your personal flotation device (PFD).
---
Check Out: Best Kayak Fishing PFD
---
Columbia River Knife & Tool Bear Claw (best for rivers)
The Columbia River Knife & Tool Bear Claw is a survival and rescue knife with an easy-to-use, triple-point serrated blade. The friction grooves on the spine give it enhanced safety and control when cutting webbing, rope, or netting in any situation.
The rafting enthusiast will love this knife because it has a lightweight, glass-reinforced handle that is designed to give you more control when handling rescue situations in the river. Not only does the finger hole let your fingers stay cool but also helps with precision cutting for those picnics on high waters.
There are up to seven lanyard holes, as well as belt slots on the design so you don't need any additional tools in order to get it attached to your PFD.
---
Gerber CrossRiver Saltwater Fixed Blade Knife (best for ocean)
The Gerber CrossRiver Saltwater knife is perfect for those who frequently use their kayak in saltwater conditions and need a durable, versatile blade. The SALT Rx coating on this utensil will help keep corrosion at bay so you're never left disappointed when fishing or rescue conditions.
The lightweight knife has a Hydro read handle that is specially designed to be easy to use, even when wet. It also features an innovative locking system in both the handle and sheath for one-handed operation so it can work with either hand preference.
With both a plain edge and flat top, you'll be able to cut your materials with ease. And thanks to the PFD clip for added safety.
---
NRS Neko Knife-Green
The NRS Neko Blunt Knife is a low-profile utility knife with an intricate 2 ¼ inch blade that can cut through different materials. The stainless steel of the blade features both smooth and serrated edges, which makes it versatile enough for any task at hand.
The knife comes with an easy-to-use, durable sheath (made of reinforced nylin sheath) that clips to your PFD. The special friction release function can be used one-handed for quick access so you don't have to worry about trying not to cut yourself in the process.
With this lightweight knife, you can open bottles and use it as a wrench for valves.
---
Gear Aid Akua Blunt Tip Paddle Knife (best budget PFD knife)
The Gear Aid Akua Blunt Tip Paddle Knife is a budget option with a versatile blade perfect for fishing and general use.
The multitool offers a 3-inch blade made from titanium-coated stainless steel with both straight and serrated edges. It also has an integrated line cutter perfect for a fishing line cut.
The blunt blade tip is perfect for safety and can be useful on an inflatable kayak. You could also use it as a screwdriver.
The Acetal Molded Sheath offers a sleek design and can be attached to your PFD lash tab, making it easier than ever before for you to have quick access to both ends. It features an easy-to-use bottle opener on one end that doubles as a glass breaker in case of emergency.
---
GERBER StrongArm Fixed Blade Knife
If you're looking for a knife that can be used both in and out of the water, then this Gerber kayak knife is worth considering. It comes with an excellent 4.8″ blade made from 420 high carbon steel, making it strong enough to survive any challenge you might face while out in your kayak or on dry land. You can choose how this Badger-Grip Handle fits using three mounting options.
The nylon rubberized handle gives extra grip and won't slip out. This might just end up being one of the best options when compared to other models on sale today.
---
MOSSY OAK 2-piece Bowie Knife
This is one of the best buys for kayakers. If you're looking for a sharp, durable knife that can be used on both land and water this is a perfect choice. It has two knives in a package (4inches and 6 inches) that will last you through any adventure. The stainless steel blades are razor-sharp so they'll cut right through anything.
These two knives are perfect for carrying in the deck bag of your kayak. The nylon sheath with belt loops is perfect for holding your knife in place and allows for easy access.
---
CRKT Minimalist Tanto Neck Knife
For those who are looking for a compact knife that can be easily accessible, this is an excellent choice. This knife has a sheath and paracord to keep it around your neck close at hand.
The fixed blade is 2 inches long and made from stainless steel. The handle's design makes for an easy grip, making it perfect to use.
The knife has a variety of blade points that you can choose from, including the bowie style for those who want an aggressive look or something more subtle like Wharncliffe. These extra features make this one-of-a-kind knife even better.
---
Why Should I Carry A Life Jacket Knife When Kayaking Or Rafting
Kayaking and rafting are two of the most popular forms of water sports. They not only provide an exciting, new experience but also help you get in touch with nature. However, this puts kayakers at risk for several dangers; especially if they're paddling in whitewater or where there's an increased chance of capsizing.
You may not think that being trapped can happen to you, but it is a real danger. Getting tangled up in your paddle leash or even one of our rescue ropes could result in becoming helpless and unable to free yourself until help arrives.
Being able to quickly release your knife from a PFD can be the difference between life and death, especially if you happen in an emergency situation.
Having the knife attached to your PFD means that in an emergency, you can quickly access and reach for it without having to unload everything else off of the deck.
A PFD knife is essential for any survival kit. They come with a variety of features, such as glass breakers and adjustable blades.
Knife For Kayak Fishing
A knife is a great tool to have when fishing from kayaks. Attaching it onto your PFD lets you keep the blade close at hand.
Fishing line is an everyday annoyance for many fishermen, but it can also cause some pretty serious problems if not dealt with quickly. Cutting the fishing cord and dragging it through your fingers will only prolong this experience; thus a PFD knife should be in every fisherman's arsenal.
General Usage
When camping in the wilderness, a PFD knife is often essential. It can be used for everything from cutting and spreading food to opening bottles of water or wine on your hike back home after an outing with friends.
In addition, if you need to tighten a screw, it may come in handy.
Types Of Pfd Knife For Kayaking
Rescue Knife
A rescue blade offers fewer features than a utility knife, but they're designed for specific purposes with safety in mind so it makes sense that these blades would be superior at handling tasks such as cutting tough materials or allowing a better blade grip.
Utility Knife
A utility knife will be more versatile than a rescue knife. They have features like serrated blades, which can be used as a saw if you need one on your camping trip or fishing excursion but still cut through tough materials such as jungle wood without difficulty when it's time to get backpacking in style.
Buying Guide – What Features To Look For Before Buying The Best Kayaking Knives
Corrosion Resistant Blade Material
If you plan on fishing while out in saltwater water, carrying a PFD knife with an extremely durable corrosion-resistant blade can be a really good option. The reason is saltwater conditions will affect the cutting capacity and may make it harder for the blade to do its job.
If you frequently paddle in the ocean, it might be worth opting for a saltwater knife. Corrosion-resistant blades are generally designed to handle harsher conditions so taking this precaution can save your investment down the road.
Most kayaking knives have a steel blade. Some blades are made from high carbon, which makes them strong and sharpens easily; but brittle when put under pressure or exposed to water for long periods of time because it rusts easily. Stainless steel on the other hand doesn't stain or tarnish as quickly as its counterpart (and can also take an edge much better).
PFD Attachment
A PFD knife is a must-have for any adventure seeker. The best part about this type of knife? You can attach it securely to the front of your life jacket so that whenever you need to access it, all you have to do is unsnap them from their clip and pull them out.
Blunt Tip
Most of the PFD knives are designed with a blade that has a blunt tip. This is so you don't puncture anything while wearing the knife around your person and it will be protected in its sheath.
The blunt tip is often a better choice for when you're in an inflatable kayak or raft as it's less likely to puncture your boat.
Quick Release Sheath
One of the best qualities about carrying a knife on your PFD is that it's easy to reach but you may also want one with an easily released sheath. This type of design ensures that whenever we're not using our knife it's securely fastened.
A sheath is a useful tool for any knife user. It allows them to safely store their blade when they don't need it, and quickly release with one hand in an emergency situation where speed of attack may be key.
Fixed Or Folding Blade
A folding blade is also called a pocket knife because it's small and easily carried. A folding-style design can have features like assisted opening (for one-handed use), or a locking mechanism to prevent accidental closure that will cut off your fingers when using this type in contrast with fixed blades. However, they are difficult to clean and lack the strength of a fixed-blade knife.
While a fixed blade knife offers more strength, especially if it's been made with full tang construction; a larger handle, and easier cleaning.
It is recommended to carry it in a sheath so there are fewer chances of cutting yourself accidentally.
Kayaking Knife Safety
It's always important to be mindful of where you store your knives. Many PFD knives will fit securely onto the square area near lash tabs on life jackets, usually located on chest or shoulder sections for easy access in an emergency situation.
PFD knife sheaths are designed so that when you pull the blade out in an emergency, it remains attached to your life vest. It's important for this reason: not only does a securely mounted knife provide protection from injury and damage but also helps in protecting the blade from damage.
The positioning of a knife on a personal flotation device (PFD) can be important to consider. Some knives are designed for mounting vertically, while others may prefer being horizontally attached and not hinder movement at all when in use. The type will likely depend upon your particular needs, your knife, and the design of your PFD.
Do you need a knife when kayaking?
A knife is one of the most versatile tools you can have on a kayak adventure. It's not just for safety and rescue, but also as an emergency tool in case something happens, that requires quick response time such as cutting ropes or shock cords or creating kindling if necessary – all without taking up much space at all.
What is a lash tab on a PFD?
It is a tiny square shape plastic tab sewn in the PFD and raised on the ends. The most common use of the lash tab is to attach a knife sheath.
Summing Up
A well-made knife is an essential tool for any outdoorsman. You can use it on your kayak, camp out with friends, or go hiking and the list goes on. Buying one doesn't have to break the bank because they are affordable in general yet provide amazing benefits that will make you glad for every penny spent.
Each product we suggested has been tried by many before us so which one is your favorite?