Since the world has become a global village while people have been confined in their comfort zone with no healthy sport to practice. And if you are a parent who is exhausted from seeing their child indulging in games, completely comprises of assassination and violence, that does nothing but ruin your child's mental health. In all this dilemma, kayaking has found proven to not only provide an agreeable state of mind but an effective sport that enables bad fat to burn out while allowing you a direct connection with nature. Though you can even admire those mesmerizing moments with your family.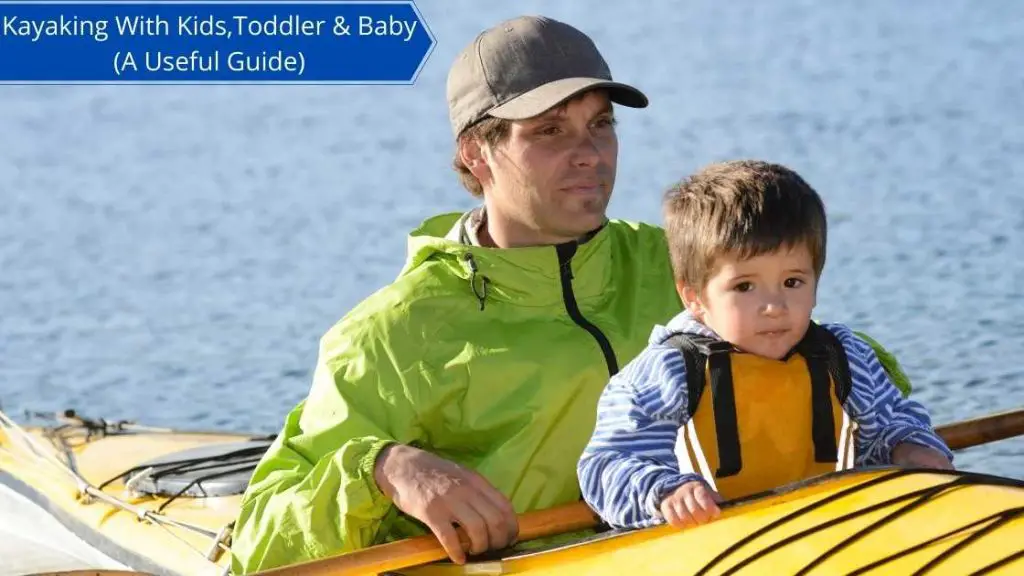 But is kayaking with a baby, toddler, or kid possible? Surely yes. Yet is not like and easy as paddling with elder ones still it is not something that can ever be happened. Kayaking with a baby simply requires informed decisions and planning. Even so, kayaking is extremely mobile which means you can spend a good time on the lake behind your house or can go miles away.
However, if you are a frequent player of kayaking and an outdoor devotee, indeed you would have some tricks up your sleeves so you probably not encounter as much difficulty as beginners have to with their kids along with them.
Remember, your entire kayaking excursion depends on how much you are prepared and what you have planned to make it go as smoothly as possible. It's better to have alternative routes and contacts in case of an emergency.
Therefore, whenever you choose to kayak with your kids make sure to get prepared appropriately and pursue guidelines. That is why we have collated a few tips and tactics to help you get started and how to stay safe while relishing on the water with your youngsters.
Kayaking With A Baby Or Toddler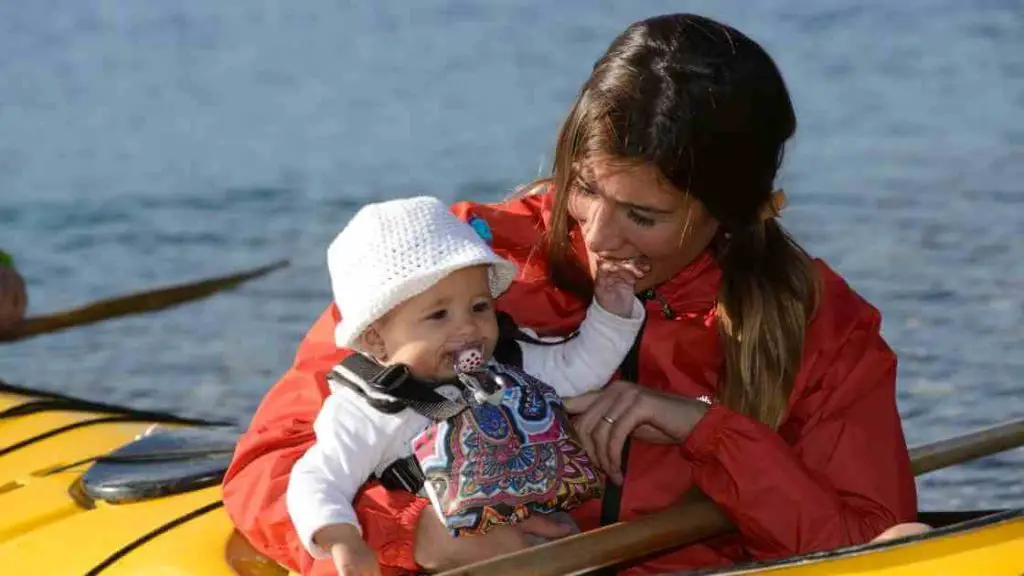 Can you kayak with a baby? By baby, we mean an infant. If you ask me this question, I'd say that there is no age limit for kayaking: However, I would never recommend bringing a small baby (0-12 months) on a kayak.
Coming towards the toddler debate (1-3 years) and children above, they are good to go with all the safety precautions.
What Age Is Suitable For Kayaking With A Child?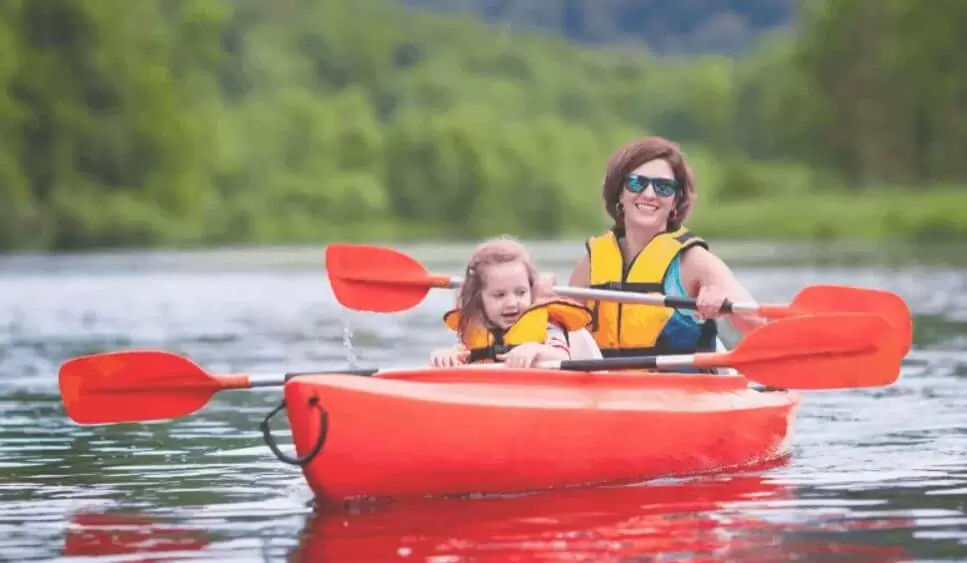 Kayaking with a child is totally dependent on his/her intellectual level and his/her ability to endure sudden variations in weather.
With that said, many professional kayakers opt for toddler duffing: sit as a passenger while monitoring the toddlers from behind.
Yet the option is not a wise choice if your kid can not manage to hold himself in a floating kayak for extended hours. Nevertheless, some kayakers choose to hire stern paddlers to control the kayak, while only being able to take care of their toddlers and themselves.
The general rules to bring your toddlers and kids out on the water are:
They must be able to sit still by themselves
They should weigh at least 18 pounds
They need to wear a snug fitted personal floatation device (PFD)
They should be able to float
Let's Talk About Age-Wise
Toddlers duffing in a tandem kayak is permissible for kids aged between four to eight years. It is perfect only when they can sit still for a long time. It is a great way of introducing your children to nature and different kayaking aspects. You can also bring them a small size paddle so they can start to learn the basics of kayaking. Whereas, the kids who age eight and over may practice kayaking in bow position.
Where To Kayak With The Toddlers & Children (Location)
One must prefer the calm waters when kayaking with kids. Avoid rough conditions and paddling in turbulent waters with strong currents. When you have made several trips with your child and get experienced, you can test other environments for sure.
If you are interested in reading about how dangerous is kayaking, you can read here The Dangers Of Kayaking
How Long Should The Trip Be?
It's better to be slightly reserved when deciding on how long you are going to be out on the water. Exceeding half an hour to an hour is enough for this age group.
One most important thing to remember is to always plan your trip and it should be in short loops, approximately one-third of the time that you usually spend on the water with elders.
To put it simply, the older child tends to show more confidence than the younger ones. However, when you plan a trip, always take into account the following factors.
• Their endurance level
•  What age they are
•  Experience with kayaking
•  Their ability to understand instructions.
Safety First
Ensuring the fact that you are fully prepared and practicing all the safety requirements comes before anything else. Here are the key points to take into account.
1- Gain Experience
You are much more likely to have your first experience quite enjoyable if you have somehow the considerable experience of the water world. if you are often out kayaking then you probably do not have to face any difficulty while you and your child are on the water. But if you are an entry-level kayaker then pursuing a guided trip can be a reasonable option.
2- Get The Know-How Of Swimming And Kayaking
Enforcing some safety rules while getting on and off the water is a great way to start paddling. It is important that your kid has some knowledge of swimming if you want them to practice kayaking. Make sure to sign them up for swimming classes. Why so? Because it is important to make them feel comfortable about the fact that they are so far away from the coast. It is not that swimming is important to learn, but the necessity to make them aware that they are miles away from the shore will likely increase their willingness to learn kayaking.
3- Set Rules
You need to set some rules for your child about what he/she can do and want they can not. This will create a sense of boundary that is not supposed to be climbed. The rules include: they should not stand quickly on the kayak if something amazes them not jump and throw garbage on the water. Throwing stuff will likely work as a stimulus for wild lives living beneath your kayak. Another on top of the most important safety rule is to never reach too much on a single as the added weight to only one side can make your kayak turn over. Moreover, your child needs to wear a life jacket all the time until he gets off the water.
4- Weather Conditions
Variations in weather conditions especially in open water take no time to change from mild to harsh. Therefore, examining the weather before heading off to the water can save your trip from going haywire. It is Better to set another day as soon as you notice the weather getting intense. Canceling the anticipated trip is bothersome, but it is way better than staying stuck in water with no help nearby. 
5- Invest In The Right Kayak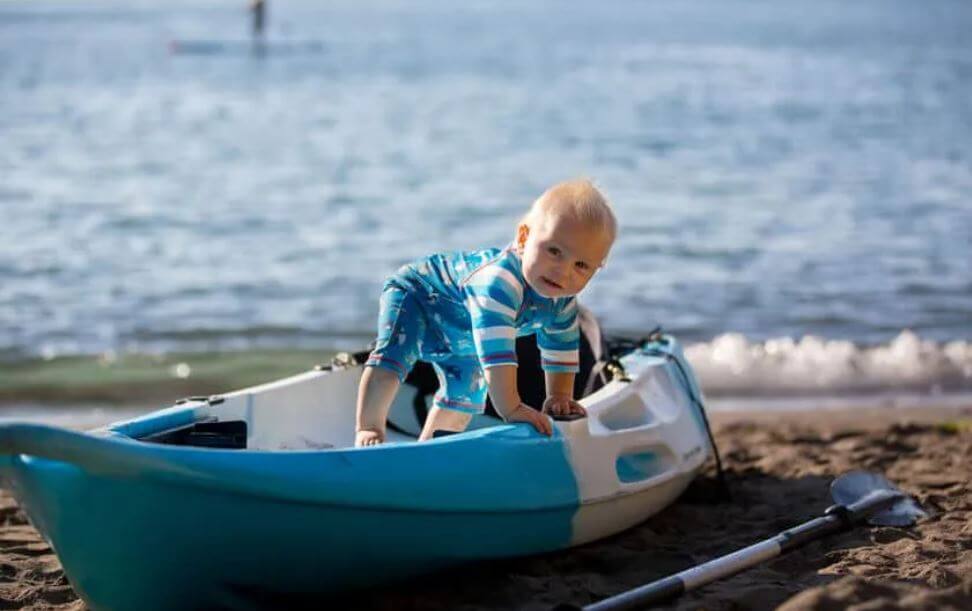 There is no way you are going to allow your ten years old child to paddle his/her. But if they seem old enough and if their fitness level is able to withstand the ups and downs of kayaking then you can consider providing their own to paddle around. In addition, A kid you have never paddled before will possibly be paddling with you on your kayak.
But what kind of kayak goes perfectly for two persons? Tandem kayaks! Yes, these are the ones that are specifically intended to hold only two persons at a time.
Yet there is no hard and fast rule that can not be changed nor is written anywhere that only adults can sit inside it.
For kids under the 10 years bar, the tandem kayaks are an ideal choice. Most Sit on top tandems nowadays have space at the cockpit, particularly for kids where parents are supposed to sit at the back cockpit while kids are in the front cockpit.
Tandem kayaks are incredibly suitable if you want your kids to accompany you kayaking. These kayaks tend to be larger longer and have quite a stable prowling on water. With the betterment of technology, these kayaks have modernized too.
Grab the essentials
You may want to bring everything with you but remember stuff like food will be under the scorching sun all day long. Therefore it is advisable to only carry those things that are most important in kayaking. Here are a few:
1- First Aid Kit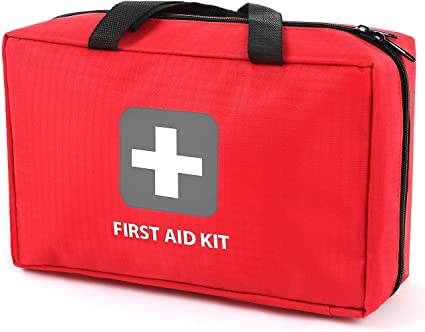 We never know when accidents take place because they are potential. It happens even when you have taken all the safety gear. Therefore having first aid is no more than a blessing, it can save you from fatal situations. Your kid may cut her finger when playing with a shell or might fall while running on the shore and bruised himself/herself. In these cases, you will surely want to get prepared to prevent such events to happen.
2- Water And Food
You can usually find useful storage space on the front or rear side of your kayak. Depending on whatever your kid enjoys, It's a good idea to keep some edibles like fruits, snacks, or sandwiches in your cooler.
As recommended by NRS , adults must drink 5-8 ounces of water every 20 mins while out on the water to cope with dehydration. The same goes with the kids, they must remain hydrated as they are more sensitive.
I would advise drinking a couple of glasses of water before hitting the waters. Water can be chilled in a cooler if you have a space and usually kayaks have molded cup holders in front of seats.
3- Lines And Float
The kid's fitness level is much lower than elder ones. Who knows when your kid's energy runs out and he/she unexpectedly gets exhausted. Line and float bags are good options in this situation. Its long rope enables you to tow your child's kayak and bring them to the waterfront safely.
4- PFDs
Wearing a PFDs is a must and a strict requirement by law. Choose the one that is US coast guard approved, these are specially designed for kids. Avert using large and small PFDs because it completely eliminates the purpose of using PFDs. Opt for the one that fits snugly and does not distract while kayaking. 
Check out: The Best Kayak PFDs
PFDs are usually categorized according to their weights:
Infants – 10 – 33 pounds.
Children – between 33 to 55 pounds.
Youth – between 55 to 88 pounds.
Kayaking With Kids – Wrap up
As long as your child is obeying all the instructions there is no danger in kayaking with a baby. Just make sure one thing that he/she does not do anything that can create a dangerous situation. It is as safe as kayaking with elders when you have planned things beforehand, especially when you are intended to spend extended hours. Following the mentioned tips, will make you realize that kayaking with a baby is complete fun and a great way to make lifelong memories.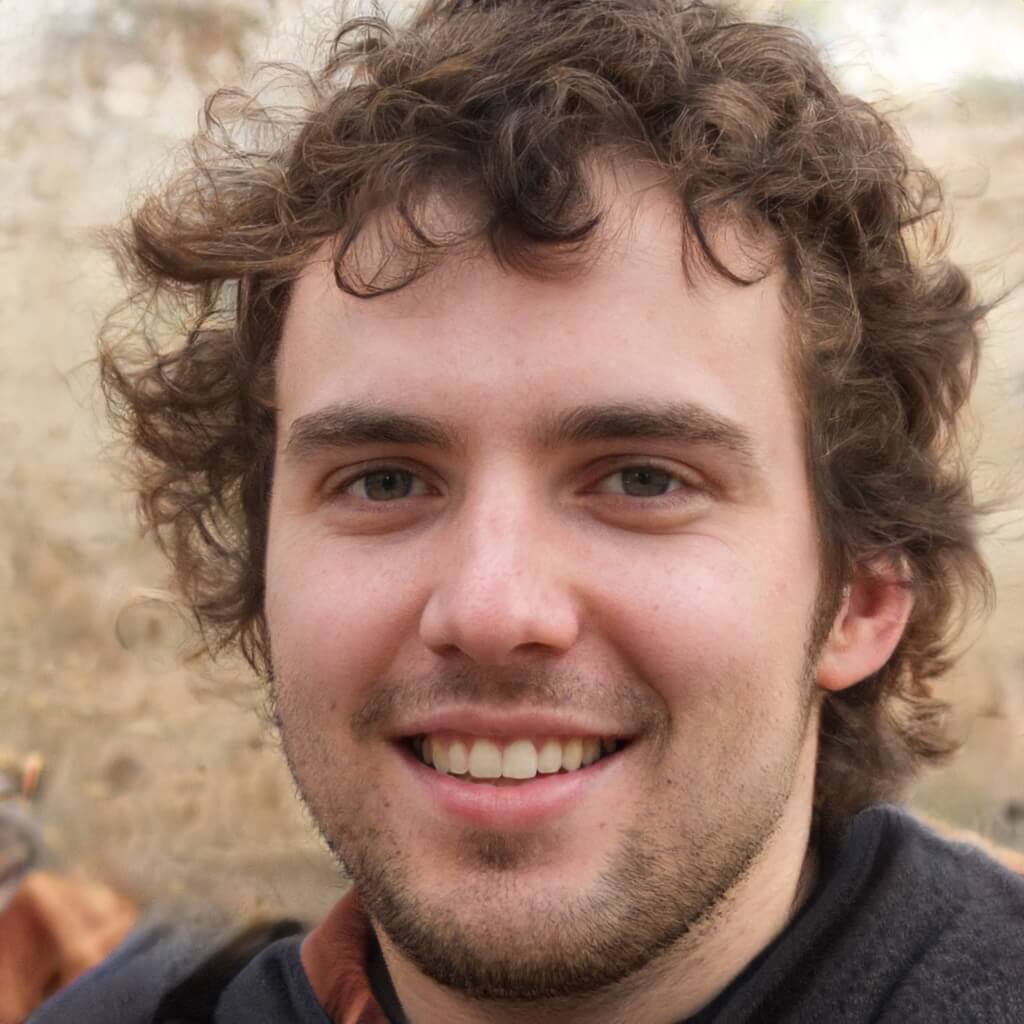 Hi, I'm Randy R. Lios and the owner of Floating Kayaks. I've always been adventuresome at heart. From the time, I got my first kayak at age 18 until now when I have multiple kayaks with accessories and spend 5-6 hours researching all the new related stuff in the market. I have always been fond of fishing since my childhood and kayaking is part of my weekend routine.