A dry bag is an essential tool for anyone who ventures out on the water. Whether you're whitewater kayaking or simply touring in a boat, this small accessory can help keep your belongings safe and sound from getting wetter than they were meant to be.
There are so many sizes and shapes of dry bags out there, it can be overwhelming for beginners. The problem is that not all beginners know what size their needs may require when they get on board!
In this article, you will learn more about selecting a size for your needs and how to buy one that is perfect.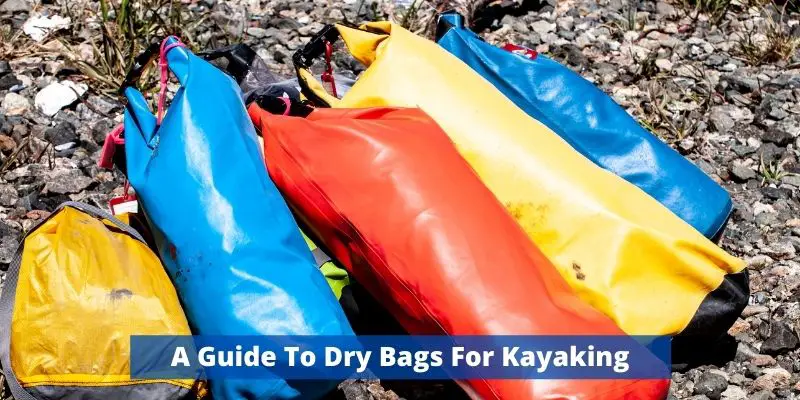 What Size Dry Bag To Use For Kayaking? What Gear Do You Have?
It's important to consider your duration out on the water and what you will be storing in your bag before deciding on the size. The more gear, the bigger it needs to be for optimal protection and dryness.
There are two options for securing them, either by strapping them onto the deck of the kayak or placing it inside one of its bulkheads compartment. Now it depends, what is convenient for you.
A Short Paddling Trip – For short, leisurely paddles on flat water with no significant rapids or tides you should opt for a dry bag that holds between 5 and 10 liters of gear.
Full Day on Water – To get the most out of your day on water, it's important to choose a dry bag that can hold at least 10-30 liters.
For Multi Days Camping – For longer multi-day paddle trips, a dry bag with the capacity to store up to 60 liters will come in handy for storing sleeping gear and other large camping items.
Many kayakers like to pack their boats with a variety of dry bags in case they need separate gear for different adventures.
And, from our experience with a large number of campers and outdoor enthusiasts, it is easier to have smaller capacity dry bags than a few larger ones.
Dry bags are designed with compartments that help you separate different items, which is perfect for organizing gear or anything else on land! Plus these smaller sized ones may be easier to put into sealed kayak areas because they have multiple pockets inside of them when compared with larger backpacks
A quick look on to the gear list that could be easily stored in your dry bags
Sleeping bag and tents
Clothing
Electronics including your cellphone and laptop
Your photography gear
First aid kit
Multi tools and torch light
Edible items
Check: Best Dry Bags For Kayaking
Dry Bag Buying Guide ( What To Consider)
For those who are new to kayaking, it may be difficult choosing the perfect dry bag. There can be some confusion as you try and navigate all your options.
So, now you understand the need for a dry bag. So how do I find one that will work best with my style of kayaking? Let's find out.
Dry Bag Size
Small
A small dry bag can be used to store electronics, food, and water in addition to other essential items. Dry bags come with a volume capacity of 5 liters up until about 10L.
the smallest ones don't have their own carrying straps. They're typically better suited for stowing inside another bag.
Medium
Dry bags come in many shapes and sizes, but the most common dry bag is a medium-sized one. These can store food, water, and even clothes for up to 25 liters of storage space.
They offer a single or double strap so it's easy enough, plus these bags can be an ideal choice for a single-day kayaking trip.
Large
A large dry bag is perfect for storing all your gear, and it can be used to store a sleeping bag too! These bags have some great features. First, off they are bigger than regular backpacks meaning more room to pack everything inside.
Secondly, these duffels come in sizes ranging from 25-40 liters which offer plenty of storage capacity no matter how long/short of the trip we plan ahead.
They are suitable for multiple-day kayaking trips with multiple straps and can handle heavy items. The sturdy design ensures that you're always prepared, no matter where your adventure takes place!
Extra Large
For those who enjoy camping and kayaking, but lack the space to store all their gear for longer trips in one go. The extra-large Dry bags that are rated at more than 40 liters per bag could be the only possible solution – this way you will always have enough room.
You can pack plenty of gear for two people in a single dry bag this size. but they will be heavy on your back. It is best left inside the kayak when not needed and you must have smaller backpacks for shifting items between it and other bags.
How To Pick The Best Size For Your Needs
How big is your largest item? This will help you determine which size dry bag to get. For example, if you own a tent or sleeping pad measuring the dimensions of these items will help you decide the perfect dry bag size.
This way, you can make sure that it will fit and be spacious enough for all of those important essentials. From there we advise packing smaller items around larger ones until everything has been adequately wrapped up inside.
Also, the size of your kayak's bulkheads can give you an idea of the right dry bag for it. Measure interior dimensions of the bulkhead and choose wisely!
It's important to keep in mind that most bulkhead compartments have smaller openings at the top compared to how big they actually are. If you want a dry bag for something large, measure your opening before purchasing multiple smaller ones which can then be fitted together inside once docked (photo example above).
So if you plan on strapping your dry bag to the deck of a kayak, measure the deck's dimensions to determine the perfect dry bag size.
Make sure to measure the amount of vertical height that your bungee straps allow before finalizing a dry bag size selection. 
Some kayakers place their dry bag underneath them in the cockpit of their boat, which provides extra lift for your knees and can promote better blood flow on long days out.
If you like this idea, make sure your kayak's cockpit has enough room for the dry-bag you want by measuring its width before buying.
As a general rule, it's best to avoid compressing your dry bag as this can damage whatever you've packed inside. 
Also Check: Best Kayak Cockpit Covers
Dry Bag Construction
When looking for the right dry bag, make sure it is sturdy and lightweight. The fabric used in construction as well as stitching quality can affect how much weight your baggage holds.
The trick to buying a dry bag is finding one that's light when empty but provides enough protection for your gear.
In order to make sure that your belongings stay dry, it is important for you to have a watertight bag. We recommend getting one with thick materials like nylon or vinyl because they will keep everything safe. Plus, we advise you to follow the manufacturer's instructions about loading capacity when shopping!
When packing a dry bag, choose the right items for your trip. The weight of these provisions can cause even high-quality bags to tear on long trips and you don't want this.
Dry Bag Style
Dry bags come in all shapes and sizes, with different styles for every type of kayaking. Some may be better suited than others depending on your needs or style preference- but what's most important is knowing which one can work best for your needs.
Sling Dry Bags
If you're looking for something small enough to secure over one shoulder, or if having room onboard is an issue – this style is perfect.
You'll be able to choose whether you want to carry it with a left or right hand. Sling-style dry bags are equipped with a removable strap that can be worn over your shoulder or across the body. You can simply stuff this type of dry bag into your kayak storage compartment without worrying about adding any extra weight on top.
Backpack Style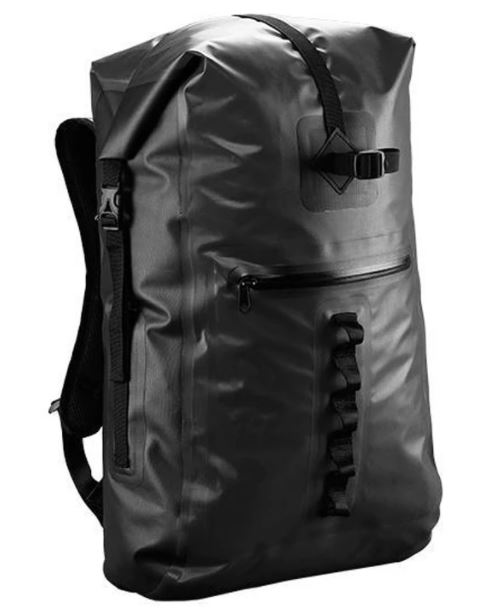 Whether you're going on a multi-day kayaking trip or just need something to store your gear for short portages, backpack-style dry bags are perfect.
Previously some of the backpack-style dry bags were not very comfortable, but today's modern designs can be easily carried up to a mile. Unlike slings which only have one shoulder strap and don't distribute weight equally across your back.
Some backpacks are designed to be more comfortable when carried over long distances, and some of these feature hip belts that provide lift for heavy loads.
Duffel Style Dry Bags
If you're looking for the largest capacity, a most waterproof dry bag that can be carried on your back then a duffel style is what you need. These bags use zippered closures and come equipped with an extra number of loops or clips.
Duffel-style dry bags have a bulkier, more durable build that makes them ideal for strapping onto the deck of kayaks as they are difficult to fit into the bulkheads.
Bulkhead Style Dry Bags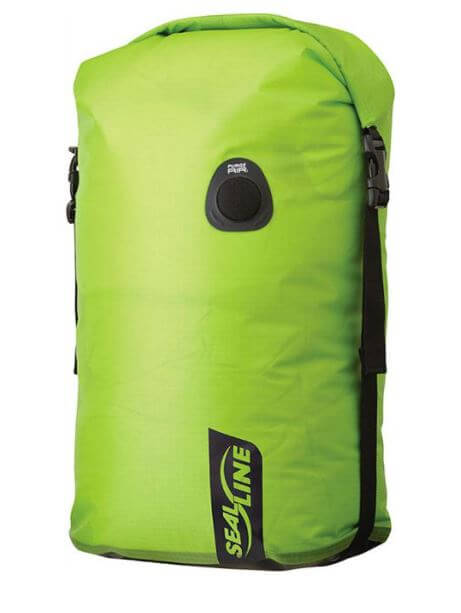 Dry bags come in all shapes and sizes, but if you're looking for the best long-distance kayaking trip possible then get a few tapered bulkhead-style dry bags. These specially designed storage units maximize every inch of space within your boat's compartments – which is perfect because who doesn't like more room?
They seal the same way a sling bag or backpack does but their tapered shape helps get fitted properly into the kayak bulkhead.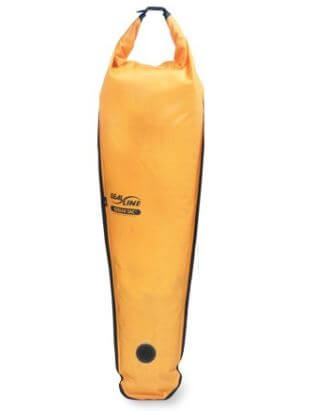 They come in different sizes, but their one drawback is that you'll need to exercise some foresight when packing them so they don't get crowded at the smallest tapered end.
Closure Type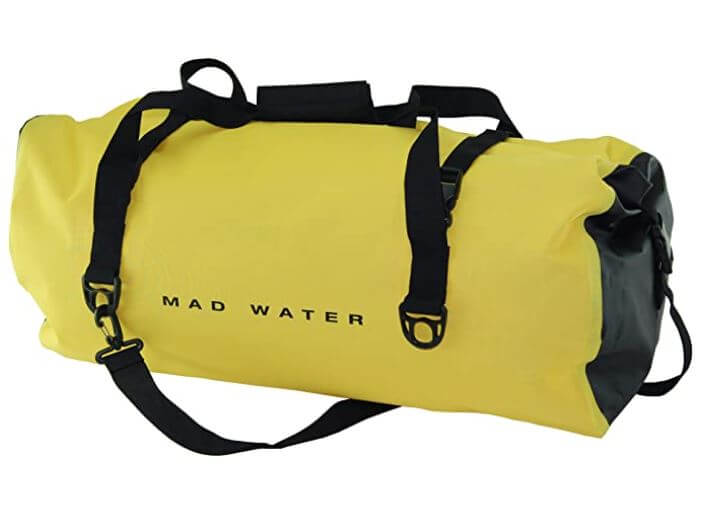 Most kayakers use a roll-top closure to make sure that their dry bag stays watertight. We found that the roll-top closure type of watertight bag is more reliable when you want to keep your items dry.
The general consensus is to make sure you have folded your dry bag at least three times before buckling it and calling it good.
Inspecting your dry bag seams is a crucial check you should do before use. A small tear in the fabric could allow water to seep inside and cause leaks, which will ruin any of your belongings placed into it – especially if they're wet.
The zippered closure type has been a popular choice for years, and it still remains the best option when you need to pack up your gear quickly. But still, We recommend checking out user reviews before buying a zippered closure dry bag.
Dry Bag Colors
The color of your dry bag is an important decision. You need to find the right one for you and it's not always as simple or straightforward a process in choosing from all those bright pinks, oranges, blues.
The type of dry bag you use is important for the way each will impact your kayak. If it's strapped to a bulkhead, then the color choice becomes much less significant compared to strapping it to the deck.
If you want to strap your dry bag onto the deck of a kayak, be sure that black is not chosen as it can damage the bag contents.
To make sure your belongings stay cool, avoid choosing a black dry bag. This color will absorb and retain more heat than any other.
A bright-colored dry bag can come in handy on the water if you find yourself lost at sea. The pink or neon orange colors make it easy for people to spot, which increases their chances of being rescued.
Summing Up (Dry Bags For Kayaking)
Dry bags have become more popular with the boom in watersports. These durable, convenient and watertight storage solutions were first introduced during the 1990s and are still flourishing today as a result of their use for everything from boating to snorkeling or scuba diving underwater activities like spearfishing.
With the increasing demand for kayaking, manufacturers are now developing better and more durable gear. With better weight capacity, lightweight material, they are imperative equipment in any outdoors person's kit list.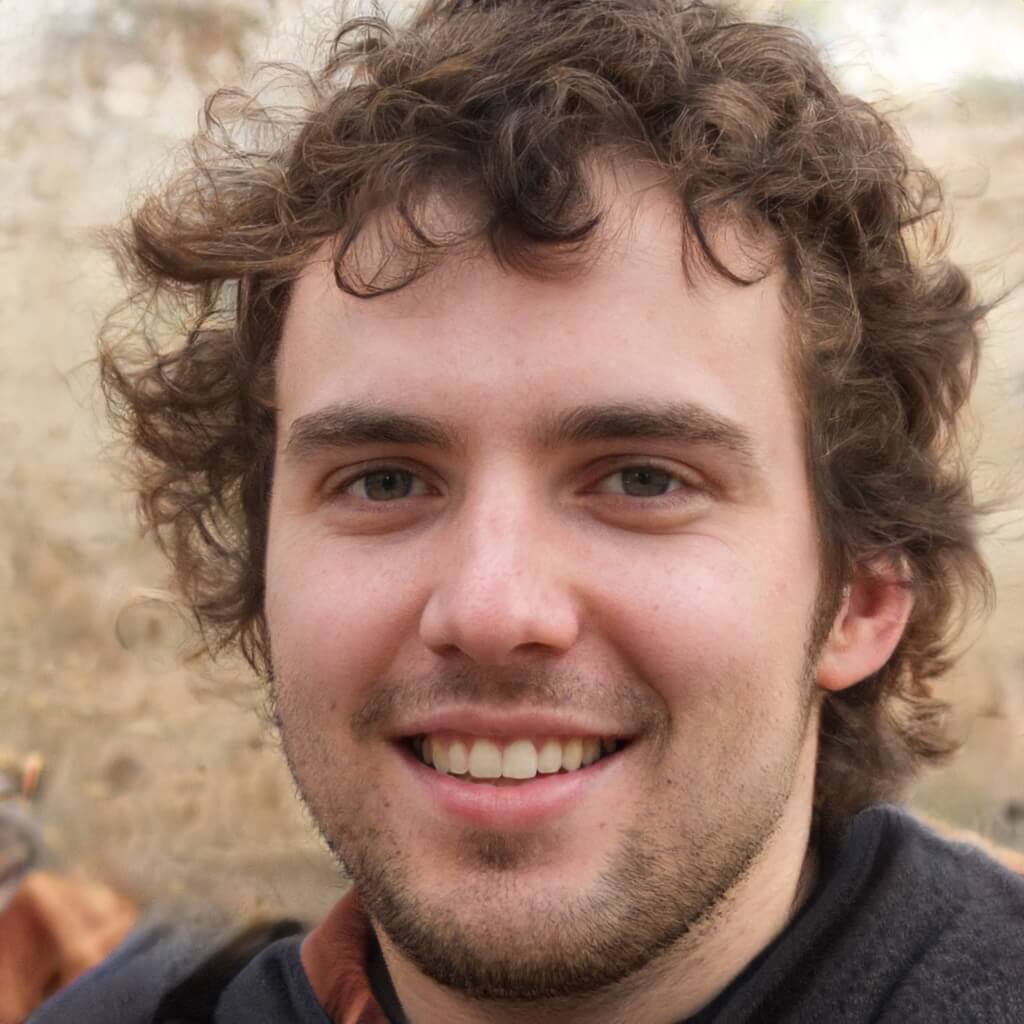 Hi, I'm Randy R. Lios and the owner of Floating Kayaks. I've always been adventuresome at heart. From the time, I got my first kayak at age 18 until now when I have multiple kayaks with accessories and spend 5-6 hours researching all the new related stuff in the market. I have always been fond of fishing since my childhood and kayaking is part of my weekend routine.