Kayaking, canoeing or Stand Up Paddleboarding can be exciting but it's always important to keep your gear dry. A good waterproof dry bag would come in handy when you're out on the water all day long.
It doesn't matter if you are just paddling around the lake or embarking on an extended backcountry journey, a kayak dry bag will help keep your gear organized and safe. We've created a list and guide for you to find the best dry bags for kayaking.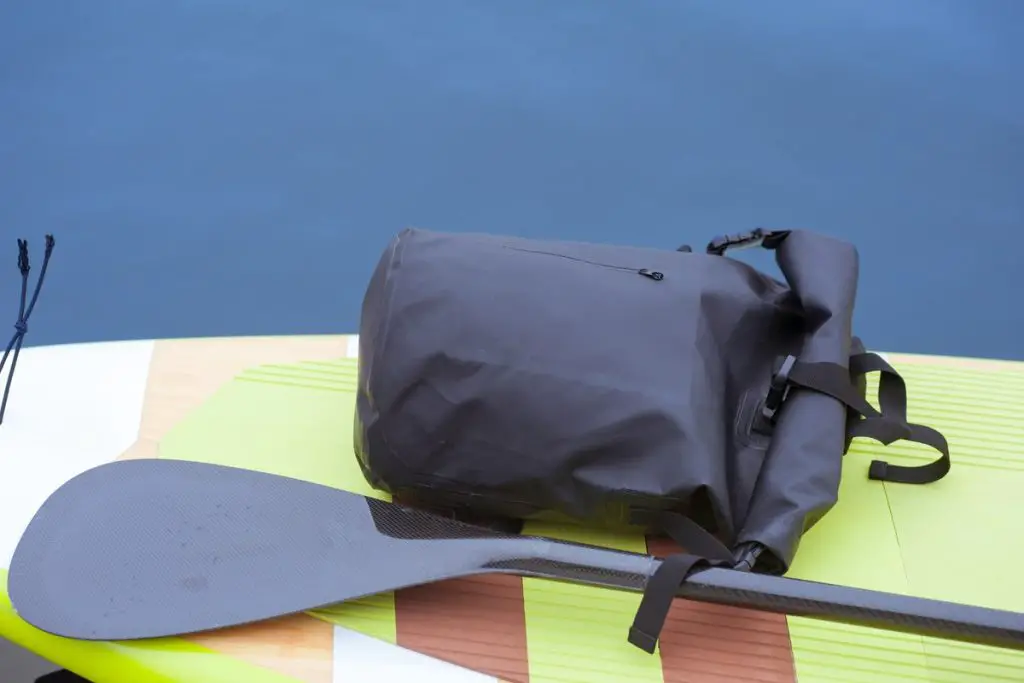 Best Dry Bags For Kayaking & Paddling
Length: 17 inches (20 liters)
Width: 9.5 inches (20 liter)
Capacity: 10, 20, 30 or 40 liters
The Earth Pak Dry Bag is the perfect solution for water-resistant and leakproof storage of your gear. With sizes available up to 40 liters, choose the one best suited for your needs.
The water-resistant bag is tough and durable made with 500 denier PVC, making it ideal for those who are always on the go. It has a waterproof exterior that keeps your belongings dry even if you unexpectedly fall overboard. It's also built to float so no worries about losing anything. The top band can be folded over before being secured with buckle straps to keep everything inside safe.
The 10 and 20-liter bags are perfect for a day on the water with a single shoulder strap. The larger ones come equipped with backpack-style straps that make it easier to carry your heavy load while still ensuring comfortability. However, we recommend the 20-liter bag for a single day paddling trip
Additionally, it comes with a waterproof phone case that has an extra-long strap so that no matter where we go with this bad boy; our phones are secure.
---
MARCHWAY Floating Waterproof Dry Bag (Best Budget Option)
Length: 22 inches (20 liter)
Width: 9.2 inches (20 liter)
Capacity: 5, 10, 20, 30 and 40 liters
Protect your gear from water with The Marchway Floating Dry Bag. Made of 500 denier tarpaulin, this bag is designed to keep your and dry no matter what activity or environment that may be happening in at the time – whether it's canoeing on a river; kayaking downstream or fishing offshore. The bag is available in 5-liter sizes to 40 liters and comes in a variety of bright colors.
The bag's top is designed to be rolled up and secured with the buckle strap. Both 20 & 30-liter options come equipped with detachable straps so you can choose between backpack or single crossbody styling, depending on your preference.
The smaller size only comes standard as one long shoulder carrying option while the larger size (40 liters) offers backpack straps.
The bag is designed to float so that it's easy for you if your kayak goes overboard. The bad news? It won't keep all of your gear dry, even when submerged underwater for a while.
The Pelican1400 rain cover will help keep any outdoor activity safe and sound no matter what Mother Nature throws at us this season but there are still precautions we should take before using our new investment.
The bag is designed to float so that it's easy for you if your kayak goes overboard. The bad news? It won't keep all of your gear dry when submerged underwater for a while.
---
Unigear Waterproof Dry Bag
Length: 22.8 inches (20 liters)
Width: 14 inches (20 liter)
Capacity: 2, 5, 10, 20, 30 and 40 liters
The Unigear Dry Bag is a durable, waterproof bag that can keep your gear dry if it falls overboard or gets submerged for only a short time. The polyurethane coating on this product means you don't need to worry about water getting inside and damaging your belongings.
It comes with various size options and colors to suit any need. Plus, the waterproof case for your phone is perfect because you can still use it while inside the protective cover.
You can use the roll-top closure with buckle lock and detachable single shoulder strap for easy packing for up to 20 liters of this dry bag. But if you want a backpack style with padded shoulder straps then we recommend using all the larger ones.
---
NRS Bill's Bag (Most spacious one)
For those who love to go kayaking, the NRS Bill's Bag Dry Bag is a must. It's made from durable materials and has customizable harnesses so you can find your perfect fit while out on adventures in both land-based activities like hiking or camping as well as water-based ones such as canoeing trips down brookies.
The NRS Bill's Bag Dry Bag is a sturdy and durable dry bag for kayaking, and it can be the perfect choice for teenagers to carry by themselves. This roomy backpack has enough space to accommodate gear on multi-day trips with teenagers or adults when they go out together.
The NRS Bill's Bag Dry Bag is an all-inclusive dry bag that makes packing for your paddle trip easy and simple. If you enjoy one-stop shopping, then this product may be perfect. Keep in mind it's quite large – so make sure to check out the dimensions before purchasing just how big of a space will actually fit inside your kayak or canoe bulkheads or deck.
---
Sea to Summit Lightweight Dry Sack
Next on our list of best kayaking dry bags is Sea To Summit Lightweight Dry Sack. There's a reason why the lightweight yet durable material in this dry bag makes it so popular among paddlers. Made with nylon and PVC, your belongings will stay nice and dry while out on the water no matter what Mother Nature throws at you.
The Sea to Summit Lightweight Dry Bag is a perfect choice for day trips. The lightweight, durable material will compress into any compartment and slip without worrying about damaging the bag's integrity. The specially designed oval bottom will keep your gear from rolling around at sea.
Overall, The Sea to Summit Lightweight Dry Bag is the ultimate, all-inclusive dry bag. It comes in sizes and colors that make it perfect for any type of paddle trip you might be planning on taking; at an affordable price point too so there's no need to spend more than necessary.
---
Read: Best Kayak Hats
---
Sea to Summit Ultra Sil Compression Dry Bag
The size of your kayaking gear is a major factor in how comfortable you are while out on the water. The Sea To Summit Ultra Sil Compression Dry Sack creates more than enough space for storing anything we might need when heading into unfamiliar territory or just want our packs lightest possible (and helps with those long legs).
The Sea to Summit Ultra-Sil Compression Dry Sack is a top choice for those who love kayaking or hiking. It's made with lightweight nylon and can be easily compressed when not in use to fit into a larger bag.
This handy item has adjustable straps on each side which ensure your gear stays in place and compacts nicely while traveling with it, even without using the tightening feature.
The Sea to Summit Ultra-Sil Compression Dry Sack is the perfect solution for those who are tight on space. It's affordable and lightweight, making your travels easier than ever before.
---
Freegrace Waterproof Dry Bags Set of 3
Length: 24 inches (20 liter, including handle)
Width: 9.5 inches (20 liter)
Capacity: 5, 10, 20 and 35 liters
All you need for your next adventure is a Freegrace Waterproof Dry Bag. It is offered in a set of three including a dry bag (that's obvious) plus a waterproof waist and cell phone pouch. You can choose from a variety of sizes ranging from 5 liters up to 35-liters.
This dry bag is water-resistant and features a double strap closure to keep your belongings safe. You don't have the convenience of rolling up like other bags, but with these seals, you can be guaranteed that nothing will get wet inside.
The sturdy dry bag is made from 500 denier tarpaulin for increased durability. Each size offers a single adjustable shoulder strap, except the 35 liters size which features backpack straps to keep it light on your back.
The waist pouch is the perfect accessory for any adventure. Its triple seal closure is water-resistant and can hold your wallet and cellphone easily.
---
Sea to Summit Big River Dry Bag
As the name says, The Sea To Summit Big River Dry Bag is a perfect companion for kayaking trips down rivers and waterways with some current (not calm waters).
The Sea to Summit Big River is the perfect bag for rushy rivers like whitewater. With its thick material, you can take on any river without fear that your gear will get wet or lost and when durability comes into play- well this dry bag won't let anything slow down.
since these bags tend to be rather bulky which may make carrying difficult at times especially in hot weather conditions, so we recommend it for more intense river kayaking trips where portaging is little.
The Sea to Summit Big River dry bag is one of the best on the market for avid paddlers ready to take on rapids and currents. Made of durable material that can last for years of paddling trips longer than any other brand out there.
---
Osprey UltraLight 12 Dry Sack
For those who are embarking on a paddle trip, it is essential that they bring the right equipment. The Osprey UltraLight 12 Dry Bag has everything one needs for their journey in tow. It's durable yet lightweight so you can easily carry around whatever else may be necessary such as food or clothes while also being portable enough with its sturdy handle which makes carrying easier than ever before.
Like most dry bags, The Osprey UltraLight 12 Dry Bag has a roll-top closure and buckle that is specially designed to handle your wild explorations.
This kayaking dry bag is a great option for first-time campers who want to save their backpack from getting wet. The sturdy construction and small size make it easy enough that young paddlers can use, while still being capable of holding all your belongings in one place without taking up too much room inside another larger container or bag when camping on rivers with more experienced adventurers as well.
The design of this kayaking dry bag ensures the material is durable enough for young hands. You can pack up all your gear without worrying about breaking anything because it's small yet mighty sturdy construction will hold up well no matter what comes its way while out in nature.
---
SealLine Seal Pack
The SealLine Dry Pack is a must-have for those who enjoy canoeing and want their gear to stay as fresh as possible. The durable material construction ensures that this dry bag can keep your possessions safe from water when you're out in nature.
The SealLine backpack is made with durable materials, so its flexibility decreases. It's best suited for sitting in the duff of a canoe where it can stay secure and out of harm's way.
It's no surprise that the SealLine Dry Pack is one of our favorite dry bags for canoeing and camping. Its standout features are made possible by the fact it can be used on land and in water, making canoe trips even more fun with this pack. For those looking to travel light but need their gear organized securely during transport, look no further than our this choice.
---
Buying Guide To Choose The Best Dry Bags For Kayaking, Canoeing & Stand Up Paddling
Materials
You may find different materials that can be used to manufacture dry bags, such as nylon and vinyl. However, you might often come across combinations of fabrics like polyurethane (TPU), PVC, or tarpaulin which are also common for making waterproof products.
Deniers are a measure of thickness and flexibility. The higher the denier, the more durable it's likely to be because thicker fabrics will last longer than thinner ones.
Size Of The Dry Bag
For most people, the size of their bag is a personal preference and it all depends on what they plan to use it for. A dry bag will typically measure volume in liters so that should be taken into consideration when choosing one with your specific needs 
A 10-liter bag is just the right size to keep your phone, wallet, and clothes dry for a few hours. For longer trips or multi-day hikes, you might need something bigger like 30 liters or 40 liters which will fit more items in it.
Taking a kayak or canoe on an extended trip? Consider packing two dry bags. They can help keep your camping equipment and other essentials dry, plus include clothing for more days out hiking in nature.
Dry Bag Style
There are many different bag styles to choose from but all have one thing in common: they're designed for water protection.  Most bags will come with either a single shoulder strap or an attached waistband so you can wear them across your body.
The double shoulder strap design of this bag allows it to be worn like a backpack, and the weight on your back will make you feel more comfortable. Some people prefer this style because they're going on foot for long distances or if their bags are too heavy.
For some outdoor activities, like camping and fishing, for example, a backpack (with two padded shoulder straps) may be more comfortable. You can use both hands while carrying the gear.
Colors
You might want to invest in some of your favorite colors. Though it might seem like a minor detail, choosing a bright color for your dry bag can be beneficial. This is because they're highly visible to someone looking at your kayak from the shoreline or on the water.
A brightly colored bag is easier to spot if it does fall overboard. This means that you and other water users are less likely to lose your belonging.
Are Dry Bags Waterproof?
The best bags for water sports are durable and designed to be both waterproof as well as floatable. They're perfect if you want your valuables safe from harm on a day out.
For more details Read: How to Choose A Dry Bag
Some bag manufacturers recommend not submerging them for long periods. Most of the bags are designed to withstand submersion for a shorter span.
To make sure your bag stays dry, check that the snaps or buckles are securely fastened and do not allow any water inside. Most will have a roll-top closure with clips but there may also be additional seals on certain models for extra protection against leaks.
Other Uses Of Dry Bags
 Your dry bag may be the perfect accessory for any outdoor adventure. Beyond canoes and kayaks, what else is the coolest use for your dry bag?
Hiking , Workout Bag
You're probably wondering why the same materials that make your dry bags waterproof also keep them sweat and odor-free. Well, it all comes down to how these materials interact with moisture.
So next time you're heading into the gym, don't forget your gear in one of these handy dry bags. Not only will this keep all those pesky smells at bay- but also keep all of that equipment accessible and convenient when they come back out after working on their cardio or strength training routine.
Laundry Bag
Hanging out by the campfire or staying in on an evening, dry bags are surprisingly good laundry liners. These tough fabric flannel options can hold a whole load of wash without tearing. They're made with materials that won't stretch easily so your clothes stay nice and clean even after their adventures through dirt puddles and sandy beaches.
So, next time you're looking for an easy way to transport dirty clothes from the laundry room and into your washing machine without having them all over the house (or worse: on a closet floor), look no further than these durable bags.
As A Pillow
When you're on a camping trip without any pillows, try storing your clothing and materials in the kayaking dry bag to make up for it.
Fishing Or Hunting Bag
It is true that hunting and fishing can be a rather messy affair, but there's no need for you to get dirty when it comes time to deal with your catch. Kayaking dry bags will help solve some of these interactions.
If you're a fisherman or hunter, don't let your catches get messy. Store them in dry bags that can handle any mess. Best of all these durable containers are reusable and washing is easy with either hand-washing or machine washable models available on the market today.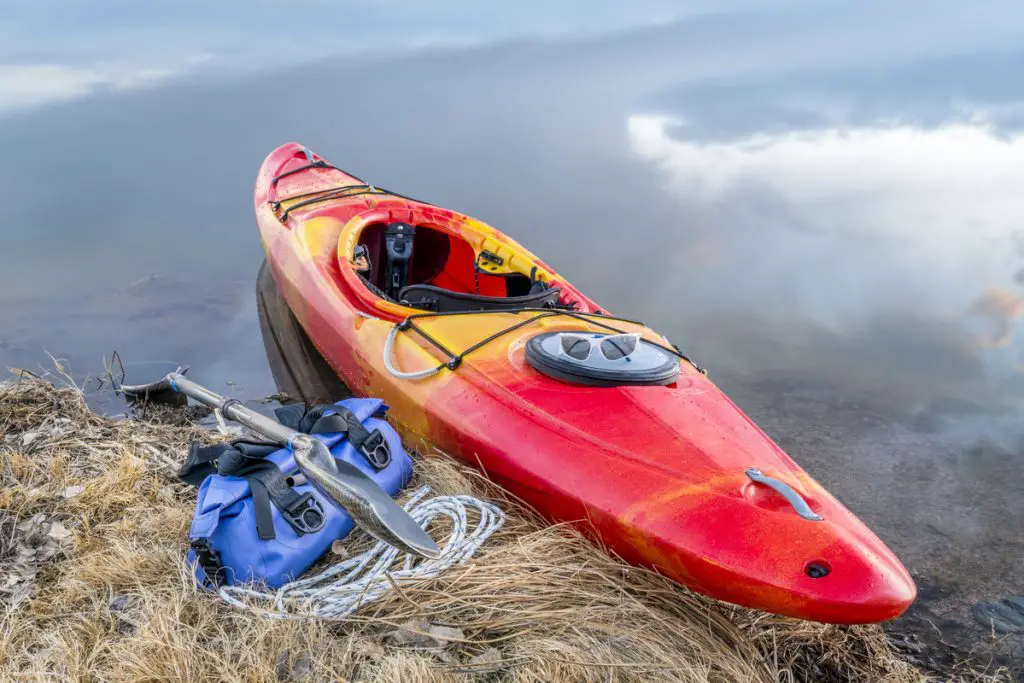 Wrapping Up (Best Dry Bags For Kayaking)
If you're looking for the best dry bag, consider your needs and what size will work. Dry bags can last a long time when they are put into use so it is worth investing in one that is durable and has multiple sizes available. Also, remember to think about what style might work best for you.